Coffee House Celebrates 3rd Anniversary
By Wally Stewart. Photos by Jean Metcalfe
Anniversary celebrations are usually lots of fun; old friends to greet, new friends to meet, and a hopeful look to the future. All this and more happened on Feb. I0 at The East End Coffee House's third-year party.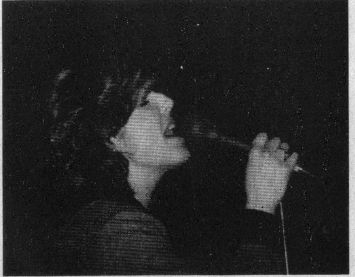 Mary Shaftner of Tender Mercy
Located at the Ascension Lutheran Church, the show brought deja vu to fans of the defunct Lousiville Homefront concerts, as several of its performers and fans were there. This event occupies LH's former second Saturday slot and the all-local area artists donated their services to raise funds for equipment.
As their name implied, Linda Thienaman & Eclectica opened this nonsmoking venue with an enjoyable set of eclectic sounds. Marie Augustine caused laughter with her "Thrifty Nickel Man" anti-serious thought with "Mother Theresa." Dave Evans has been a part of the local music scene for a long time and is now writing Christian music. He sang gently but with great sincerity and thankfulness for his faith and forgiveness.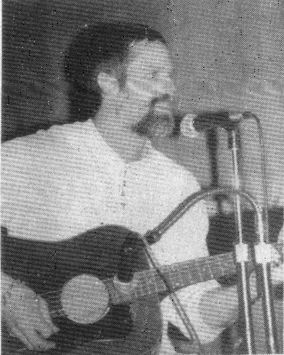 Dave Evans
Popular folkie John Gage and bass virtuoso Larry Davenport closed the evening's first half. Their gospel-flavored medley was lovingly dedicated to John's grandfather then the growing crowd laughingly joined in on Steve Goodman's "The 20th Century ls Almost Over."
After a break, the "Bunny Foo Foo" man Bob Rosenthal delighted the sizeable number of youngsters with that signature song. A high point of the show came when Bob Called surprise guest Kathy Thompson to harmonize. With great pitch and timing and without rehearsal she matched Rosenthal stride for Stride.
The Riverfront Ramblers played a bluegrass gospel set and in "Michael, Row the Boat Ashore" the room regressed to an early-6os spirit, swelling with gorgeous, heartfelt harmony. The Ramblers teased each other a lot but had fine musicianship. Contemporary Christian duo Tender Mercy (Mary and Trent Shaftner) was somewhat electronic, occasionally using tracks to augment their instruments. Mixing originals and covers, they were the most "progressive" group, especially on "Change" and "Full Circle."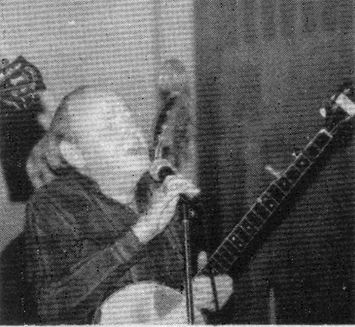 Ronnie Dee of the Riverfront Ranblers
Zen Penguin's Robin McGraw sang with uptempo positiveness on her "I'm Moving On" and Joe Ford displayed a magnificent voice and great feeling on his "James' Song." This emotion was intensified by the harmony of former Penguin Dave Evans.
The performers who were still present came on stage for a lengthy closing singa-long of "This Land Is Your Land." Most voices in the building joined in celebrating the three years and hoping for many more.
The regular monthly format has an open stage from 7:30 p.m., followed by two featured acts. Ascension Lutheran Church is located on Shelbyville Rd, three-fourths of a mile east of the Gene Snyder Freeway. For information call the church at 244-1856.