FOREVER PLAID
By Leslie Turner
What is it that really satisfies you, just makes you sit back and savor the moment, rest in your delight? ls it finishing the New York Times Crossword without one erase mark? ls it the perfect three-pointer in the last three seconds? A precisely executed hand of euchre? A personal best in your downhill ski time? A carefully planned practical joke? Prepating a flawless seven course meal? What is it? For "The Plaids" it was the perfectly resolved harmony of a chord so tight you couldn't breathe for fear you'd burst your sha-boom!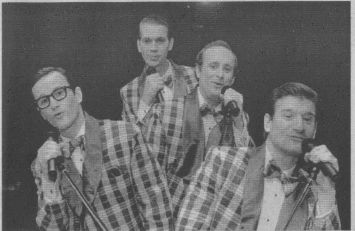 Left to right, Cary Wiger, Greg White, Havey turner and Bill Hanna
Back in a time when every third house on the street had a garage-turned-studio with an old piano, a trap set, a two-foot stack of 78s and an RCA turntable, "The Plaids" were working up tunes for their greatest gig ever — the "Fuselounge," right next to baggage claim at the local airstrip. It was on their way to this pinnacle of dreams come true that our fictitious "Plaids" met their final destiny as they were broadsided by a bus and catapulted onto center stage at Derby Dinner Playhouse.
It is here that we are taken captive by the cool harmonies and warm eccentricities of Smudge, Francis, Jinx and Sparky, played with equal harmony by Cary Wiger, Greg White, Harvey Turner and Bill Hanna, respectively. It was going to be a tough audience, to be sure. How could four men singing basically the same style of music manage to keep this crowd entertained and caught up in the story for over two hours? How could Barbara Cullen, in her first directorial debut, ever expect to weave the props, lighting, mood and flow of the script well enough with these four veterans, and these four alone, to keep our attention and our laughter going for the entire evening?
Maybe it was that delightful cherry, peachy pie thing l had for dessert— my guard must have been down. All I know is I did not expect the show to carry me through thee vening, and I was very pleasantly incorrect. I found "Forever Plaid" to be thoroughly entertaining, very light (no deep, hidden meanings, no subplots, no confusion about where we were headed), and full of the kind of humor that gives you long, rolling chuckles throughout with an occasional belly laugh. You have to appreciate the grace with which these men, each one used to holding the lead role in a much more singular fashion, lulled us into believing they had actually grown up together as a foursome, stumbling halfway through adolescence together before achieving their own level of success. You can then more fully understand the comedic sense of timing and control they had to achieve to help us believe their awkward bashfulness whenever they step away from the gang for their feature number.
You don't have to appreciate rapturous four-part harmony to enjoy this musical, but if you have any understanding at all of the special balance and ear it takes to blend voices that are more accustomed to working solo, then you can applaud the results and enjoy the nostalgia of hearing a list of songs that outweighs the other program credits by a long margin. I can't really say there are even any showstopping numbers that stand out above the rest—everyone who sees the show will name a different favorite. (Be looking, though, for an amazing three-minute rendition of the best of Ed Sullivan!)
Producer Bekki Jo Schneider suggested we take home a stack of "Plaid Angels" if we liked the show, so that we could pass them out to our friends to encourage them to come. Well, this show rates ten Plaid Angels from me. Open at Derby Dinner Playhouse in Clarksville only through March 17, if you are ready for an undemanding but entertaining evening, don't miss "Forever Plaid"! As a side note, you will also enjoy "The Pastels," a delightfully funny and refreshing female version of the "Footlights" warmup crew.