Pegasus
By Paul Moffett
"Sophisticated" sounds almost quaint these days, evoking a time in America when most people weren't. Those who were smoked a lot of cigarettes, drank gin and tonics and secretly wished they had half the wit of Dorothy Parker. The music was the polished jazz of Duke Ellington and Cole Porter, filled to overflowing with multiple entendres and sly allusions.
In short, it was music for adults, before that word came to mean excess sex and violence. The best of it is timeless. Those are songs that we call "standards."
Those standards, and the great popular songs that have come along since. are the source for the Pegasus playlist, a band which describes itself as providing "sophisticated entertainment," a band with four tuxedoed men backing a sultry woman singer in a black dress.
Singer Kathy Jordan decided years ago that she did not want to sing in bars.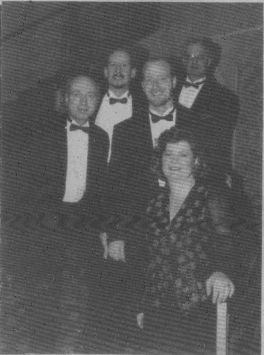 I did the road thing for a couple of years — the Holiday Inn lounge circuit _ and decided that it wasn't for me," she explained.
Instead, she chose to pursue what the talent agents call "single night"gigs: corporate events, parties, receptions and proms, jobs that paid better than bars and still left her free to have a real daytime life.
In 1992, she connected up with saxophonist and keyboardist Mike Tracy, and they began to put together a professional group, dedicated to the professional presentation of "the standards." That group was Diamonds and Pearls, now renamed Pegasus. The reason for the name change was simple: the members of the group didn't like the name Diamonds and Pearls. Pegasus seemed to project the image that the band wanted.
Mike Tracy brought heavy duty credentials, excellent professionalism and an offbeat sense of humor to the group. The Director of Jazz Ensembles at the University of Louisville School of Music, Tracy also strongly stresses the professionalism of the band.
Being professional is very important to us all," he said.
The original group included Steve Rouse, pianist, writer/composer, and Professor of Composition and Theory at the University of Louisville.
Then Rouse got a grant to write a children's opera. which, when combined with his duties as a full-time professor of music theory and composition, left him little time to play. Reluctantly, he left the group and was replaced by Glenn Fisher.
According to Tracy, the band was fortunate to find Glenn Fisher when they needed him. He trained as a classical percussionist at Indiana University, but he wanted to play popular music, so he changed to keyboards.
After graduation, he worked with Turley Richards and Cato Watts and was keyboardist and conductor for Derby Dinner Playhouse. He also has been commissioned to compose works for the Louisville Youth Orchestra and Fleet Street Dance Troupe and has published several books and a CD for students and professionals.
Recent U of L graduate and bassist Chris Fitzgerald and percussionist Victor Simon, whose day job is in the Hawley-Cooke Music Department, rounded out the group. Simon has considerable theatrical experience and does vocals for the group. Fitzgerald teaches music in the Louisville area.
The result of this mix is, as advertised, a "sophisticated" band that delivers the songs the audience wants and enjoys. It is what the members also want and enjoys.
Pegasus will make a couple of rare public appearances this spring. The first will be on April 28m from 2 p.m. until 4 p.m., at the Cherokee Neighborhood Association Art Fair, which is held around the Cherokee Triangle Gazebo. The second will be at the Kentucky Derby Festival Chow Wagon at bigg's in Middletown, on May 5, from 11 a.m. until 2 p.m.
Pegasus is booked by Triangle Talent.