The Beat at the Heart of St. Matthews
The scene: a cold but dry Saturday night, late in February. Small groups of people hurry across the street, intent upon reaching the sheltering warmth of a restaurant or a bar.
Starting from the intersection of Frankfort Avenue and Breckinridge Lane (or, conversely, Shelbyville Road and Chenoweth Lane), such a group can walk to any of four businesses offering live music.
A one-block walk, that is.
Quietly, in the heart of St. Matthews, a live music center has developed. Six nights of the week, a visitor to the area can listen to real live music, played by many of the best musicians in the Kentuckiana area. While the multistage clubs closer to downtown struggle, not always successfully, to attract patrons, this chilly night the nightspots are all full, the crowds energized, the beer is flowing and the servers are almost too busy.
.ln alphabetical order, the live music spots on this tour are: Bluegrass Brewing Company, Dutch's Tavern, Jake and Elwood's and Maier's St. Matthews Tavern. A fifth club, Arnberjacks, has just been sold and is not yet reopened. The Bluegrass Brewing Company is the ideal place to start this tour, both because of its alphabetical placement and because it is special in one respect: they brew their own beer.
That fact alone makes BBC a regular stop for lifelong St. Matthews resident Michael Price, who was this night downing a large lager, working on a Caesar salad and listening to Juke Joint Jimmy and His New Orleans Sounds group.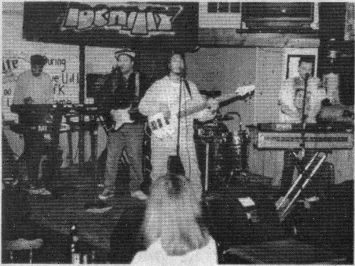 Identity serves up reggae at Dutch's Tavern.
St. Matthews was originally called Gilman's Station," Price explained. "Gillman's was a bar, so it makes sense to have a bunch of bars here." "They didn't brew beer, though."
l can hardly drink bottled beer anymore," he said. "My only complaint with this place is that they ran out of the oatmeal stout."
Besides offering fresh beer and food, the restaurant has been booking live music for some time, according to co-owner Sarah Ring. "We book good quality, professional musicians, like John Grammer and Tom Browing," Ring noted, adding that the bluegrass group The Galoots, with vocalist Shannon Lawson, had "done very well" for the microbrewery.
We don't get a crowd that just wants to get drunk," she explained. The music is booked to appeal to a clientele in the 25-45 age range, with discretionary money to spend on the brewery's beer and food. Because the music is not the primary draw, there is no cover charge.
Ring pointed out that the four clubs in the area book somewhat differently and that she was not at all interested in booking "competitively." The BBC's occasional outdoor events might, however, be considered competitive, with acts like Steve Ferguson and his Midwest Creole Ensemble on the bill.
It 's a happening place," she said. "They [the music fans] park in our parking lot and travel around" the circle. It's a problem sometimes at dinner but we want to be good neighbors."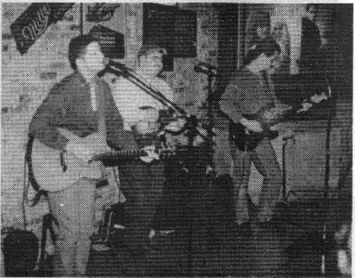 JIm Dishman and Scuttlebutt heatedd up Jake & Elwood's
Besides; it helps everybody."
The restaurant stages music both in the bar area and in the larger dining room. The dining room entertainment starts later in the evening. Ring takes pains to point out that the club had booked a jazz group, Jazz Because, for an extended run in the dining room on Thursdays.
Jazz works for us," she said.
Bluegrass Brewing Company's address is 3929 Shelbyville Road. The phone is 899-7070. Hours for the restaurant are Sunday through Thursday, 11 a.m. until midnight; Friday and Saturday, 11 a.m. until 2a.m.
Jaywalking across Shelbyville Road?
At Dutch's, a late crowd was gathering to hear Identity, a reggae act that checks into Dutch's every so often. The crowd appeared to be dominated by twenty-somethings, which owener John Lang noted was not unusual.
During the day, we serve a lot of lunches to an older crowd," Lang explained. "We also have a strong Green Bay Packer contingent that packs the place during Green Bay games."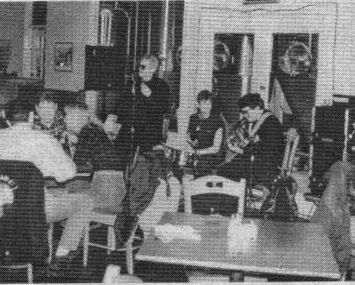 Juke Joint Jimmy and his boys evoike the sounds of Naw'lins just before Fat Tuesday, at Bluegrass Brewing Company
Nighttime at Dutch's finds a younger crowd in the twenty-one to twenty-five bracket, although Lang says his only required qualification for a customer is that he or she be "of leagal drinking age. And have money."
Dutch's Tavern has been a family business for some years. Opened first as a bar in 1929, John Lang's father, Charlie, bought it in 1967. He ran it for twenty years then sold it to John in 1987.
Dutch's has had live music since 1967. Lang takes care to book the acts that his patrons want. He admits to having some personal favorites, singling out danny flanigan's Hopscotch Army and the all-too-temporary Domani as high on his list.
Lang notes that the bands he books have. their own followings. A cover charge is assessed on Fridays and Saturdays. usuallv two or three dollars.
"It's hard to get a quality band without [charging] a cover," Lang said, noting that a room the size of his club can't generate enough revenue to pay for a band.
Friday and Saturday nights are the core of most clubs' live music schedule and Dutch's is no exception. Current musical styles run heavily to rock and blues, with the occasional reggae band booked in for variety.
Lang has opted to book regular acts during the rest of the week, so that a band booked into Dutch's will play the same day every week for a month or more.
Black Angus has settled into Mondays. "Monkey Night," hosted by danny flanigan, ran for two years and established a solid Tuesday night crowd for the club. Now Tuesdays are covered by Jim Wilson and the Wilson Project, with varying regular featured soloists.
Wednesdays, it's Jim Dishman and Scuttlebutt. Noted Louisville songwriter and guitarist Tim Krekel has been holding forth on Thursdays for some time, usually with his band the Groov-billys. Krekel, who was Jimmy Buffet's guitarist for several years, is currently enjoying songwriting success, with his tune "You Can Feel Bad If It Makes You Feel Better," co-written with Matraca Berg, climbing the charts on the voice of Patti Loveless. (See Down on the Corner for more news about Krekel.)
Lang did note that it was necessary to "put thought and effort" into running a nightclub/bar and that there was always room for improvement. Consistency counts, too, and Lang was happy to point out that a number of bartenders have worked for him for years.
Dutch's Hours are 11:00 a.m. to 4 a.m. except on Sundays, when it's 1 p.m. until midnight. The bar is located at 3922 Shelbyville Road; the phone number is 895- 9004.
Around the Corner on Breckenridge
Jake and Elwood's Pizza, located on Breckenridge Lane, was hot on this cold night. Jim Dishman and Scuttlebutt, a trio featuring two guitars and a mandolin, were holding forth in one corner of the room, close by the giant TV screen. The servers were hopping, pizza and beer riding on trays overhead; the crowd was loud. Co- owner Dave Bunch sat quietly in one corner and watched the action.
Open only since March 1995, Jake and Elwood's has managed to carve out its own niche in the restaurant-heavy Triangle.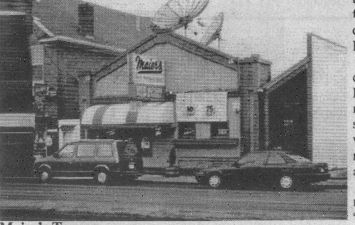 Maier's Tavern
Some nights we've turned away as many as a hundred people," Bunch said. We'd like to expand to take care of them."
We get a lot of the BW3 overflow," said general manager and doorman for the night Marco Alvez. (BW3 recently opened in the mini-mall that dominates the Southeast corner of the Frankfort-Chenoweth intersection and offers food and beer, but no live music.) With a name like Jake and Elwood's, one would expect a solid phalanx of blues, but Bunch, who handles much of the booking, likes acoustic acts as well. Like many of the other clubs in the area, Jake and Elwood's seeks to attract a somewhat older, more affluent crowd.
They offer pizza, sandwiches and salad, with delivery available during the day. The interior is broken up into small sections, making it possible to find a-quiet corner to talk.
Jake and Elwood's hours" are: Monday through Thursday, ll a.m. to 1 1 p.m.; Friday and Saturday, ll a.m. until 2 a.m.; Sunday, 1 p.m. to 10:30 p.m.-The club is at 131 Breckenridge Lane and the phone numbe is 899-1020.
Across Shelbyville Road One More Time
On the northeast side of Shelbyville Road across the parking lot from BBC, sits the other of the longtime bars in St. Matthews, Maier's St. Matthews Tavern. Housed in a building that is over 120 years old. and was last occupied by Zehnder's dairy, according to owner Margie Maier, the bar and restaurant has been the Maier family business two separate times. Margie's father, Tony Maier bought the site and opened Maier's Tavern in 1964, operating it until he sold it in 1975 to Jack Berine. Berine ran it as the Jolly Irish Tinker until 1982, when Margie bought it back and retumed it to Maier's St. Matthew Tavern.
Cows were milked in this building,' Maier said. "It's built like a barn. My daddy put in a drop ceiling, but above is an open pitched roof.
Margie Maier has recently resumed day-to-day operation of the bar, taking. over from her brother David, who has moved on to other ventures. She previously ran the bat from 1982 until 1986 but left to manage her insurance and financial managemen from 1982 until 1986 but left to manage her insurance and financial management company, Planned Retirement Services.
Maier has delegated the details of booking to Bonnie Duncan, wife of Louisville musician Everett Duncan, but she still calls the shots about who to book. The bar has live music on Thursdays, Fridays and Saturdays.
Maier's has booked live music for years," Maier said, "and l want to build up that pan of the business. We've Shannon Lawson and the Galoots and Tom Browning and we're adding Tim Krekel and the Groov-Billhs for a regular night."
I don't like it too loud, though," she admitted when questioned about the perennial problem of over-amped bands. "There is one band I won't have back because they were too loud and wouldn't turn down when I asked them to."
She laughed at the memory. "l was in the kitchen, washing dishes, and they were so loud in there, I couldn't go into the [main room of the] bar. That was enough." Come spring, Maier's will have an outside patio. Maier's Alley, which was initially opened as a narrow patio, has been roofed in and heated. Maier occasionally books in acoustic acts in the Alley. Like the other clubs, Maier's has an older, regular clientele for lunches and dinner.
Food has been part of Maier's for years. We rely on it," Margie Maier concluded. "We do a lot of lunch business."
Hours for Maier's are: Mondays through Fridays, 7 a.m. to 4 a.m.; Saturdays, 10 a.m. I0 4 a.m.; Sundays, 1 p.m. until 2 a.m.
Maier's is at 392] Shelbyville Road and the phone number is 897-6386.
Then There is the White Castle
For many late-nighters, no evening of bar hopping in Louisville would be complete without stopping for coffee at a White Castle. In St. Matthews, the White Castle is within our one-block radius, so a quick dash across Chenoweth and Westport Road and some change are all you need for the extra-large cup.
And maybe a slider or two.