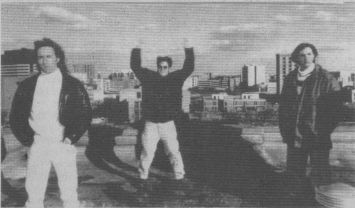 From left, Bobby Carby, Philipo Owen and Tony Carby
Via
By Robert Gruber
Alternative Christian music is creating quite a stir in other parts of the country, with the successes of bands such as Jars of Clay, Dakoda Motor Co. and MXPX. Sadly, the number of bands currently on the local scene that play what could be called "alternative" can barely be counted on the fingers of one hand. One rock band that is in step is Louisville's Via. A trio, made up of Bobby Carby (guitar, vocals). Tony Carby (drums, vocals) and Philip Owen (bass, vocals), Via plays an upbeat, danceable brand of hooky alterna-pop, along the lines of PFR or Better Than E1ra.
Together now for two years, Via has played many gigs around town. They've played at Jubilee Coffeehouse in the High- lands. They've also played shows in parking lots, at singles parties, and at outdoor music fests (including Park Party '95). As part of a ministry outreach in River City Jail, Via played a show that helped result in seven men making decisions for Christ.
Though all three men in Via write songs, it is chiefly Bobby Carby's tunes that they play. Drawing inspiration from God, and such bands as Collective Soul and the 77s. Carby and Co. craft edgy, economical arrangements that provide unencumbering framework for the words. Lyrically, the songs are topical, taking on such issues as instant gratification ("S-E-X") and science ('"Telescoped," "The Big Lie"). Mostly, their songs are about the need for salvation ("Miracle In the House") and revival ("Bring On the Rain") that can only come through a relationship with Jesus Christ. Currently, the Via song list contains nearly 25 original songs, which means they can comfortably pull off at least two sets without having to scrape for an encore.
Making use of both "clean" and "dirty" guitar sounds. Bobby Carby adds few effects to his rhythmic playing (ideally. Carby says he would like to have a second guitarist to help round out the sound). His mid-range tenor voice is expertly complemented by the harmonies of the other two. The bass players in the crowd will find their attention drawn quickly to Philip Owen. Using a mean 5-string electric bass. Owen combines technical flair and precision with super-grungy, distorted tones, at times creating counter- melodies for Carby to sing over. Drummer Tony Carby (a veteran of the local band Reaction Time) is also a very impressive player. with a style that is tastefully re- strained. yet solid and hard-hitting.
With the recent demise of Jubilee Coffeehouse, and the apparent unwillingness of many churches to book rock bands for youth functions, it's getting more and more difficult for bands like Via to find places to play. As the weather gets warmer, the band wants to do a number of free outdoor concerts. By simply setting up and playing in the parking lots of consenting businesses, Via hopes to attract passers-by and hangers-out with their music and their message. Via is also in the process of recording a l4-song album that they will eventually sell at shows and through Christian bookstores. If you are interested in hearing more about Via, or would like to book the band, contact Bobby Carby at 231-5166.