Tiger Blues: Ian Moore, Corey Harris
By Michael Campbell
The legendary Toy Tiger was pretty devoid of big hair and spandex on this March 27 evening. Come to think of it, the place was barely half full (or half empty, depending on your attitude). Nevertheless, the intimacy of the Tiger provided a decent venue for a blues flavored triple header featuring the Shannon Lawson Band, Corey Harris, and Ian Moore.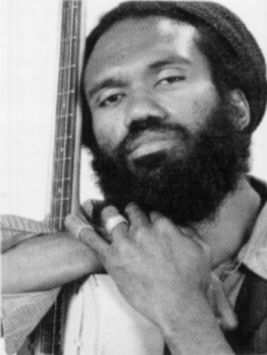 Corey Harris
Ian Moore, a veteran of Joe Ely's band, and his group (consisting of keyboardist Bukka Allen, bassist Chris White, and drummer Michael Villegas) wasted no time in laying down a dynamic, inventive groove that was but a taste of things to come. Promoting his recent Capricorn release, Modernday Folklore, Moore was able to celebrate his Texas roots without sounding like Stevie Youknowwho. Ian instead looks to SRV's roots; specifically at James Marshall Hendrix.
Once Ian cranks up his battered Stratocaster through a Matchless head, Univibe, wah pedal and vibrato bar, he tonally evokes Cry Of Love era Jimi, without going totally retro melodically. Like Lenny Kravitz, Moore is an avid student of Zep & Hendrix's Hooked-On-Riffs, as evidenced by his composition "Train Tracks" ("I hear my train a'comin'"). Although I reluctantly departed before the end of Ian's set due to a deadline (pesky day job!), I left convinced that the level of Ian's playing, singing, and writing abilities qualify him to be a bona fide 1990s guitar hero. He sounds like someone ready to break into bigger things.
Alligator Records recording artist Corey Harris successfully navigated an unenviable passage between two relatively high decibel and energetic acts; it is all the more impressive that he did so with his voice, his stomp, and acoustic guitar. The audience somehow accorded him attention and respect, even though a low din of conversation was unceasing. Corey is a demographically unusual category: a young black man who writes and performs classic acoustic blues. Via his own song, "Roots Woman," you can almost trace his musical pilgrimage from Denver, through Cameroon and most recently, New Orleans. With Mississippi Fred McDowell's "Write Me a Few Lines," or Charlie Patton's "Pony Blues," he does more than sincere imitation; Corey delivers sincere interpretation.
The Shannon Lawson band opened the evening with a two-guitar, one-violin lineup backed by bass and drums. This solid journeyman (rhythm and) blues band plays hard and sings soulfully, mostly avoiding the I-IV-V chord progression cliché. Two surprise choices were their performances of Brook Benton's "Rainy Night In Georgia," and Bill Withers' "Use Me." Both were effective showcases for the band's vocal and instrumental prowess.