I've Got A Mind To Ramble
Hey Hey the Blues Fests Are Alright
It is now possible to attend a bonafied blues festival in Kentucky for five consecutive months from June through October. This phenomenon of festivals has come to pass during the last eight years, initiated by Louisville's Garvin Gate Blues Festival in 1988. It's not just in Kentucky, for you can check out ten pages of listings of other blues festivals in the March/April (#126) of Living Blues.
W. C. Handy Blues and Barbeque Festival
Let's begin our Kentucky blues oddessy at the W. C. Handy Blues and Barbeque Festival in Henderson. In it's sixth year, according to publicist Ken Christopher, the festival kicks off on June 12 with Victor Mecussne, a seven-piece jazz and blues group from Nashville, followed by Big Al and the Heavyweights in the evening. June 13 will be Zydeco and Cajun night, with a band yet to be selected. Friday, June 14, will feature Duke Tumatoe and his Power Trio, plus the Metropolitan Blues Allstars. The grand finale will be on Saturday, June 15, with some traditional blues by Keb' Mo' and the "Earth Shaker" herself, KoKo Taylor and Her Blues Machine.
Waterside Blues and Art Festival
After you have recovered from the barbeque, workshops and street strut in Henderson, it will be time for the Waterside Festival at the Water Tower in Louisville on July 5 through 7. Beverly Howell and John Grantz of Media Events are booking the acts this year and will emphasize more blues 'like it used to be.'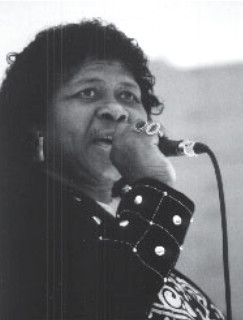 Marian James will be back at the Garvin Gate Blues Festival again this year with her Blues SBachelors. Photo by Keith Clements
Friday night will be traditional blues with Smokey Wilson and Lavelle White. Smokey was at Stevie Ray's last February for the fund-raiser for the SRV scholarship benefit. Lavelle is a 30-year veteran who started her career recording with Duke Records in the 50s and sang at the Kingston Mines in Chicago in the 70s and 80s. Now she has settled in Austin, TX, where she has released her first album, Miss Lavelle, on the Antone label.
Saturday will be contemporary rock blues day, with Storyville as the headliner and a Texas band to be announced. Storyville has just signed with Atlantic Records' Code Blue label. The musicians include Louisville's own David Grissom, who played with Joe Ely, Tommy Shannon and Chris Layton from SRV's band, Double Trouble, plus David Holt and Malford Mulligan.
Gospel and local musicians will fill out Sunday's entertainment, focusing on the community, according to Grace Poganski, PR director for the Louisville. Visual Arts Association.
Hot August Blues and Bar-B-Q Festival
August brings the Hot August Blues and Bar-B-Q Festival at Kenlake State Resort Park near Aurora. Funn Brothers, Blind Mississippi and John 'So Blue' Weston will kick off the festival on August 23. Various local and regional bands, including Lew Jetton with Paducah's 61 South and Shack Shakers, plus Jim Taylor and the Little Boys Blue from Brownsville, IN and the Fender Benders will be there on August 24.
The day not to be missed is Sunday, August 24, with a high-caliber line-up of the Rime-Time Blues Band, B. B. King's daughter Shirley King; Mike Griffin and the Unknown Blues Band, Snooky Pryor, Pinetop Perkins, and the hottest attraction on the blues festival circuit, Luther Allison.
Two Rivers Blues Festival
Two weeks later, on September 6 and 7, Carrollton hosts the Two Rivers Blues Festival. This will be the Festival's second year and the acts will include H-Bomb Feguson, the Blues Devils, Sweet Alice Hoskins and James Peterson on Saturday. Sunday will feature Nickel Slick, the High Street Rhythm Rockers, Bierdsdorf and Kalbe, Lady Bianca (from Oakland, CA), Metropolitan Blues Allstars and headliner Lonnie Brooks. Jarrett Boyd of the Kentucky Tourism Department said that Burnam Wave, an Owentown resident and frequent contributor to Living Blues magazine, is assisting with the historical background for the festival.
Garvin Gate Blues Festival
Closing out the five-month blues festival dash, October brings the Garvin Gate Festival. Friday, October 11, will be Women and the Blues Night, with Sweet Alice Hoskins, Marion James and the Blues Bachelors and Deborah Coleman from Charlotte, NC.
Saturday will feature Chubby Carrier and the Bayou Swamp Band. They will transform the intersection of Garvin Place and Oak Street into a zydeco party, like they did in the Bomhard Theater during Mardi Gras. Locals favorites, including Foree Wells and the Walnut Street Blues Band and the Mudcat Blues Bands will be on the bill.
Mike Suttles, who has been booking the talent for the last three years for Garvin Gate, says he plans negotiations with several Chicago bands when he is at the Chicago Blues Festival, so there may be changes in the schedule.
Kyana Blues Society Bluesland Cruise Update.
Speaking of Blues Cruises, the 2nd Annual KBS Bluesland Cruise had to be rescheduled form April 20 to May 18 du to a conflict with Thunder Over Louisville. The new schedule includes a reception and dinner at the Velvet Rose, 519 E. Jefferson, starting at 7:00 p.m. Fortified with food and drink, we will board an school bus to Big Heavy's to hear the Nasty Weather Blues Band. From there, we travel to Gilbert's Blues Place, a.k.a. Red Devils Motorcycle Club, for Fred Murphy and the Blue Devils featuring Mary Ann Fisher. The May weather should allow the cruisers to party out back. This event will be an interesting evening of contrasting styles, from contemporary urban to down-home blues. All KBS members can get on board for just $15 apiece. Call Rick Harlow at 459-6990 to make your reservations.