Down On The Corner
• Fish N' Brook Records, the record label of Steve Fish and Bobby Brooks, has connected up with Elizabeth Arden's Parfums International for an international release of Fish N' Brook's Celestial Journeys CD as part of a Mother's Day gift package. The CD will be featured with Karl Lagerfeld's Sun Moon Stars fragrance. Fish and Brooks will be doing in-store signings of Celestial Journeys' at these Bacon's stores during May: May 8, Bashford Manor, 11-3; May 9, Shively Bacon's, 4-8; May 10, Mall St. Matthews, 11-3 and May 11, River Falls Mall, 11-3.
Fish and Brooks will also be releasing their second CD, Seasons of Serenity, in early summer.
• Songwriter, Songwriter, Write Me a Song.. Ida Callahan's "Derby Waltz" received its introduction at the Fillies Ball. Ida got a good write-up in the One Great Newspaper as well.
• Another songwriter, Larry Story, is getting airplay on WBRT AM, Bardstown. He didn't tell us the title, though.
• Bryan Hurst to Wed? Yep, Core of Resistance and New Deal fans, Bryan Hurst is going to tie the knot with Stacey Lynn Ford on or about September 28. Bryan wanted us to mention that they were registered at Target. Watch this space for more info.
• Jim Snyder's luck hasn't been too hot of late. It seems his 1987 blue and silver Chevy van was 'liberated' a few days ago. He said he was really up a creek without a paddle, as the van contained an inflatable boat with his last two paddles. Snyder's insurance was canceled just a few days before that, over a disputed traffic ticket. Yeeouch! His cable show, called "Writer's Night" is still airing, however. You can catch it on Saturdays at 6:00 p.m. on TKR Channel 18 (if the kid loading the machines at the playback studio shows up on time).
• Tanya Savory, a Nashville singer-songwriter who moved to Louisville about a year ago, is a finalist in this year's Kerrville Songwriting Competition. This is the fourth time Savory has made the cut as a finalist.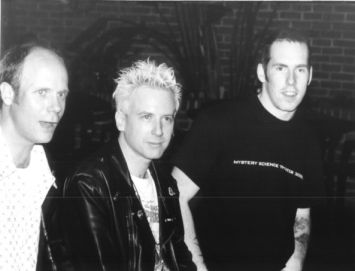 We caught part of Cherub Scrouge after a Butchertown Pub show. From left, Rankin Maypother, Brent Starkey, and new guitarist Daryl Sullivan. The rest of the band had already left. Photo by Paul Moffett
• Hypnotic Hammer has added a new vocalist, Kevin Keiton, formerly of Zipperhead.
• Cherub Scourge has a new guitarist, Daryl Sullivan, according to a postcard they sent me. I managed to arrive late at the Butchertown Pub for their gig with Buttsteak, so I just took some photos.
• Fans of the All-Ages scene will have a chance to get out into the great outdoors for a show on June 15. Billed as the Tick Fest, it will be held at Cedar Ridge Camp and proceeds will benefit MERF and Cedar Ridge Camp. Stay tuned for info about the lineup, admission, etc.
• Appalachian Music Fans, take note. Seedtime on the Cumberland is scheduled for May 30 through June 2. Some of the musicians set to play include Gary Brewer and the Kentucky Ramblers, Reel World String Band, Guy and Candie Carawan, the Lee Sexton Band, and a Gospel concert on Sunday, June 2. The event is held at Appalshop in Whitesburg, Ky., and you can call 606-633-0108 for information and ticket reservations.
• Closer to home, don't forget the West Point bluegrass festival, called Beyond the Boundaries, on May 24, 25 & 26. Gary Loeser has been doing yeoman work, trying to keep a bluegrass festival going, first at Otter Creek Park and now West Point. Check the ad on page 8 for all info.
• Have a fun Derby, all you out-of-town visitors and locals, as well. Take a cab if you're drinking, tip the driver.
• May is Worldwide Bluegrass Month, according to the International Bluegrass Music Association and they should know, eh? Thanks to those folks for keeping us informed about all the bluegrass news that Berk Bryant doesn't - which isn't too much.
Club Changes
• The fifth reincarnation of Zena's has reopened at 122 W. Main Street, following their move from Market St. Mary Jean Zena, who has been running the club since about 1947, will still be there to meet and greet regulars and new customers alike. Having paid attention to the frequent requests for earlier start times for live music, Zena's shows will start at 8 p.m. on Tuesdays, Wednesdays, Thursdays and Sundays. Fridays and Saturdays, it'll be 11 p.m. until 3. On Tuesdays, the regular band will be the Accused featuring Tanita Gaines; Wednesdays, the Ron Hayden Group will hold forth on; Thursdays will find Rusty's alternating with the Mudcat Blues Band and Smokestake Lightning.
• Sydney's in Camelot Center has been sold and is closed. No word as to when and if another club will open in the same building.
Key Changes
• Charles W. Albus, 88, died on Thursday, March 21. He was a trumpet player for the WHAS Staff Orchestra and a member of the American Federation of Musicians, Local 11-637.
• Charlie Coddington, 68, died on Tuesday, April 16. Coddington was an actor, artist and television cameraman and producer. He produced a series of local access programs that focused on Louisville music. He was also a member of the Louisville Area Songwriters' Cooperative.
• Mike Dempsey, 48, a bassist, died on February 26. He was a member of AFM Local 11-637.
Stephen P. Garrett, 27, a singer ofr the Gospel Music Connection, died on April 4.
• Hugh J. Miller, 69, died on April 14 in New Albany. He was a vocalist and a member of AFM Local 11-637.
• James H. Wiggins, 79 died on April 2. He was a professional singer.
Songwriter Stuff
Contests
• 9th Annual Songwriters of Wisconsin Contest is open for entries. Deadline May 15, 1996. Prizes in 15 categories. Call Tony Ansems at 414-725-1609 or write: SOW, PO Box 1027, Neenah, WI 54957.
• The Dallas (TX) Songwriters Association is staging a 1996 songwriting contest. Deadline is June 31. Write DSA Song Contest, 7139 Azalea, Dallas TX 75230 or call 214-750-0916 for info and entry forms.