Hell-Bent for Music, The Life Of Pee Wee King
The University of Kentucky Press
By Wade Hall
"By the time I was twenty, I knew I was hell-bent for music." So saith "Tennessee Waltz" co-writer Pee Wee King in this oral biography by Wade Hall.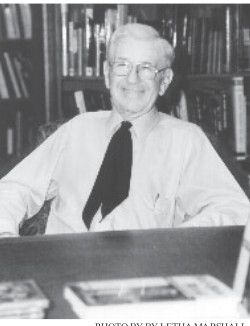 Pee Wee King: Hell-Bent For Music. Photo by Letha Marshall
For the biography, Hall, Professor of English at Bellarmine College, recorded a number of conversations with King, beginning in 1992. As a result of King's having suffered a second mild stroke in 1994, Hall says, "We agreed that it was therefore urgent that I complete work on his book."
In the biography King recalls that in the '30s and early '40s, money was scarce for Pee Wee King and the Golden West Cowboys, and as the band's manager, he was at times responsible for feeding as many as 57 people.
"With all that pressure, I guess it's a miracle I didn't have my stroke long before I did," King said.
l
Young accordion player and polka band leader Frankie King (baptized Frank Julius Anthony Kuczynski) was discovered by Gene Autry's manager, J.L. Frank, literally by accident. And that pivotal meeting would lead to many changes in the Milwaukee native's life, including a name change to Pee Wee (he stands just under 5 feet 7), his marriage to J.L. Frank's stepdaughter, and the adoption of Louisville, Kentucky, as his hometown.
King's ability to please his audiences took him to the stage of the Grand Ole Opry and earned for him a place in the Country Music Hall of Fame. His travels on the difficult road of musical fame are chronicled in this biography, and it makes for very interesting reading.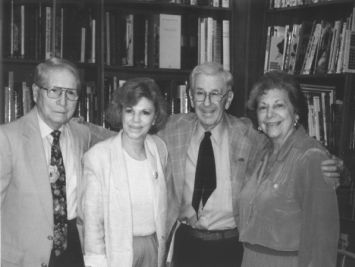 From left, Redd Stewart, Darlene Stewart, Pee Wee King, Lydia King. Photo by Jean Metcalfe
Naturally, included is King's account of co-writing "Tennessee Waltz" with Redd Stewart, lead singer for Pee Wee King and the Golden West Cowboys. But there's also a very important fact about "Tennessee Waltz" (involving Ernest Tubb) that could have made a big difference in Pee Wee King's identification with the song. And most assuredly his income!
Thankfully, this is not one of those all-too-common tell-all tomes; a casual observation by King concerning the present-day amplitude of Dolly Parton's best-known physical attributes as compared to her measurements in earlier days is about as spicy as it gets.
But there are plenty of other interesting tidbits (and photographs) in this folksy oral biography. A sample:
Eddy Arnold made his Grand Ole Opry debut with the Golden West Cowboys, becoming the "star soloist" for the group while Redd Stewart served in World War II. (Although an excellent singer, Arnold was definitely not the band's best automobile driver.)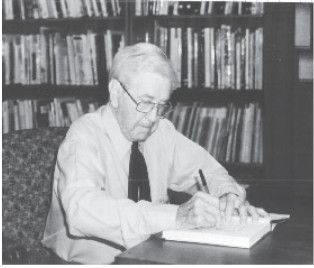 Pee Wee autographs his biography for a fan. Photo by Letha Marshall
The Grand Ole Opry's George D. Hay wasn't at all happy with King's introduction of accordion . . . and drum . . . and trumpet . . . to the Opry stage. But after the band's "Slow Poke" became a national hit (No. 1 on both the country and pop charts), the Solemn Old Judge said to King, "Pee Wee, you've always been at least ten years ahead of your time."
Colonel Tom Parker booked King's band into the Golden Nugget in Las Vegas for two weeks in 1961. They fulfilled their commitment even though "It was like working in a salt mine."
A less-than-successful talent contest tied in with a live remote series from Bob Ryan Auto Sales in Louisville prompted an admission by King that he sometimes thinks he has "a bad habit of not leaving well enough alone."
King was on the first TV broadcast in Kentucky — on Louisville's WAVE-TV. Elvis Presley's grandfather played a couple of square dance fiddle tunes on one of King's subsequent shows, which were sponsored by the Oertel Brewing Company.
King's explanation of why Nashville, rather than Louisville, became Music City USA.
l
As I read the opening words of this book, I could visualize Pee Wee King, his eyes twinkling, sitting in his basement study saying "Hello, hello, hello." It has been my distinct pleasure to spend time on several occasions with Pee Wee King and his lovely wife, Lydia, in their home on Country Lane, and to interview him as he sat at his desk.
It is very evident the important role Lydia King played in her husband's career. In the book King praises her for successfully raising their four children, the first two of whom were born while he was on the road:
"I could not have had my career without Joe Frank's stepdaughter, Lydia, who became my wife on December 23, 1936," King says. "Since then, she has been my wife, the mother of our four children, my friend, my partner, and my biggest booster. She was in show business long before I met her [she and her sister sang as the Georgia Peaches with Clayton "Pappy" McMichen and the Georgia Wildcats], and she knew what it meant to marry a professional musician. [He hocked his tuxedo for six dollars to buy her an engagement ring.] . . . You don't find many [marriages] that last as long as mine and Lydia's."
Pee Wee and Lydia King will mark their 60th anniversary on December 23.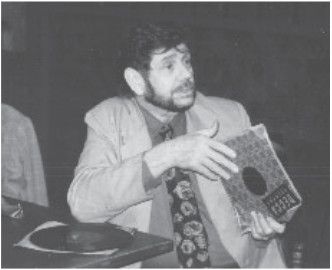 Biographer Wade Hall brought several versions of "Tenneessee Waltz" to the signing party. Photo by Letha Marshall
A remarkable man, a remarkable woman, a remarkable story.
•
The Signing Party
The adjective that best describes Pee Wee King's book signing on April 20 at Hawley-Cooke's Shelbyville Road store is "warm." And the warmth was not generated by that big star that was shining outside, but by the diminutive star who was signing inside.
The man of the hour cheerfully autographed books and memorabilia for more than the advertised hour and a half, as did his biographer, Wade Hall. King's wife, Lydia, and daughter, Marietta, (and perhaps other kin) were there, as was his Golden West Cowboys lead singer and "Tennessee Waltz" co-writer, Redd Stewart, resplendent in a rosy pink sport coat. Numerous local luminaries stopped by for a book and a greeting, including long-time television personality Ryan Halloran, who stood out for his tall stature, bright red turtleneck T-shirt and black beret.
Acclaimed author and Elvis biographer Alanna Nash greeted King, as did this newspaper's bluegrass columnist, Berk Bryant, who brought along a vintage Pee Wee King song book depicting King astride his reared horse, Boots Jr. Jane Green, a neighbor of the Kings, stood in line for an autograph, and accordion player Wayne Tyler reminisced about playing "Twelfth Street Rag" in a talent show emceed by King at Fontaine Ferry Park some 46 years earlier. And the list goes on.
King graciously greeted each person who came to his long-overdue party. His sparkling eyes and his great smile lit up the room, and many friends and fans lingered long after the ink had dried on their autographed copy of "Hell-Bent for Music."
Biographer Hall had brought along his old-fashioned record player and delighted the crowd by playing an assortment of the more than 500 recorded versions of "Tennessee Waltz." Hall is to be commended for ensuring that the story of this deserving, beloved musician is final