Tim McGraw
April 3, 1996
Freedom Hall
The "Indian Outlaw" Tim McGraw's hot Spontaneous Combustion Tour hit Freedom Hall April 3 and it did just that: the entire arena spontaneously combusted and erupted with applause, excitement, and fun. This was McGraw's first big production tour with no holds barred as a headlining act and he really cut loose and had lots of fun, along with approximately 15,000 of his closest friends from the Louisville area. When the lights dimmed, an erupting volcano was projected onto the stage curtain, smoke rolled from the stage, and the crowd went wild. Suddenly the curtain fell and McGraw was lowered onto the stage on an aluminum platform suspended from the ceiling, donning a gray spandex T-shirt, blue jeans, a black velvet pinstriped jacket, topped off with a black hat and cowboy boots. He immediately tore into "Renegade," from his third album All I Want, barely heard over the roar of the crowd.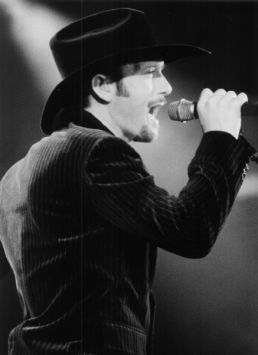 Tim McGraw. Photo by Michael W. Stout
McGraw continued with crowd-pleasing hits such as "Down On The Farm," "All I Want Is A Life," "Refried Dreams," and "Can't Be Really Gone," complete with a stellar backdrop of stars, a stage full of multi-leveled aluminum platforms, and even a mirrored disco ball. Despite the fact the sound system was loud and muffled at times, the crowd was enjoying this big block party concert, so much so that fans threw a University of Kentucky cap onstage in honor of the Wildcats' recent NCAA championship and even a choice female undergarment or two. One could not help but tap his toes to the music, including my unborn son, as my lovely wife would witness.
The brightest highlights of the evening included McGraw's smash number one hit of 1995, "I Like It, I Love It," "It Doesn't Get Any Countrier Than This," of course multi-platinum selling "Indian Outlaw," but probably most of all, the tender ballad "Don't Take The Girl," which caused tears to stream down the face of a certain mother-to-be and nearly choked up a certain father-to-be. The crowd joined in on every lyric to this latter song and roared with applause at which McGraw shyly responded, "Thanks. That's cool."
Although Tim McGraw is no trained classic vocalist, he's mastered his own brand of music labeled as "turbo tonkin'." McGraw delivered a slightly less than perfect, but fun, concert full of diversity. His slick rockin' eight piece band, the Dancehall Doctors, offered everything from congas and organ on "Nobody Knows It But Me" to steel guitar and fiddle on "When She Wakes Up (And Finds Me Gone)" to a grooving line of six gyrating guitarists on the Steve Miller Band's "The Joker." If the response to this 90 minute show is any hint, Tim McGraw no longer has to beg, "All I Want Is A Life," for he's sitting on top of the world, a planet full of cowboy hats and cowboy boots and lots and lots of friends and fun.