The Connells
By Victoria Moon
Monday, October 21, modern rock/alternative band The Connells played Phoenix Hill Tavern in support of their new album Weird Food and Devastation.
Now, you may think you've never heard of The Connells, but if you're even a minor fan of college rock, you're probably wrong. First, The Connells – brothers Mike and David Connell, Doug Macmillan, Peele Wimberly and Steve Potak – have been around since 1984 and have been a pretty major band on the college tour circuit. Second, The Connells had a breakthrough album in 1993 with Ring, a result of three-year marathon road tour that had at least two very popular singles: "Slackjawed" and my favorite by this band, "74-75." If, however, the approximately 150 people who showed up on Monday to hear this band was expecting the melodic alterna-pop of "74-75", they were in for a big surprise.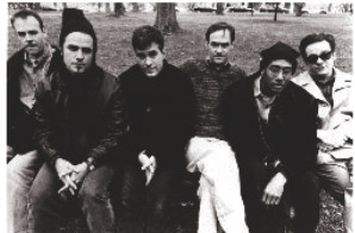 The Connells
The band took the stage around 10:30 and started in immediately with a sound that was to be carried throughout the show – loud, raw, Replacements-style three-chord rock tinged with a bit of an almost Celtic feel. I was especially impressed with the vocals of the lead singer, familiar and yet unique. My husband and I finally placed his voice squarely between the vocal sound of Squeeze and the Goo Goo Dolls.
With most of their songs based on a 4/4 beat and power chords, there was a tendency to drift towards monotony that was broken up by the excellent harmonies used just at the right moments. The songs seemed much darker than those on Ring, and the live performance underscored this, lending a cynical, "been-there-done-that" feel to the lyrics and music.
In a recent interview the band was marveling that they could be perceived as "always upbeat and positive" by their audience, and one member of the band remarked that if fans believe that, "they should see us two weeks into a tour." I'm not sure how far into the tour they were at this show, but they definitely were not a high-energy, "upbeat and positive" band. I noticed that while the band was about as tight as a band can be, the performances on this particular evening seemed to come across as curiously flat, and lacking energy.
On the whole, this was a good show worth seeing if only because it was given by one of the greats in the world of modern rock, and one of the bands that, along with R.E.M. and the Replacements, help define the alternative sound. This being said, I can't help but feel this show was not an example of The Connells at their best. Still, there were enough glimpses of musical brilliance that made me quite sure that on a better night this band would definitely be worth seeing again.