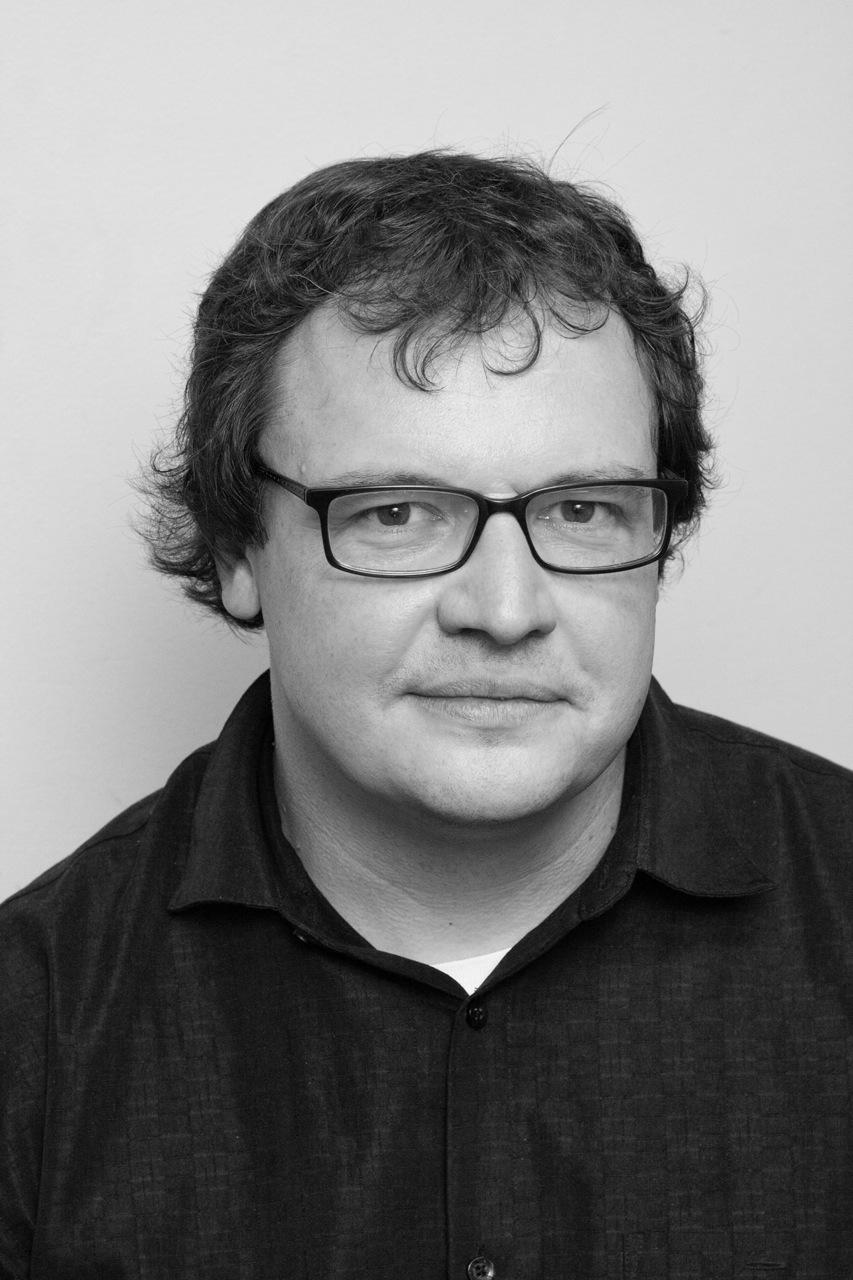 Jazzin'
It seems we're still talking about Neal.
Although it's been almost three years since Neal Burris passed away, his name still comes up as frequently as if he were still with us. We're still talking about his bass playing, his generosity, his sense of humor, his love for gourmet coffee. Just about anything Neal did or said is fair game for conversation.
I first met Neal when we played music for the Crusade for Children. Playing the Crusade requires two separate groups. They rotate one hour sets for twelve hours straight (at least they did then.) You'd play your hour and take a break to let the other group play. Neal was in the other group, but we took a liking to each other's playing. Soon we started overlapping, with Neal playing a little bit with our group and I with his. This was extra work for Neal, but he didn't mind. That's just how he was.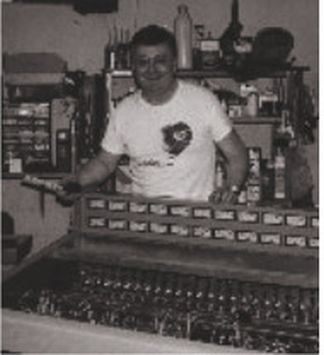 Neal Burris works on Falk's mxing board. Photo courtesy of Gary Falk
We played together frequently after that. The breaks were as enjoyable as the sets, for Neal was as good a conversationalist as he was a player. Most of our talk was about music, and if our conversation came to an artist I was not familiar with, Neal would come to the next gig with a tape for me.
Saxman and studio owner Gary Falk remembers Neal the same way. "If you mentioned an artist you were interested in hearing to Neal and he had it at home, you can bet the next day he'd come in to work with a tape for you. He'd spend hours taping things for people, that's what music meant to him."
Neal worked at Falk's studio for three years. He started by helping Gary build a new mixing console. Neal enjoyed the work so much, he quit his other job and joined Falk full time. The two became good friends. "We could talk on very provocative levels, about politics, religion, anything. Sometimes we disagreed strongly, but Neal was so accommodating to other people's points of view."
A big fan gourmet coffee, Neal would come to the studio every day with a new flavor and enough coffee for everyone. "What was so captivating about Neal was his sweetness. The place was never so peaceful as when he was here. He was an absolute joy," Gary said.
Gary's the one who told me something about Neal I didn't know. Neal was an old TV star, a featured performer on the Pee Wee King show. Of course he was known then as Neal Burris the Shufflin' Cowboy. He would come out with his guitar, sing cowboy songs and shuffle around with his feet. He was obviously quite a hit and has thus secured a place for himself in history. Any one who wants to can walk on down to their local bookstore and pick up a copy of The Complete Directory to Prime Time Network TV Shows 1946-Present (Ballantine Press). In this book, along with listings for Gilligan's Island and Columbo, is a listing for the Pee Wee King Show, a musical variety show that ran about five months in 1955. Regulars were Pee Wee himself, Redd Stewart, a six-foot-five comedian, (and co-author of The Tennesse Waltz with Pee Wee) and our very own Neal, no doubt shufflin' up a storm. Go Neal!
The winter of 1994 served up a torrent of snow that we hadn't seen for a long time. While most of the city shut down, Neal was concerned with keeping the sidewalks shoveled. His heart, big and generous as it was, could not take the climate and physical labor. When it failed under the strain, we lost one of the finest people this jazz scene has known.
Yes, we're still talking about Neal Burris. We miss him, you know. We miss you, Neal.
See you next time.