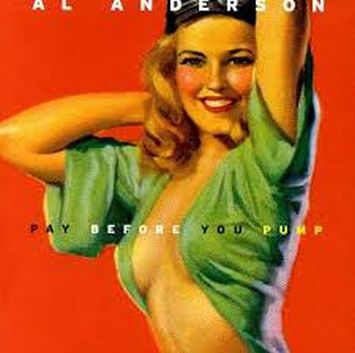 excellent solo foray
Pay Before You Pump (Imprint)
Al Anderson
By Leo Durham
Al Anderson played guitar for NRBQ for nearly twenty years before leaving and moving to Nashville to pursue a songwriting career. His new CD, Pay Before You Pump, is an entertaining mix of good feeling rhythm and blues, rock 'n' roll, blues and country soul with a driving beat that will make even the most devoted Couch Potato get up and strut.
The driving rhythm of "No Place in History," written with John Hiatt, and the opening lick and lyric from "Bang Bang Bang" (written with Craig Wiseman) sets the tone:
Here she comes in her hot pink pedal pushers
Bouffant hair from the Curl Up and Dye.
Cat mama shades with the rhinestone customizing /
Tell me ain't one lucky guy.
In this tune, Anderson takes the listener back to the days of Chuck Berry on the drive-in jukebox and two-dollar cover charges. Harmony vocals are provided by Elvis Costello and Delbert McClinton. The freewheeling abandon of "That Thang" is a down-to-earth and earthy celebration of carnal desire, while "Change is Gonna Do Me Good" is right out of the regret-and-resolve school of survival songs. Yes, Anderson says, we all have to pay before we pump.
Listen to Your Heart" showcases the flawless chord work that made Anderson such an integral part of NRBQ. It will also make the amateur guitar picker green with envy while garnering respect from pro players.
The haunting acoustic "Without Your Love" evokes the dark sensuality one would expect of a David Lynch film:
Danced with the devil in a bottle of whiskey
I paid the fiddler for every song.
You'd think with all the lessons learned the hard way
I'd know enough to be strong.
In "Lonely Too Long," written with Craig Wiseman, Anderson details from the opening line why a relationship was not working
You got a stock portfolio
I keep my change in a Dixie Cup
You want a dog with a pedigree
I like any skinny thing that wanders up,
which leads to the hook:
I musta been lonely way too long.
This is a one of the best new CDs on the market and a definite keeper. If you are not familiar with Al Anderson or if you appreciated his work with NRBQ or if you like danceable rock 'n' roll, go buy this one today.