Farewell Alex
The Celtic community suffered another tragic loss last week with the death of Alexander Stuart Gray, age 40. Upon being stationed at Fort Knox as a public affairs officer, Alex burst on the scene in a blaze of light. He played with Drowsy Maggie for a time and then was a founding member of Galloglas. He berated and cajoled the Louisville Pipe Band to a higher level of excellence which will pay dividends for years to come. Alex took up the bagpipes at the tender age of 8 and developed as a member of Cleveland's Clan MacFarland Pipe Band. In the military virtually his entire adult life, he traveled with Celtic bands in Germany under contract with Guinness and played with British army pipe bands in the Bahrain.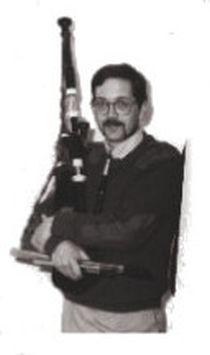 Alex Gray
His virtuosity on the highland pipes, small pipes and tin whistle wowed many an audience at the monthly Rudyard Kipling sessions.
This gentleman raconteur will abide forever in the air where a tin whistle "turns a corner" or the pipes stirs the blood. Goodbye Alex. We loved you. We will miss you.
HAPPY ANNIVERSARY
The Irish Rover celebrates its third anniversary Friday November 1st. TEN PENNY BIT and THE RASHERS will be providing the music. The "Rover" has been a great supporter of the Irish Family Fest and Celtic music generally here in River City with a first class establishment. Rock wishes publicans Siobhan and Michael Reidy all the best for a happy and prosperous future.
LIGHT UP LOUISVILLE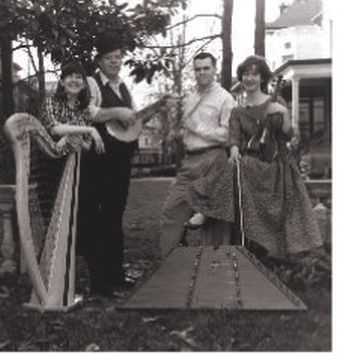 Ten Penny Bit
Dickens on Main Street has been replaced with an international festival in conjunction with the annual "flip of the switch" by Mayor for Life Jerry Abramson on Friday November 29. TEN PENNY BIT will be the Irish component of the world music program which includes inter alia German, African and Caribbean sounds. The Irish Family Fest will have a booth to promote its 1997 event along with hot potato-leek soup from the Irish Rover.
LOUISVILLE PIPE BAND NEWS
The LPB had some mixed results in its 1996 competition season just concluded at the Stone Mountain Highland Games. The lack of finishing "in the money" was probably attributable to an ambitious program of fielding both a Grade 4 and a Grade 5 band. The short-term glory was sacrificed for more long-term benefits derived from broader participation by more, albeit less experienced players. Pipe Major Robert Caudill has no regrets as the future of the band looks very bright indeed. The drum line is bigger and better than it has ever been under the tutelage of Rick McKenzie and the addition of snare drummers Alex Charland, Rick Mattingly, John Essick and Adam Mitchell. Tenor drummers Holly Crisler, Lisa Caudill and Angela Branham have added great flair to the performances. Classes for new pipers and drummers will begin sometime in January. For information call Rick at 634-5950 or Robert at 254-3963.
OUT OF THE WOODWORK
OOW is Louisville's newest Celtic band. Rock has not had an opportunity to hear them although they have had some successful gigs at Hawley-Cooke and The Rudyard Kipling. Rock understands they use guitars and hammered dulcimers. Check them out.