One More for the Rhody The Alan Rhody 50th Birthday Bash
October 16 was a happening night in Louisville. While 50-year-old President Bill Clinton campaigned in front of the 120-foot Louisville Slugger at Eighth & Main, Nashville hit songwriter Alan Rhody (Louisville-born Allen Kohnhorst) celebrated his own half-century anniversary with a birthday bash at The Rudyard Kipling Restaurant at Fourth & Oak. Rhody joked that Clinton was expected to stop by later to sit in on saxophone. (Dave Letterman, who delights in frequent references to Clinton's voracious appetite, would surely have wooed the President by touting the complimentary Kentucky burgoo, black bean soup and Southern cornbread.)
Sharing the Rud's stage with Rhody were three songwriters who have had more than a few hits themselves: Nashville Songwriters Association International Hall of Famers and Music City residents Rory Bourke and Charlie Black, and Louisville's own mega-talented Tim Krekel. In fact, the musical foursome may well have set the record for most number of hit songs written by artists sharing a single stage at the Rudyard Kipling. And that stage has showcased a lot of gifted people.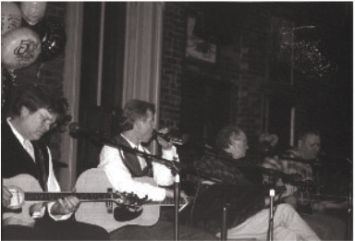 A stellar line-up of songwriters appeared with Alan Rhody for his 50th. Front left, Charlie Black, Rhody, Rory Bourke and Tim Krekel
The backdrop for all that talent was the Rud's exposed brick wall, bedecked with a bouquet of billowing birthday balloons (phrase courtesy of Pat Buchanan). On the wall's mantel a vase of beautiful, velvety roses represented Rhody's late father, Maurice Kohnhorst, whose life inspired the creation of the Maurice L. Kohnhorst Memorial Rose Garden at Kentucky Children's Home on La Grange Road, where he had been a director for 10 years. The arrangement was a sampling of the 15 dozen rose plants donated for the garden by the esteemed firm of Jackson & Perkins; the evening's event was a benefit for the Kohnhorst Foundation.
Krekel, whose birthday was that very day (Rhody's was one day earlier) started the parade of songs with his "Forever After," indicating that he would save "my hit" for last. On his second turn, in the guitar-pull format, Krekel showed off his never-played-out-before "Ruby Brown" which he co-wrote with Matraca Berg. That writing duo's No. 1 Patty Loveless hit "You Can Feel Bad If It Makes You Feel Better" was also on Krekel's set list. Although he treated the audience to his Sam Bush hit, "All Night Radio," he omitted "Turning Away," a No. 1 country ballad he penned for Crystal Gayle. But he more than made up for it with "Red Neck Van" (his young daughter's fave) and the local-flavored "In the Highlands." Especially memorable was a song with the wonderful hook/title, "I Cried on the Shoulder of the Road."
Bourke introduced his originals with the No. 1 Bellamy Brothers hit "Do You Love As Good As You Look" and, as his turn came around, followed up with a passel of other hits that included K.T. Oslin's "Round the Clock Loving" and Anne Murray's "A Little Good News." George Strait's No. 1 version of "You Look So Good In Love" couldn't measure up to Bourke's rendition, with his devilish recitation of the verses to his fellow songwriters and their sweet vocal harmonies on the achingly beautiful chorus. He also included Charlie Rich's No. 1 cross-over "The Most Beautiful Girl." Such sweet memories.
Bourke's songwriting partner, Charlie Black, selected "Be There for Me Baby" as his first offering, and continued with, among others, Jennifer Warnes' "I Know a Heartache When I See One," Anne Murray's "Shadows In the Moonlight," the very nice "Lights of Home" (Baillie & the Boys), and the Reba McEntire biggie "You Lied." Such terrific talent.
In his first turn, Rhody, who has a knack for writing first-hit tunes for other artists, presented one such with The Oak Ridge Boys' "I'll Be True to You," then followed up with "The Mother Road." A touching moment came when he sang "Your Heart Will Always Be My Home," which he had sung a few weeks earlier at the dedication of the Kohnhorst Memorial Rose Garden.
With the surprise arrival of three festive birthday cakes, Rhody exclaimed "I'm one lucky old (rhymes with heart)," after which he sang the nice, new "When I Grow Up." He ended the very enjoyable evening with "Train Wreck of Emotion," which put Lorrie Morgan's career on track and saw her album travel to platinum. Absent was Rhody's "Wild-Eyed Dream," the song that ignited the career of Ricky Van Shelton. So many hits, so little time. (Each of the participants contributed an even 10 songs to the evening's entertainment.)
The lovely Dolly Parton rose that Rhody's wife, Kathy, sent home with me at evening's end brightened my desk for nearly a week after the celebration.
But the melodies linger on.