The Saxtress Steams Up Porter's
By Leo Durham
Pamela Williams, "The Saxtress," performed for an enthusiastic, near sell-out crowd at Jim Porter's Goodtime Emporium on October 24. Bringing her R&B-favored contemporary jazz sound to Louisville for the first time, Williams generated enough energy and heat to warm an early autumn night crowd.
Williams has crafted a solid musical reputation by touring and appearing with some of the best-known names in the genre: Patti LaBelle, Tena Marie, Barry White, Queen Latifah, Babyface and the artist formerly known as Prince. Many in the audience recognized her from her television performances on The Tonight Show, Soul Train and as a member Arsenio Hall's house band.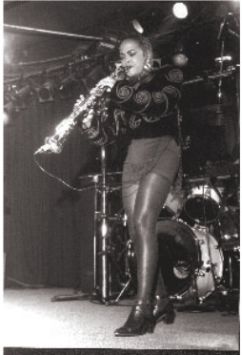 Pamela Williams. Photo by Eddie Davis
That such a big sound can come from such a petite woman (about five feet tall) came as something of a pleasant surprise, but her height did not shorten the approval of the crowd. At one point, she left the stage to move through the audience, serenading her way around the room, and for a while, performer and audience were united in a stylish, mutual admiration society.
Williams lives in Los Angeles but her Philadelphia roots were much in evidence.
"Philadelphia was a great place to learn music because the city's music scene was really happening when I was growing up," she recalled. "Philadelphia International Records was big and everyone was recording in Philly – The O'Jays, Harold Melvin and the Blue Notes, the Stylistics, Patti LaBelle and Grover Washington, Jr."
She has been listening to R&B since childhood, when "Mr. Magic's" blend of jazz and R&B ignited her interest in jazz.
"Grover's my idol," she said. "He laughs when I tell him I learned to play the saxophone listening to his records, but it's true."
Playing with the Martin Luther King jazz Ensemble at King High School in Philadelphia's historic Germantown section, she was required to embrace both electric jazz-funk and hardcore bebop. By the time she left Philly, Williams had toured extensively, backing fellow Philadelphian, Patti LaBelle.
A high point in her show was her rendition of Aretha Franklin's classic soul version of the Carole King tune "(You Make Me Feel Like} A Natural Woman." Urging the audience to join in on the chorus, Williams demonstrated a mastery of nuance and a command of style, proving that the jazz saxophone is "not just for boys anymore."
Opening for Ms. Williams was Louisville-based For You. They did a fine job of setting the stage with a solid set that included a stand-out version of Roberta Flack's "Feel Like Making Love."