Meet DSL's Mike Baker
By Mat Herron
Louisville musicians have come to know Mike Baker.
Metroschifter, Cooler, Endpoint and Falling Forward have all spent valuable hours with him recording, mixing and poring meticulously over the reels at DSL recording studio in Jeffersontown.
But while lengthy sessions are the norm, nary a group seems disappointed with the outcome. Word passes quickly among River City songwriters, and in the past few years, this studio has become a viable, almost necessary option for bands with low budgets who want professional sound.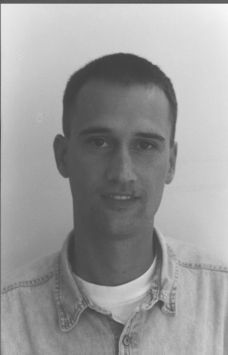 Mike Baker
Baker, originally from Clarksville, Ind., played bass in various cover bands and later engineered and played for danny flanigan's group, the rain chorus.
In 1989, Baker graduated from Indiana University Southeast with a bachelor's degree in music and headed out to California to further his education, attending the Institute of Audio/Video Engineering in Hollywood. Post-graduation, he worked at Musiclab Recording Studio and Videoworks in Los Angeles and as chief house engineer at Weddington Studio in North Hollywood. Some of the projects Baker's worked on include animation dialogue recording for "Tiny Toon Adventures," "Tazmania," "Batman," and television music for "Quantum Leap" and "L.A. Law."
DSL, an acronym for David Stewart Land, opened in 1992 and is owned by – you guessed it – David Stewart, who works at Sweetwater Sound, a pro music retailer in Fort Wayne, Ind. Because of his access to the latest, high quality recording equipment, DSL is continually upgrading with the latest, high quality recording gear.
If it's your first time in the studio, the control room resembles the cockpit of the Millennium Falcon: Along with the 50-input automated TAC Scorpion board, the 16-track analog, two DAT recorders and an array of microphones and signal processors, DSL is equipped with a Macintosh-based digital audio workstation running Sound Designer II and Pro Tools.
Pro Tools, Baker said, is an integrated digital multitrack environment that, together with the 16-track analog provides DSL with a total of 24 tracks.
Sound Designer II offers powerful editing capabilities like cutting, pasting, fading, crossfading, looping and mixing. It also provides digital signal processing functions like equalization, compression/limiting, pitch-shifting, sample-rate conversion, and sound reversing.
The benefits of a computer, Baker noted, depend on the way it's used.
There are many benefits from using the computer for audio: the high quality of digital recording, the speed of random-access hard-disk recording," he said. "There are so many creative ideas that can be explored non-destructively – as far as editing – that would be more time-consuming using traditional methods."
Equipment alone, however, can't produce a dynamite recording; other elements must be present.
A really great recording happens easily when you combine good musical compositions, skilled musicians, good instruments, high quality recording equipment and thoughtful production in a comfortable working environment," Baker said. "Great players on a cheap guitar or drumkit are still going to sound better than inferior players playing on great gear."
The rewarding aspects of his job lie in the process, i.e., the recording and mixing, he said, and producing with the artist a product they can be proud of.
People are very enthusiastic about their music and it's fun to be involved in the creative process," he said. "There are a lot of talented songwriters and musicians around Louisville and I enjoy working with all different musical styles."
Those who've worked with Baker are quick to sing his praises.
It's very homey . . . generally relaxed," Metroschifter vocalist/guitarist K. Scott Ritcher said. "There are plenty of places to sit without being in the way."
The two met through Ritcher's brother's group, Hopscotch Army, in late 1992 and discussed different recording approaches to the Poppy album by Ritcher's former band, Sunspring. Since that time, Metroschifter's first album, their seven-inch single "For the Love of Basic Cable," and the companion disc to the "Slamdek A to Z" book have all involved Baker's studio in some shape or form.
He [Mike] is very patient and listens to band after band that he might not even like," Ritcher said, "but he always does his best to make each band sound as good as they can. He offers suggestions when necessary and does his best to help everyone understand the recording process. he also knows the value of the pizza break."
Todd Smith, studio manager and composer/producer for Allen Martin Productions, for whom Baker freelances, said Baker is "easily one of the top handful of engineers in the city. He's thorough, professional, dependable . . . has a lot of knowledge and good ears."
DSL has plans to move its operation to a "dedicated facility," built from the ground up. Baker would not reveal the exact spot, but said it should be operational sometime next year. information on recording at DSL, contact Mike Baker at (502) 266-6233.