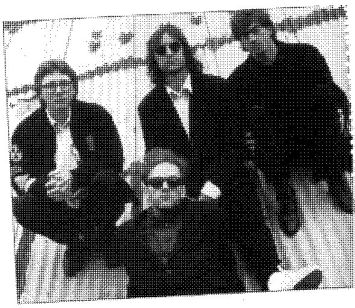 New Adventures in Hi-Fi (Warner Bros.)
R.E.M.
By Bob Bahr
Hardcore R.E.M. enthusiasts tend to dismiss the band's last album, Monster, as a platter important for helping the internationally acclaimed band blow out the creative pipes, but middling in its results in comparison to the rest of their catalog. But the truth is, their beloved Automatic for the People was the safest R.E.M. album to date, with nostalgic looks at early rock/pop, reprises of old R.E.M. rockers and sweet acoustic ballads that ranged from good to gagging. Monster was thrilling for its bold stance at the other end of the spectrum; Peter Buck's mandolin disappeared and in its place was a tremolo-drenched rock guitar expressing all the emotion that seemed missing from the controlled environment of Out of Time and Automatic.
On New Adventures in Hi-Fi, Buck remains plugged in and emotive -- taking the role of life blood for this band of talents. Vocalist Michael Stipe can still cast a spell with cryptic lyrics and iconoclastic vocalizing (although his mannerisms are now essentially iconic due to his fame and wide influence), bassist/keyboardist Mike Mills remains the secret weapon and differentiating factor in the R.E.M. sound, and drummer Bill Berry is solid, energetic and even inspiring, penning the best and most adventurous song on the album, "Leave."
"Leave" is a treasure, most precious because of its rarity in context; this is a fairly safe album of half-baked tunes penned and recorded on the Monster tour. Berry plays a moody melody on the acoustic guitar, building a sense of anticipation, then bringing this minute-long section to an uneasy resolution. Then Nathan December holds a note on an Arp Odyssey synthesizer and repeatedly flips a switch, creating a siren-like, techno effect that remains in full, loud effect for the rest of the song. (The band reportedly couldn't play "Leave" every night because the flip-switching made December's wrist sore.) Buck picks up Berry's guitar line and expresses a tablature of variations and embellishments in a bold, distorted tone, and Stipe sings the melancholy lyrics in a full-throttle, straightforward Stipey rock 'n' roll manner. They follow this bracing tune with the only thing they could: a hard-rocking song just one notch down in energy level, one that craftily blends R.E.M. present and past. "Departure" is its name.
The three songs that open the album ("How the West Was Won and What It Got Us," "The Wake-Up Bomb" and "New Test Leper") provide another patch of good songs. "How the West Was Won and What It Got Us" introduces the listener to the immediacy and rawness of Adventures' production; instrumental parts were recorded at live shows, sound checks or during quick sessions in a Seattle studio, and Stipe's vocals were redone later. Lyrically, Stipe ranges freely, mixing self pity with self mockery in "The Wake-Up Bomb" and "Bittersweet Me," riffing through intriguing, disjointed images in "How the West Was Won" and working in more focused measures (with mixed results) as in "New Test Leper" (which opens with a couplet about Jesus that will undoubtedly be misinterpreted by millions) and the piano-dominated ballad "Electrolite."
Rarely does an R.E.M. radio single accurately portray the quality or even basic tone of an album. New Adventures in Hi-Fi is no exception -- the first single "E-Bow the Letter" is on the second rung of this album's tunes. At least we get to hear Mills' patented backing vocals, side by side with a vocal contribution from R.E.M. Influence #1 -- Patti Smith.
Among the other compositions on this 14-song record, "Binky the Doormat" needs to be heard with the volume up, while "Be Mine" stands out as a relatively vapid cut that should be programmed right off the album. An instrumental recorded in a Philly dressing room, "Zither," is so forgettable I've already forgotten it, "Undertow" is another jolt of energy, and "So Fast, So Numb" is an honest snapshot of R.E.M. as Rock Group (as opposed to acoustic-y Southern Alt-Band). "Low Desert" is a so-so tune that belongs on somebody else's album.
In today's world, how often does the most popular artist deserve the acclaim? In R.E.M.'s case, the record-breaking $80 million contract and international fame are in step with the group's talent and product. Even the lesser tunes on their albums are pretty good. The fact that New Adventures in Hi-Fi is another guitar-driven album (and Buck is in the driver's seat) means music fans would be well advised to shell out $15. Mr. Buck is on it these days. In this case, believe the hype, and punch up "Leave" when you get home.