Alan Jackson & Wade Hayes End Ky. State Fair On A High Note
Freedom Hall
Sunday, Aug. 25, 1996
By Michael W. Stout
Who would have dreamed that a long-legged good ole country boy from Newnan, GA. would take the world by storm? Well, country superstar and 1995 CMA Entertainer of the Year Alan Jackson has done just that and he took Freedom Hall by storm as he closed the 1996 Kentucky State Fair on a high note on Sun. evening, Aug. 25. The ever-enthusiastic crowd was treated to 90-minutes of fine musical craftsmanship including greatest hits, upcoming new songs such as "Everything I Love," "A Little Bitty While" (written by Ky.'s own Tom T. Hall), and "Who's Cheatin' Who," as well as a few surprises.
Alan moseyed onto the stage carrying his milk jug of water wearing a white cowboy hat, a sleeveless denim shirt, and blue jeans a mile long and casually broke into his biggest hit to date: none other than "Chattahoochee." Backed by a line of 8 foot video screens, he continued with hits such as "Chasin' That Neon Rainbow," "Livin' On Love," and "I Don't Even Know Your Name."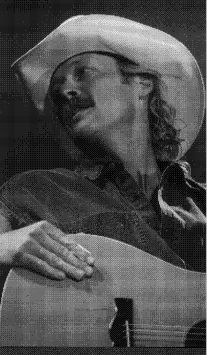 Alan Jackson. Photo by Mike Stout
The capacity crowd was treated to Alan Jackson "Unplugged" as he slowed things down and pulled up a stool to perform an amazingly welcomed acoustic set including his breakthrough tune, "Here In The Real World" (his second release after acquiring a record contract in 1989), "Wanted," and his duet with George Jones, "A Good Year For The Roses." Also included was "If I Could Make A Living," a tune Alan wrote but shelved due to his dislike of the results. He joked that he likes it much better since it has become a number one hit for Clay Walker. The highlight of this acoustic medley was a refreshing rendition of the Bluegrass number "Down The Seven Bridges Road."
Alan sped things back up as he tore into "Don't Rock The Jukebox," "I'll Try," and "Tall, Tall Trees." The biggest highlight of the evening was Alan's moving performance of his self-penned, autobiographical latest single, "Home," as photos told the love story of Alan's parents' across the 8 foot screens.
The evening was wrapped up with hits such as "Summertime Blues," "Midnight In Montgomery," and "Gone Country." Alan also joined his first-class band, The Strayhorns, on their very own "Stray Hornpipe," written by his top-notch steel guitarist. This group of 6 fellas are hotter than Georgia asphalt in the middle of July. Alan Jackson delivered nothing short of a perfect show in a refreshingly humble and honest fashion. Alan Jackson is what country music is all about.
Wade Hayes, the cream of the new crop of country crooners, opened the show with an admirable and entertaining 45-minute set. A modern-day Ernest Tubb with vocals as deep as the ocean, Wade wowed the crowd with hits such as "Don't Stop," "On A Good Night," "I'm Still Dancing With You," "Old Enough To Know Better," and his brand new single, "Where Do I Go To Start All Over." This hot newcomer really cut loose and showcased his mean guitar-picking on "This Is The Life For Me" and offered great depth with "The Room," a definite show-stopper. In an era of country wanna-bes, Wade Hayes has earned the title of a true country artist that's here to stay.