Arlo Guthrie at Jim Porter's Music Emporium September 19, 1996
After many years in the music business, I'm still trying to get a handle on the mission of the music critic. In the case of Arlo Guthrie, there is nothing critical or criticizing to write. This marvelous talent has seen miles of aisles and many times more of any man's share of highway. His name says it all. His songs and stories say it all.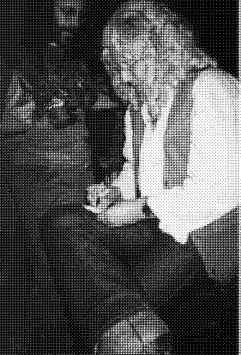 Alro autographs a keepsake for a fan.
Jim Porter's Goodtime Emporium provided a beautiful and intimate setting for this warm and personable entertainer. At Mr. Guthrie's request, the room was also smoke free.
From the opening song to the last encore, equipped with only two guitars, a six- and a twelve-string, and a portable piano, Arlo reminds us of who we are, what we are like, our dreams, our ideals. We are the precious and couragous people that inhabit this great land he sings about when he sings "This Land is Your Land." Every eye and every ear, every heart and every imagination traveled right along with Arlo as he took us through song after song, story after story. If you were there, you were there. If you weren't, you missed a wonderful journey.