Bluegrass Beat
This past month has been a real interesting one. So much going on. It started with the trip I took with Randall Hylton that ended at WFPK. From Kentucky on Thursday to Pennsylvania on Friday to South Carolina for Saturday shows to Kentucky on Sunday and for Randall on to Nashville Sunday night. It was a great trip. Met a lot of folks, saw a lot of country and how it looks both day and night. These days and miles provided the best opportunity Randall and I have had for an extended visit.
We got back to Kentucky, home, at 8:30 p.m. Rushed right out to the station to finish my Sunday Bluegrass show that was already in progress by way of a standby tape. Randall joined me to play throughout the remainder of the show. This was something I had been wanting to happen for a long, long time. The response has been tremendous – as it was that night. The calls from listeners impressed Randall. THANK YOU RANDALL HYLTON for an exceptional weekend, a terrific show and mostly for being such a good friend.
Without a doubt, THE event of this past month was the passing of Mr. Bill. William Smith Monroe, born 13 September 1911 – died 9 September 1996. Born to a musical family of parents, brothers and an Uncle he would immortalize in song. Drawing from a vast background of musical styles ranging from Scottish influence, old English ballads, American blues and country music (probably more accurately hillbilly music), Bill and Charlie Monroe brought this mixture into a compatible, unique blend that produced a truly recognizable American music. Recognized, accepted, loved and associated with the state of Kentucky around the world. Accepted to the extent that it has been emulated, coped and studied by musicians all over the world. Those that are seeking the energized, hard driving, "high lonesome sound" of Kentucky's Bill Monroe. In earlier years before bluegrass came to be known as bluegrass music, it was mountain music, hillbilly, and later country and western. As country music began to be changed, bluegrass took on a name and life of its own.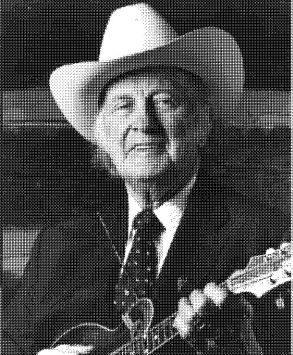 Bill Monroe
Bill Monroe's music DID NOT change. Country music did, very definitely. This is not to mean that only what Bill played is all there is to it. It means that he defined this music that ranges from a variety of instruments to some absolutely moving gospel. The bluegrass of Bill Monroe is easily defined and recognized by itself. Change for the sake of change is just that. An apple souped up with an orange may become an orple, but it is no longer an apple or an orange. It may be good, or okay, but it is no longer an apple.
Bill Monroe's Bluegrass Boys was like a school of bluegrass music. Many graduates and masters are alumni of this school of musical knowledge. Many of who became recognized in their own right and made their indelible marks in bluegrass music. Marks in keeping with the tradition and carrying on the tradition. I could not possibly name them all, but your favorite or most recognized names will come to mind.
I was very fortunate and grateful to have several top guys with me on the Sunday Bluegrass tribute program to Bill on Sunday, September 15. I feel like, because of others, I have had two fantastic shows this past month. Johnny Collins was Bill's bus driver at one time. Art Stamper fiddled for Bill, Dan Jones, a Bluegrass Boy in the '70s, and Allan Phelps, who has the distinction of being the only dobro player Bill ever used on a show. Allan played several shows with Bill, unfortunately never recorded with him, nor did Dan Jones.
They all had stories about life with Bill, both off and on mike. All fully respected, admired and supported Bill Monroe. All were thankful, considered themselves fortunate for having had the opportunity in their life to have been associated with the Master of, the Father of Bluegrass music. Some observations of Bill:
Bill could tell if a note was missed during a show, who missed, when and where and told the musician when they came off.
Bill could write a tune in a minute.
Bill could turn to one of the boys during a number on stage and begin talking about anything. Many times, mules, and never miss a note.
Bill Monroe was Bill Monroe and Bluegrass music.
In an interview or conversation, no matter with whom, with Bill it was always 'Yes, sir," and "No, sir."
Bill Monroe was the benchmark for bluegrass music and musicians.
To say that you will be missed would be insufficient. William Smith "Bill" Monroe.
I was able to attend the funeral in Rosine. It was an appropriate and well-directed service. Many former Bluegrass Boys were there. The current Bluegrass Boys were pass bearers. To name only a few, Kenny Baker, Ricky Skaggs, Skeeter Davis, Bobby Osborne, Wayne Lewis, Laurie Lewis and many fans and friends. It was my first funeral of this nature. I am glad I cold attend.
The Strictly Bluegrass Festival at Iroquois Park was another success this year. James Monroe was there on Friday night and was well-received by the crowd. Gary Brewer orchestrated quite a finale each night by having all bands out. It put a roaring, almost unstoppable close to the show each night. Dr. Ralph Stanley was the man Saturday night. I had the pleasure of meeting Ralph's wife on Friday night. She is very pleasant, a nice lady, Ralph. Ralph was good enough to join on the show Sunday night by phone. Thank you, Ralph .
Briefly and quickly coming up this month:
Sunday, Oct. 6, a Bluegrass Hoedown Jam Benefit for Twister '96 victims. Location, Shelby Co. Ky. Flea Market. Open Stage 11 a. m. – 4:30 p.m.
Shepherdsville Country Music Place: Oct. 4 – Kentucky Blue; Oct. 11, Danny Jones & Wendell Cornett; Oct. 18 – Doyle Lawson & Quicksilver; Oct. 25 – The Sunnysiders (all gospel).
October 10 13, The Tennessee Fall Homecoming at Norris, TN Museum of Appalachia.