I've Got A Mind To Ramble
Luther's Blues
My ticket for the Hot August blues Festival proclaimed this event as the "Hottest Blues Festival in America." If the ninety-degree temperature and Luther Allison's performance on Sunday were any measure, they were right.
Kenlake State Resort Park has hosted this Festival for seven years in an amphitheater that steps down to a stage at the edge of Kentucky lake. It was definitely blues in the round, with the crowd onshore sitting in a semi-circle and a circle of boats anchored behind the stage.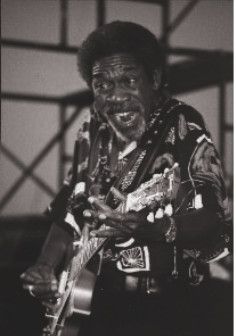 Luther Allison. Photo by Keith Clements
Recent winners of the Music City Amateur Blues Competition, The Soul Shakers, opened the show on Sunday, the final day. Tré, one of Chicago's rising contemporary blues guitarists, leads the group. Josh Wilkes, a wiry kid with slicked-back red hair and rolled-up blue jeans, blew some remarkably mature harp.
B. B. King's daughter Shirley King came out next to sing with the band. Her selection of blues standards included the obligatory "Sweet Home Chicago." She established her rapport with the audience with a lot of jivin' between her songs.
The sun shone down on the Prime Time Blues Band from Columbus, Ohio. During last year's festival, Lonnie Brooks handed his guitar to Tony Huston, their lead guitarist, to take a few licks. He caught the blues bug then and there. Dan Axe did an extended solo on harp while walking through the crowd.
Chicago harp veteran Snooky Pryor played for the first time in Kentucky. His band was casually dressed due to the heat, but Snooky was decked out in a suit and hat and showed not a bead of sweat during his set. Snooky's playing has a lyrical bounce that recalls the Chicago blues of the '40s and '50s, particularly on blues chestnuts "Patch a Boogie Woogie" and "How You Learn to Shake It Like That." Antone's Records has a CD by Snooky, Mind Your Own Business, set for release in October.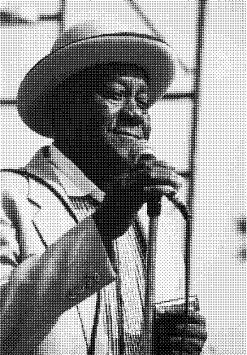 Snooky Pryor. Photo by Keith Clements
Pinetop Perkins was to have played with the band but troubles with the law prevented him from leaving Chicago. Detroit Junior subbed for Pinetop and put on a great show, pounding the keyboards and grinning impishly. Junior had played with the Howlin' Wolf band and paid tribute to the Wolf with a sweet version of "I Should Have Quit You." Check the Sept./Oct. issue of Living Blues for a feature story on him.
Mike Griffin is the only musician to play every year at the festival by audience demand. Griffin, a large man, was hard to ignore while he was in the audience playing Bud bottleneck slide guitar. He did mostly covers, but "You Be the Boss, I'll Be the Midget" and "High Maintenance Women" were two standout originals.
My reason for driving four hours from Louisville for the Festival was the headliner, Luther Allison. Shortly before he was ready to go on, I gathered the nerve to knock on his RV's door. I was amazed at his laid-back graciousness. While he autographed two of his old Rumble LPs for me, he talked about his hectic tour, and how he was going to take a few days off to do some serious fishing before heading to his Paris, France residence. His son Bernard leads his own band in Europe.
Recently, Allison cleaned up at the 1996 W. C. Handy Awards, getting trophies for Entertainer of the Year, Best Contemporary Blues Album for his Alligator CD, Blue Streak; and Best Blues Song of the Year for "Cherry Red Wine," which has become his signature tune.
Backed by the Milwaukee-based James Solberg Band for this tour, the fifty-seven-year-old Allison turned in a performance worthy an Energizer Bunny Award. From the moment he walked out of the wings, guitar talkin', to the end of an encore longer than many musicians' sets, he was dynamite.
During his set, the sun set, changing shadows to dusk, then darkness, reflecting Allison's many moods. "I Live in a Big City" and "Move From the Hood" were a pair of strong urban social statements.
We have to get Luther Allison back to Kentucky.
This first rate festival was made possible by Gloria Peck Hargrove, who directed the event, together with volunteers. John Griffin, host of "State Line Blues," a blues show on Murray State's WKMS 91.3 FM, emceed.