Cowboy Corner
National Country Music Month
The leaves are changing and there's a chill in the air, meaning only one thing: October is upon us. October is a very important month for country music as it is National Country Music Month. Country music has emerged as the hottest music genre today thanks to country fans such as yourself.
The hottest and most talked about event during National Country Music Month is by far the CMA Awards. The 30th Annual Country Music Association Awards will be handed out at the Grand Ole Opry House on Wed., Oct. 2 and will be broadcast live on CBS at 8 p.m. EDT. Vince Gill, winner of more CMA awards than any other artist, will host this three-hour gala. Gill leads the pack with seven nominations, followed by Brooks & Dunn and George Strait with five nominations each. Current Entertainer of the Year Alan Jackson captured four nominations, while our home-town girl, Patty Loveless, picked up two nominations.
Good luck to all the nominees and keep up the good work!
And Baby Makes Three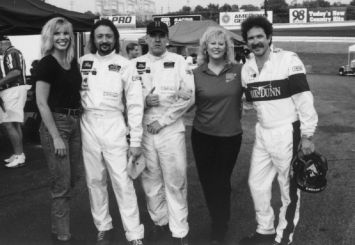 Just drivin' fools in the race for a diabetes cure. From left, Donna Sterban (Oak Ridge Boys, Inc.), Mark Collie, John Hiatt, Youce Rice (BMI) and Kix Brooks
Nineteen-ninety-six has been an incredible year for Nicholasville, Ky.'s John Michael Montgomery. John Michael has taken a beautiful bride, built a new house and released a brand new album, titled What I Do The Best. These feats are all and good, but he topped it all when he and his wife Crystal recently welcomed their first child into the world.
John Michael and Crystal are the proud new parents of Madison Caroline Montgomery, who was born in Lexington, Ky. at 4:11 a.m. on Aug. 27. Madison weighed in at 8 pounds, 7 ounces and measured 19 1/4 inches. Mother and baby are doing fine.
Congratulations John Michael and Crystal--happy diaper duty!
Naomi Judd Begins Talking
Teen mother turned nurse turned country music superstar turned best-selling author turned motivational speaker turned restaurateur Naomi Judd, from Ashland, Ky. is now going to try her hand as host of her very own hour-long daily talk show simply titled Naomi. The program will reflect Naomi's success-over-adversity view of life as each day a different subject will be explored in a compelling and positive way.
My mission is to do the most I can with the sum total of my life experiences in overcoming everything from physical abuse and poverty to divorce and deadly disease," says Naomi. "We'll celebrate values to live by and look at all sides of life, because by learning together how to overcome conflict, pain and tragedy, we will get stronger together."
Naomi is still in the preliminary stages and RYSHER Entertainment expects the show to be syndicated in the fall of 1997. Daily guests will be everyday people, as well as entertainment celebrities, such as daughters Wynonna and Ashley. Topics will range from relationships and family issues to personal power and health.
Good luck and best wishes, Naomi!
Mark Collie Celebrity Race for Diabetes Cure
Country superstar Kix Brooks will be defending his title as the 1995 celebrity champion at the Third Annual Mark Collie Celebrity Race for Diabetes Cure on Wed., Oct. 9 at the Nashville Speedway USA. Collie, a diabetic since the age of 17, heads up this charity race to raise money for research for a cure for diabetes. In just the first two years of this event, the Mark Collie Foundation has contributed over $500,000 to organizations such as Vanderbilt University Medical Center, the Juvenile Diabetes Foundation, and the American Diabetes Association for diabetes research. TNN will air a one-hour special on the event on Wed., Oct. 23 at 8:00 p.m. (EDT).
In addition to a number of country music celebrities, automotive legends Bobby Allison, Mike Alexander, Harry Gant, Red Farmer, Dick Brooks, Pete Hamilton, Fred Lorenzen, Elmo Langley, and Coo Coo Marlin will be racing Legend cars – 5/8-scale, 115 to 125 horsepower, pulse-quickening, 1200cc Yamaha motorcycle engines – modeled after the great modifieds driven by NASCAR stars.
Kicking this event off will be an exclusive VIP Party, Auction, and Concert to be held Tues., Oct. 8 at the Wildhorse Saloon in Nashville. Celebrity and pro drivers, special guests, and sponsors will be on hand. Guests will have the opportunity to bid on racing and country music memorabilia as well as be treated to an "unplugged" concert hosted by Mark Collie and some of his biggest country music friends.
General admission tickets to the celebrity race can be purchased for $10.00 through Ticketmaster by calling (615) 255-9600. VIP Party reserved tickets can be purchased for $200.00 per person by calling (615) 646-4437.
Hats off to Mark Collie and good luck!
Search for Local Country Bands
I'd like to hear from all you local country bands out there, both old and new. Let me know what you're up to, where you're playing, new tapes and CDs, etc. Drop me a note at: Local Country Bands, Louisville Music News, P.O. Box 148, Pewee Valley, KY 40056. I'd like to spotlight a local country band right here in "Cowboy Corner" each month, so get those letters rollin' in. After all, you can't beat FREE publicity!
Hot New Country
October being National Country Music Month, your favorite local record store is overflowing with hot new country. Be on the lookout for new records by some of country music's greats such as Alan, Reba, John Michael, Tanya, and Mary-Chapin. John Michael Montgomery's What I Do The Best is already available, while Mary-Chapin Carpenter's first release in a couple of years, A Place In The World, will be available Oct. 22. Alan Jackson fans will want to rush out and get Everything I Love upon its release on Oct. 29. Reba McEntire fans can hear her brand new COUNTRY single, "The Fear Of Being Alone," on What If It's You, available Nov. 5 and Tanya Tucker followers can pick up Complicated on Nov. 12.
If you're a fan of greatest hits records, then you're in luck. Keep your eyes open for Carlene Carter's Hindsight 20/20, and Clint Black's, John Anderson's, and Mark Chesnutt's Greatest Hits. Tracy Byrd returns with Big Love, 80's Lady K.T. Oslin is back with My Roots Are Showing, and Kathy Mattea will be represented in Nov. with Love Travels.
Several artists return this fall with sophomore efforts. Included is Ty England's Two Ways To Fall, Daryle Singletary's All Because Of You, 4 Runner's One 4 The Ages, and Terri Clark's currently untitled album (which she recently told me she was pushing for a title of Just The Same, but record execs didn't seem to agree).
There are a couple of newcomers you'll definitely want to keep your eyes and ears open for. Deana Carter's debut album, Did I Shave My Legs For This?, is now available and includes "Strawberry Wine." Gary Allan offers his debut release titled Used Heart For Sale. And Crystal Bernard (yes, if you think that name sounds familiar, it IS the same Crystal Bernard on the sitcom Wings) takes a stab at country music with her debut titled The Girl Next Door.
Upcoming Live Country
All you fans of the country music "singer's singer," Gene Watson won't want to miss his stop in Shepherdsville on Sunday, Oct. 6. Watson, of "Love In The Afternoon" and "Fourteen Carat Mind" fame, will be performing two shows at the newly remodeled Shepherdsville Country Music Show at 2:00 p.m. and 6:00 p.m. Advance tickets to this show are $15.00 and tickets will be $17.00 at the door. To purchase tickets or for more information, call Renda Aiken at (502) 968-6358. To get to the Shepherdsville Country Music Show, take I-65 South to Exit 117 (Shepherdsville) and go 2 1/2 miles west on Hwy. 44.
The Tracy's are coming! The Tracy's are coming! No, I'm not talking about Ma and Pa Tracy, rather none other than hot country artists Tracy Lawrence and Tracy Byrd. The two will be playing Louisville Gardens on Sat. evening Oct. 19. Mr. Lawrence will be sure to perform all his hits including cuts from his latest smash album, Time Marches On. Mr. Byrd will be sure to perform all his favorites as well as tunes from his upcoming new album, Big Love.
The "Rhinestone Cowboy," David Allan Coe will be making a stop in Louisville on Nov. 5 at Coyote's. Coe will be sure to perform crowd-pleasers such as "You Never Even Called Me By My Name," "Longhaired Redneck," "Willie, Waylon & Me," "The Ride," and "She Used To Love Me A Lot."
Well, that's it for now. Always remember: Keep you boots shined up and your hat on straight, 'cause country music is comin' your way.