Locust Grove Turns Green3>
The third time is charmed. Locust Grove is hosting its third annual Irish Festival on Sunday, October 20 (Noon To 6 p.m..) as a fund raiser to support its noble mission to preserve the Irish Croghan family residence where Louisville's founder, George Rogers Clark spent his last days. The house and grounds have some uniquely Irish features which your tour guide will point out when you visit. Unlike our wonderful Irish Family Fest, this is a smaller, more intimate gathering featuring local talents The Rashers, Ten Penny Bit And Galloglas as well as The Bluegrass Irish Dancers And The Louisville Pipe Band. Call 897-9845 for more information.
Irish Fest '96 A Big Success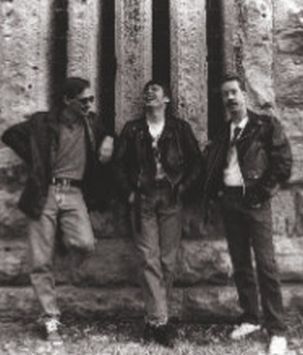 The Rashers
The 7th Irish Family Fest overcame the drenching rain on Saturday for the strongest ever finish on Sunday. Many were no doubt unaware that all the musical acts had perfectly adequate rain contingencies. The Friday kick-off concert was a sell out and with good reason. Dublin balladeer, Danny Doyle, presented his "Terrible Beauty" program of the history of the 1916 Uprising in story, poetry and song. This was no light diversion. Danny kept his audience in rapt attention from start to finish. Glorious!
And then the rain came, unrelenting until (too) late afternoon. Nevertheless there was, considering the weather, a good sized and enthusiastic crowd to hear Belfast based Croabh Rua. Their uillean pipes, fiddle, guitar and tenor banjo arrangements were thrilling and Jim Byrne's smooth and smoky vocals were wistfully beautiful, especially "Farewell to Enniskillen". Ohio powerhouse Inisheerturned in their usual fantastic performance.
On a paradisiacal Sunday, Scotland's premiere group, the Tannahill Weavers wowed the Fest crowd and were called back for three encores. The Fest gets better every year. Martha and Gerry Ford, Brian O'Leary (and others too numerous to mention) have given their life-blood to this cause and need the help of all Celts. Call 897-9050 NOW to volunteer a few hours to next year's Fest #8.
Farewell to Tight Squeeze
Rock deeply regrets to announce that after some 15 or so years Tight Squeeze is calling it quits. Renowned for their solid musicianship, Henry Austin, Beverly Buchannan and Pete Komsiski will leave a big hole in the Celtic music scene in Kentucky as the top dance band. Rock hopes that they may find other outlets for their considerable skills. A farewell concert would be nice. How about it TS?
Rashers Rule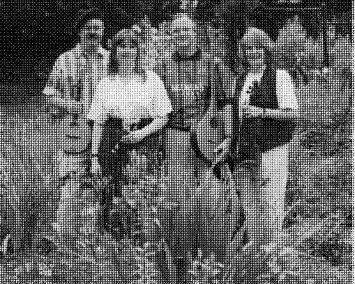 Galloglas
Louisville's Celtic bad boys will be slashin' into O'Shea's Traditional Pub on Saturday, October 5 as well as stirring things up at the Locust Grove Irish Festival on October 20. Oenophiles will have benefit of their ministrations as well at the Thomas Winery in Madison, Indiana on Saturday, October 19.
Galloglas In Drag?
Or something like that at their Samhain (pronounced SEW-in) Festival concert at the Rudyard Kipling on October 26. Come celebrate the Celtic origins of Halloween. It will be a costume party with prizes for the best dressed. Lexington balladeer and folklorist, Robert Tincher make a special guest appearance.
Heart of Tennessee Scottish Celebration
The Scottish Society of Louisville, the Louisville Pipe Band and Gallosglas will all be on hand with the "Volunteer State" Scots in Murfreesboro on Saturday, October 5. Call Pat at the Scottish Society of Louisville for more information at 423-0699. After Tennessee, our pipe band will proceed to its competition season finale at the Stone Mountain Highland Games on October 19.
Rudyard Kipling Session
The regular Celtic music jam session on the first Friday will happen on October 4. There is no cover charge and PUULLEEEAZE! if you play and are Celt-curious, bring your instrument!
Irish Rover Anniversary
It's THIRD anniversary will be celebrated with the usual panache on the first weekend in November. Watch this space!
The Irishg Rover was a mighty scene last Saturday where Croabh Rua from Belfast, John Skelton of the House Band and members of Inisheer, Ten Penny Bit and Galloglas were jammin'. The Tannahill Weavers were all there and Dublin's Danny Doyle gave a few songs. It was a magical night for Louisville and it could only happen at the Irish Rover. Slainte!