Festival Fever
Story and photos by Jean Metcalfe
Great weather and open-air festivals joined forces to set the scene for a bounty of feel-good music during the weekend of Sept. 13-15.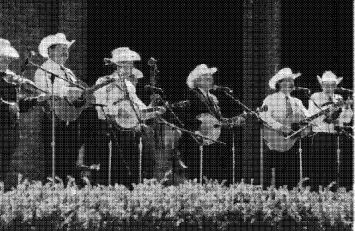 Ralph Stanley and the Clinch Mtn. Boys
On the 14th, big-band music was just what The Doctors Band ordered (photo ***), while Bob Rosenthal (photo ***) entertained children of all ages at the nearby Kids' Fun Zone tent at Middletown's Milestone Festival on Main St. The physicians were followed onstage by those skilled operators known as the Juggernaut Jug Band (photo ***), whose instruments included washboard, bells and jugs. Their p.r.-conscious spokesman cleverly congratulated the Middletown community on its huge stone honoring . . . the mile (rim shot).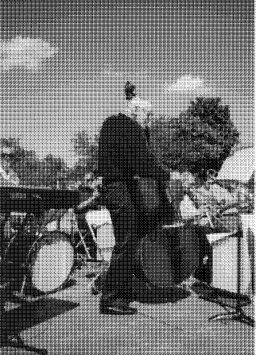 John Ryan of the Doctor's Band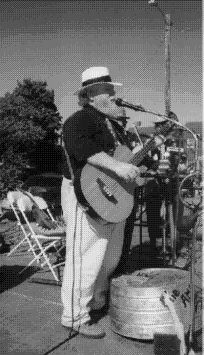 Gli Fish of the Juggernauts
Just a few miles away, in a gazebo on the grounds of Crestwood Elementary School, Kentucky Blue (photo ***) provided pickin' that was by no means slim. Banjoist Dave Cottrell sang a well-articulated version of Lonzo & Oscar's "I'm My Own Grandpa," and it (almost) made sense.
Friday, the 13th, kicked off the two-day Strictly Bluegrass Festival at Iroquois Park, and those who attended the free event were indeed lucky. Excellent music could be heard both inside and outside the Iroquois Amphitheater (photo ***) and the bluegrass fans turned out in record-breaking numbers. Dr. Ralph Stanley (photo ***, from PMM), who is celebrating 50 years in the bluegrass music business, graciously shared the festival's spotlight with the memory of the late Bill Monroe, who had passed away earlier in the week. Festival organizers Gary Brewer and his family are to be commended for the high quality of the young event. (Audiences were encouraged to write letters of support to Mayor Jerry Abramson's office to ensure the continuance of the festival.)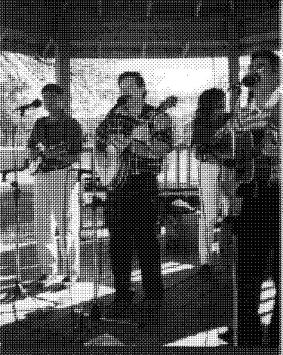 Dave Cottrell & Kentucky Blue
On Sunday, the 15th, local farmers and chefs teamed up to dish out tasty, nourishing food for the second annual Ohio Valley Harvest Festival on the Belvedere. The noon-to-six event concluded with a rain shower, but not before Gary Brewer and the Kentucky Ramblers (photo ***) had played several lively sets of bluegrass music and festival goers had enthusiastically sampled such delicacies as emu burgers and fresh apple cake.
Paul: It might be that photo captions will work better than the (photo ***) that I have inserted. A combination may be necessary. Identities of most of those pictured are noted on the back of at least one photo of each event.