War Against Women
Not a novel idea certainly, as academics have argued that 17th Century witch hunts were in reality a "war against women," who were too threatening with skills, healing arts, sentience, herbs and hearing (small voices) that were unacceptable to Cotton Mather's ordered universe. "You will burn where none will hear you cry."
Steeleye Span's newest recording, Time, makes real statements about women's issues, if only obliquely. Maddy Prior's virtuosity and the band's tasty arrangements and collegial compositions come to the fore in this recording. Rock's personal favorite is "Harvest of the Moon," an exposition of the triple goddess Brig, Brigan, Bridgid, St. Bridget of Kildare: "the re-emerging goddess of the feminine principle in mankind; bringing harmony to all our troubled relationships . . . listen to the wind that shakes the barely." Buy this record.
Beantown Report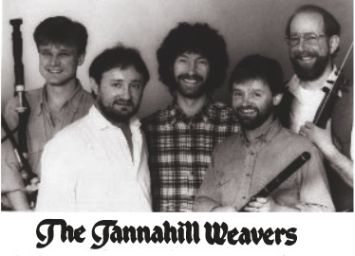 One need only pick up a copy of the weekly Irish Emigrant to get tuned into the Boston Celtic music scene. As one might expect, there is an ample sufficiency, although some disdain The Bloom Rose pub as a tourist trap, Rock was happily in bondage with Celtic Cian, whose pedestrian name belies some great musicians: Dubliners Frank Ryan and Hughie Purcell and Cape Cod fiddle whiz Billy Hardy. The other venues are too numerous to mention except that The Burren must be recognized as hosting some of the best music.
7th Annual Louisville Irish Family Fest
September 20, 21 and 22 is the date for our premiere Irish event and probably the best value for your entertainment dollar. The dedicated Fest organizers and volunteers always ensure such quality that the Fest has been recognized in Irish Music, a magazine published in Ireland for the Irish, as one of the top Irish music festivals in the USA.
Scotland's top band, the Tannahill Weavers, return on Sunday by popular demand. Croagh Rua from Belfast, Northern Ireland, are a must see and hear for their strong traditional and uniquely northern focus. Danny Doyle is coming from Dublin for the opening concert on Friday night. Perhaps this velvet-voiced balladeer will sing his "I Can Almost See Ireland from Here," which he wrote while in Kentucky some years ago.
Show up with your heart on your sleeve and be ready to be crooned high and low.
In addition, the usual suspects will be lined up as well. Tight Squeeze will play for the dancers at the Saturday night ceili and The Rashers, Ten Penny Bit (recently returned from Denmark), Galloglas and the Louisville Pipe Band will be on various stages Saturday and Sunday. Mark your calendars.
Can you Say Feis?
A new Irish organization, the Louisville Area Irish Cultural Society, has been formed to host a feis (pronounced FESH) or Irish dance competition in June 1997 and generally to support our own Bluegrass Irish Dancers. There has been much lip service given to local Irish dancing, but these folks are really making it happen. Their first fund-raising ceili was a great success and more are sure to follow. Watch this space or call Betsy at 451-5628.
The Rashers at O'Shea's and Galloglas on the Road.
O'Shea's Traditional Irish Pub on Baxter Avenue will be hosting The Rashers on Saturday, September 14, at 10:30 p.m. It's just the right place for their rollicking brand of Celtic with a hint of bluegrass.
Galloglas takes wing to Coney Island in New York City for the Great Irish Fair September 7-8 and then on to the Indianapolis Irish Festival on the 14th, the Cincinnati Celtic Festival on the 15th and the Heart of Tennessee Highland Games in Murfreesboro October 5.
Braveheart is Gang Awa
William H. Wallace finally succumbed in his long battle with leukemia and cancer and passed away on Sunday, August 4, as one of his sons played "Meeting of the Waters" on the bagpipes at his bedside. Bill may be credited as the 'founding father" of bag piping in Kentucky. When you hear the skirl of the pipes in this community, please raise your eyes heavenward and say "Thank you, Bill."