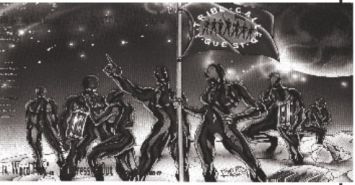 Beats, Rhymes and Life (Zomba/Jive)
A Tribe Called Quest
By Bob Bahr
With most rappers, the key to their likeability is how much you like their delivery of the rhymes. This is especially so with A Tribe Called Quest. The backing tracks for Tribe are sparse and simple, leaving the rapping laid bare, and Q Tip, one of three featured members in the group, has one of the most distinctive rapping styles in the business. Are you taken by Tip? Then you'll like Beats, Rhymes and Life, a relaxed, consistent slice of hip-hop that is flavored most strongly by Q Tip's stuffed-nose, adolescent-prophet-sounding vocal vibe.
Highlights are few and hard to come by, mostly because the album's good points are so evenly spread among the tracks. "Phony Rappers," the disc's opener, is both a good introduction to the Tribe Called Quest sound and a memorable potshot at certain segments of the competition. In their own madly brilliant way, this East Coast group is at the top of the rap game, but one can understand the jibes from their hip-hopper-than-thou brethren. The jazz organ grooves and paltry, passing attention to the music's low end make them a bit of a freak in today's rap world. And Tribe runs across the hardcore border frequently, without the aid of cliches or excessive profanity.(!) Weird.
Q Tip's contribution to the mix is substantial, but tracks such as "The Hop" and "Baby Phife's Return" let Phife show what his flow is about -- more traditional but sharing Tip's unhurried concern, laying just behind the beat and hitting hard on his own terms and times. Other potent tracks: the scratch-goosed "The Pressure," "Stressed Out" and "1nce Again" with their female vocalizing (courtesy of Faith Evans and Tammy Lucas, respectively), and the no-nonsense "Get a Hold."
It's a vibe thing, with lyrics mostly using smart wordplay to extol the group's virtuosity at rapping and life. And the vibe is primarily Q Tip's, a unique taste in rap's narrowing world. Perhaps A Tribe Called Quest's early platter The Low End Theory is a better slice of this sound, but Beats, Rhymes and Life is 1996's updated antidote to rap's malaise, and here's one listener who is not hesitant to get his medicine.