Bluegrass Beat
As I am writing this, my trip with Randall Hylton, to Pennsylvania one day and South Carolina the next, is only two weeks off. It's an opportunity I have been looking forward to for a long time and I think it will quite an experience. I made one short trip with Randall to Ohio a couple of years ago. Most enjoyable.
This is the September issue and that means October is just ahead. October 10-13 is the big weekend at the Museum of Appalachia, Tennessee Fall Homecoming. An event I look forward to every year, it's a time to see friends we have made down there over the past ten years, to get together with my high school girlfriend. We correspond between Octobers with video tapes, but nothing takes the place of getting together. As I have said before, this is one of the biggest and best events of it's kind that I go to. It's especially good to take the youngsters to. Quite a few listeners [to Berk's Sunday Bluegrass program on WFPK FM 92] and others I have talked with tell me they are going this year and some have even made their motel reservations.
On the music side, headliners will include Dr. Ralph Stanley (Thurs.), Doyle Lawson (Sat. & Sun.), Mac Wiseman (Fri.-Sun.), John Hartford (all days), Oswald (Thurs. & Sun.), Grandpa Jones & Romona (all days) plus others. Also appearing will be Roy Harper, Leroy Troy, Marilynn Powell-Green, Raymond Fairchild, David Holt, Bill Carlisle, and Elmer Bird.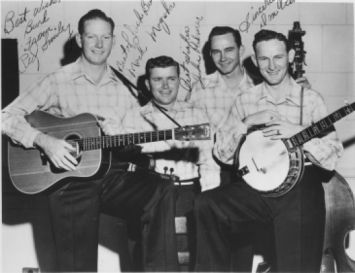 From left, Red Smiley, Mack Magaha, John Palmer and Don Reno. Photos from the files of Berk Bryant
Come on down, listen to the music, browse the crafts, meet a lot of great folks, learn from the exhibits and just have yourself a good time.
Did I mention our good friends, the Bill Stewart Family?
Time to look ahead a bit to the fall and bluegrass starts up again. I don't have too many specifics at the time of writing, but look for the Strictly Bluegrass Festival at Iroquois Park this month. I have no details as of now.
The Shepherdsville Friday night bluegrass shows are set to begin with Doyle Lawson, but I am not sure of the date. Watch and listen for updates as I get them. In the meantime, remember the second and third Saturday nights at Henryville, IN and the third and fifth Saturday nights at Scottsburg, IN.
On the first Saturday of each month, there's the Free Bluegrass Jamboree at Jefferson 4-H Fairgrounds, Hwy. 256, Madison, IN. An Old Time Fiddle Contest will be at the Opera House in Mitchell, IN, on September 7. There is no registration fee. Prizes: $200 First, $100 Second and $50 for Third. Contestants will play a waltz, a hoe-down and a song of their choice. There is a time limit of six minutes for the three songs, and performers may play alone or with one or two others. No electrical instruments allowed.
September 27-29 is the time to point the car / van / camper / pickup / bike or thumb towards Owensboro for the International Bluegrass Music Association Fan Fest. The schedule now calls for: Friday, Charlie Waller & Country Gentlemen, Doyle Lawson & Quicksilver, J. D. Crowe & New South, Nashville Bluegrass Band, John Hartford and others. Saturday: Lonesome River Band, Del McCoury Band, Dry Branch Fire Squad, Hazel Dickens & Alice Gerrard and more. Sunday: Larry Sparks, Charlie Sizemore, The Sidemen and many more. Take your pick and try to be there.
The long-awaited Reno & Smiley video came, the one you may have seen advertised in BU, The Early Years. Much this is taken from a pilot / promo show shot to pitch to Kroger. Reno & Smiley were on for Kroger for quite a while in Roanoke, VA. The show, called Top O' the Morning, was done live every morning. There is a lot here that was not it that (as we refer to it now). About once a week they invited DJs from around the area to make a guest appearance with them. This was early morning stuff. I was fortunate enough to have been invited to be with them a couple of times. At that time, I was a country DJ in Lynchburg, VA.
Eddie Stubbs narrates this video, which is enhanced with many excellent old photos of the gang. Performers include Den Reno, Banjo; Red Smiley, guitar; Mack Magaha, fiddle; John Palmer, bass; Ronnie Reno, mandolin; Steve Chapman, guitar and guest guests Ralph and Stanley Carter. Songs include "Love Please Come Home," "Down Yonder," "In the Pines," "Home Sweet Home," "Just Over in the Gloryland," "I'm the Talk of the Town," "I'm Using My Bible for a Roadmap," "I Know You're Married," "Barefoot Nellie (Chicken Hotrod Skit)," "I Wouldn't Change You If I Could," "Nine Lb. Hammer," "John Henry," "Ballad of Jed Clampett" and "Bye Bye Blues."
The quality is not always top drawer but it's all we've got. You give a little, you get a little and you make a few allowances. I'm glad I've got it and if you are a Don Reno – Red Smiley fan, you will be, too. I never saw Dan Reno and Ralph Stanley together. Now I have. Visual memories of other days, at least for me anyhow.
Order from: National Entertainment Network, P. O. Box 31557, San Francisco, CA 94131 or call 415-585-8234 or card orders at 1-800-746-TUNE. Fund-raising programs are available for associations and groups. Each video is #24.95 plus $3.50 S&H and is shipped by first class mail.