I've Got A Mind To Ramble
Peterson is Back
When I first heard of James Peterson several years ago, he was usually identified as Lucky Peterson's father. Now that connection is no longer necessary, for the elder Peterson has made a name for himself with tow solid releases, Don't Let the Devil Ride and Preachin' the Blues, on the Waldoxy label.
He has been the rage of the summer blues festivals, having gotten a new silver and blue van with a matching trailer, that he uses to travel from his home in Florida. He leaves a legacy wherever he goes. Beverly Howell, the producer of AOL's Blues Chat said that when she was at the Poconos Blues Festival in late July, Peterson made his appearance riding down a ski lift, playing his guitar.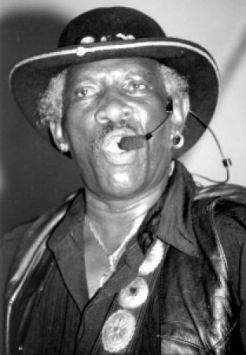 James Peterson at Strassenfest. Photo by Keith Clements
Peterson was back in Louisville again recently, playing a taxing four gigs in two days. He played both Saturday and Sunday at the Strassenfest, on the new stage sponsored by Stevie Ray's Blues Club. He now uses a lavaliere mike with his remote pickup, so he was quickly off the stage, serenading a crowd wandering down Main St. He preaches a personal style of blues, with a little real-life message before each song.
Worth noting was "Come Home to Eat," a slow Peterson original from his most recent CD, which would convert any blues atheist to the blues gospel. The recent addition of a well-used B3 organ helped fill out the sound of his four-piece band, which he refers to as his "Dream Team."
The evening appearances were at Stevie Ray's on Saturday, when he took a trip around the block and through the front doors on the rear seat of an accommodating biker's hog, and the Blues Garden on Sunday. At the Blues Garden, Peterson was in his element, playing to a very appreciate, mostly black crowd. Rain moved the music indoors, which made for a cozier atmosphere. The B3 would not fit through the door, so an electric keyboard subbed for the organ while Peterson sat on his amp and played his heart out into the night. It was a special evening for the lucky few who attended.
James Peterson will be in Carrollton for the Blues at the Point Festival on Saturday, Sept. 7. Word has that there will be a Harley-Davidson motorcycle waiting for him, so he can live up to the reputation he established a Stevie Rays:
Tippy Blue and Tyler Too
The KYANA Blues Society Amateur Blues contest is intended to be an opportunity for a young, talented band to get a jump start on their career. Which is just what happened Saturday night, August 17, at the Velvet Rose Supper Club: The Tyler Henderson Blues Band, from Radcliff, KY., showed up and took first place in the 4th Annual competition.
Because the KBS is an affiliate member of the Blues Foundation, the band will be competing in the final round of the International Blues Competition, held at the New Daisey Theater in Memphis, Tenn., on October 12 and 13.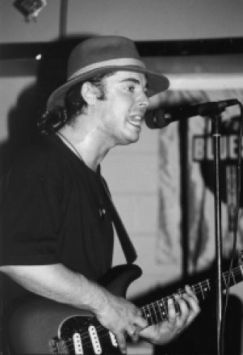 Tyler Henderson and band won First Place in the 7th Annual KBS Amateur Blues Competition. Photo by Keith Clements
Tyler Henderson recently moved to Kentucky from Germany, where he fronted a band and toured that country. He had just put this band together barely a week before the competition, rehearsing much original material in the meantime. The band had a blues/rock edge that should appeal to patrons at local clubs. The night following the contest, Henderson was jamming with members of the Blues Syndicate band at Zena's for Loreen Well's Benefit.
Because the KBS competition also marked the first year anniversary of the Velvet Rose, the owner, Willie Bright, invited many friends that night. This made for a interesting mix of people as the evening wore on. For those who stayed late, there was a complimentary meal served after midnight.
Blues on the Air Waves
There will soon be a new blues show on Sunday. The Mudcat's harpmeister, Jim Rosen, has a deal with Fox Radio on 100.5 FM for a yet-to-be-named blues show. He is set to start on September 1 and will be on either from 9 until 11 p.m. or from 10 p.m. until midnight. The station is giving Rosen free rein to play and do what he wants, so it should be interesting.
Hot August Blues
I'm off to Kenlake's 7th Annual Hot August Blues Festival for a full day of blues on Sunday, August 25. I'll tell you about it next month.