Cowboy Corner
Vince Gill Tops CMA Nominees
When the 30th Annual Country Music Association Award Nominees were recently announced, Vince Gill was the man of the hour. Gill picked up a whopping seven nominations, including Entertainer of the Year, Male Vocalist of the Year, Album of the Year for High Lonesome Sound, Single, Song and Music Video of the Year for "Go Rest High On That Mountain," and Vocal Event of the Year for his duet with Dolly Parton, "I Will Always Love You."
The cowboy himself and the dynamic duo, George Strait and Brooks & Dunn followed closely behind with an impressive five nominations each, both up for the coveted Entertainer of the Year. Alan Jackson, the current Entertainer of the Year will vie for the top award again, as well as the Male Vocalist of the Year award and Vocal Event and Music Video of the Year awards for his comedic collaboration with Jeff Foxworthy, titled "Redneck Games." Louisville's own Patty Loveless captured two nominations for Female Vocalist of the Year and Album of the Year for The Trouble With The Truth, produced by husband Emory Gordy, Jr.
The two biggest surprises in the announcement of this year's nominees concerned the ladies. 13-year-old LeAnn Rimes has made country music history as the youngest artist to ever be nominated for a CMA award. Rimes is shooting for the Horizon Award and the Single of the Year Award for her smash debut single, "Blue." Probably the biggest surprise was veteran award winner Reba McEntire's SINGLE nomination for Vocal Event of the Year, along with Linda Davis, Martina McBride, and Trisha Yearwood for "On My Own."
The entire list of nominees is as follows: Entertainer of the Year: Brooks & Dunn, Garth Brooks, Vince Gill, Alan Jackson, and George Strait; Male Vocalist of the Year: Vince Gill, Alan Jackson, Collin Raye, George Strait, and Bryan White; and Female Vocalist of the Year: Faith Hill, Patty Loveless, Martina McBride, Pam Tillis, and Shania Twain.
Horizon Award: Terri Clark, Wade Hayes, LeAnn Rimes, Shania Twain, and Bryan White; Vocal Group of the Year: Alabama, BlackHawk, Diamond Rio, The Mavericks, and Sawyer Brown; and Vocal Duo of the Year: Baker & Myers, Bellamy Brothers, Brooks & Dunn, Sweethearts of the Rodeo, and John & Audrey Wiggins.
Album of the Year: George Strait's Blue Clear Sky, Brooks & Dunn's Borderline, Vince Gill's High Lonesome Sound, Patty Loveless' The Trouble With The Truth, and Martina McBride's Wild Angels; and Single of the Year: LeAnn Rimes' "Blue," George Strait's "Check Yes Or No," Vince Gill's "Go Rest High On That Mountain," Brooks & Dunn's "My Maria," and Tracy Lawrence's "Time Marches On."
Vocal Event of the Year: Dolly Parton and Vince Gill's "I Will Always Love You," George Jones and Tammy Wynette's "One," Jeff Foxworthy and Alan Jackson's "Redneck Games," Marty Stuart and Travis Tritt's "Honky Tonkin's What I Do Best," and Reba McEntire, Trisha Yearwood, Martina McBride, and Linda Davis' "On My Own"; and Song of the Year: "Any Man of Mine," "Check Yes Or No," "Go Rest High On That Mountain," "Keeper of the Stars," and "Time Marches On."
Music Video of the Year: George Strait's "Check Yes Or No," Vince Gill's "Go Rest High On That Mountain," Brooks & Dunn's "My Maria," Junior Brown's "My Wife Thinks You're Dead," and Jeff Foxworthy and Alan Jackson's "Redneck Games"; and Musician of the Year: Eddie Bayers-drums, Paul Franklin-steel guitar, Brent Mason-guitar, Mark O'Connor-fiddle, and Matt Rollings-keyboards.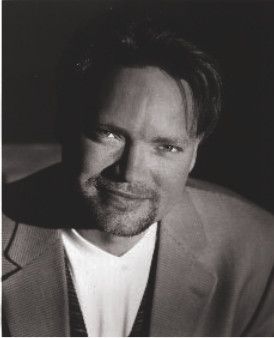 John Berry has a new CD to promote at Coyote's on September 17.
Be sure to tune in to CBS at 8 p.m. EDT on Wed., Oct. 2 as Vince Gill, winner of more CMA trophies than any other artist, hosts the 30th Annual CMA Awards from the Grand Ole Opry House in Nashville, Tenn. Good luck to all the nominees.
Newest Inductees Into Country Music Hall of Fame
The Country Music Hall of Fame, founded in 1961 by the Country Music Association, recently announced that it will allow the induction of 10 new members through 1998, as opposed to the one member per year restriction in the past. This year three performers will be inducted into the Hall of Fame during The 30th Annual CMA Awards broadcast on CBS on Oct. 2.
"Each of this year's Hall of Fame inductees is a musical innovator in his or her own right," said CMA Executive Director Ed Benson. "CMA is delighted to recognize the outstanding achievements by bestowing them with the highest honor in Country Music."
This year's inductees include the late Patsy Montana, Buck Owens, and Ray Price. Patsy Montana's career, which ended upon her death earlier this year, spanned sixty years and was highlighted by her 1935 classic tune, "I Want To Be A Cowboy's Sweetheart," which gained Patsy the recognition as the first female country artist to sell a million records. Buck Owens formed his band, The Buckaroos, in 1963 and launched a string of 15 consecutive Number One hits, including "Together Again,' "I've Got A Tiger By The Tail," and "Act Naturally." Buck was welcomed into millions of Americans' homes as co-host of "Hee Haw" from 1969 until 1986. Number One records such as "Crazy Arms" and "For The Good Times" helped Ray Price be named the number one country singer in America by Billboard for a whopping eight years.
Congratulations Patsy, Buck, and Ray!
The Cyrus Virus Strikes Again
Flatwoods, Ky.'s own Billy Ray Cyrus is back and stronger than ever with several changes behind him. First, Billy Ray parted with manager Jack McFadden in July when his contract expired. He is currently seeking new management. Secondly, there have been several changes in Billy Ray's fan club, Spirit. Long-time director Wanda Anderson will be missed as Billy Ray's wife Tish assumes the role of fan club director.
Thirdly, Billy Ray is back with a brand new critically-acclaimed album, titled Trail of Tears, including the title track which Billy wrote the day after the filming of his "In The Heart of a Woman" video. Also included is fellow-Kentuckian Tom T. Hall's "Harper Valley P.T.A.," which hit the top of the country charts over twenty years ago with Jeannie C. Riley.
And if that isn't enough, Billy Ray Cyrus was recently inducted into the VFW Hall of Fame. Billy Ray was on hand right here in Louisville on Monday, August 19 when the Veterans of Foreign Wars of the United States awarded him the 1996 VFW Hall of Fame Award in recognition to all the support he has given to veterans through his touching "Some Gave All" tune, the title track from his multi-platinum record-breaking debut album. This prestigious award is presented annually to an individual for "outstanding contributions in the field of entertainment and sports" and was awarded to Billy by VFW Commander-In-Chief Paul Spera at the Distinguished Guests Banquet.
Congratulations Billy Ray and keep up the good work! Good luck with the brand new album and all your future endeavors!
Naomi Judd Begins Talking
Teen mother turned nurse turned country music superstar turned best-selling author turned motivational speaker turned restaurateur Naomi Judd, from Ashland, Ky. is now going to try her hand as host of her very own hour-long daily talk show simply titled Naomi. The program will reflect Naomi's success-over-adversity view of life as each day a different subject will be explored in a compelling and positive way.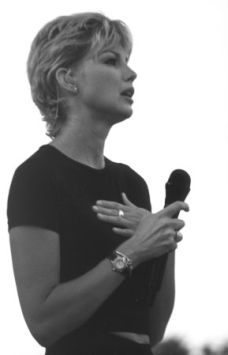 Faith Hill sang at the American Heritage Festival in Bowling Green in July. Photo by Bev Ingram
"My mission is to do the most I can with the sum total of my life experiences in overcoming everything from physical abuse and poverty to divorce and deadly disease," says Naomi. "We'll celebrate values to live by and look at all sides of life, because by learning together how to overcome conflict, pain and tragedy, we will get stronger together."
Naomi is still in the preliminary stages and RYSHER Entertainment expects the show to be syndicated in the fall of 1997. Daily guests will be everyday people, as well as entertainment celebrities, such as daughters Wynonna and Ashley. Topics will range from relationships and family issues to personal power and health.
Good luck and best wishes, Naomi!
Search for Local Country Bands
I'd like to hear from all you local country bands out there, both old and new. Let me know what you're up to, where you're playing, new tapes and CDs, etc. Drop me a note at: Local Country Bands, Louisville Music News, P.O. Box 148, Pewee Valley, KY 40056. I'd like to spotlight a local country band right here in "Cowboy Corner" each month, so get those letters rollin' in. After all, you can't beat FREE publicity!
Hot New Country
Your favorite local record store is currently overflowing with a flood of brand new hot country and is preparing for more in the very near future. Marty Stuart and Travis Tritt are good buddies and they can't seem to do anything without the other doing the same. Marty Stuart's Honky Tonkin's What I Do Best, which includes the smash title duet with Travis Tritt, is now available. Also be on the lookout for Travis' brand new record, titled The Restless Kind, which includes his smash single "I Love You More Than You'll Ever Know."
No, Michelle Wright has not fallen off the face of the earth! After much talk and quite a bit of re-recording, Michelle has a brand new album titled For Me It's You. Clint Black is another artist we haven't heard from in a while, but he'll soon be back with a greatest hits album with a couple new songs. Be listening for a new single in the next couple of weeks.
Be on the lookout for Trisha Yearwood's brand new CD, Everybody Knows, which includes her hot new single "Baby I Lied." John Berry is back with a brand new single, "Change My Line," from his upcoming CD, Faces. And, by the way, if you think you're seeing things, yes, there are three different covers for this CD, all appropriately different faces of John. Cool idea or marketing ploy? You be the judge.
Ty Herndon offers up his sophomore effort which includes the title track, "Living In A Moment," which may very well be his most successful tune to date. Surfs up! All you surfers out there won't want to miss Stars and Stripes Vol. 1, a country tribute album, of sorts, to the Beach Boys. Some of your favorite country stars, such as Sawyer Brown, have teamed up with the Beach Boys themselves to remake some of their classic surfin' tunes.
Keep your eyes and ears open for brand new CDs in the near future by some of your favorite country artists such as turbo-tonkin' Tim McGraw, the "Keeper of the Stars" himself, Tracy Byrd, and that red-headed fireball, Reba McEntire.
Upcoming Live Country
Louisville's favorite nightspot, Coyote's, has an abundance of fine country music scheduled for the near future. Remember "Woke Up In Love," "Give Me One More Chance," "It'll Be Me," and "She's Too Good To Be True"? That's right, Kentucky's own Exile will roll into Louisville once again on Sept. 12. John Berry will be promoting his brand new record, Faces, when he stops in the river city on Sept. 17. Diamond Rio fans will be happy to hear of their Sept. 26 performance and all you David Allen Coe fans will be in hillbilly heaven on Nov. 5.
I've heard nothing official yet, but some little bird (namely the Internet) tells me that hot newcomers Bryan White and Lonestar will be burning up the tracks at Louisville Raceway (which I'm assuming is Louisville Motor Speedway) on Sept. 22. Keep your eyes and ears open because this is a show you won't want to miss!
All you fans of the country music "singer's singer," Gene Watson won't want to miss his stop in Shepherdsville on Sunday, Oct. 6. Watson, of "Love In The Afternoon" and "Fourteen Carat Mind" fame, will be performing two shows at the newly remodeled Shepherdsville Country Music Show at 2:00 p.m. and 6:00 p.m. Advance tickets to this show are $15.00 and tickets will be $17.00 at the door. To purchase tickets or for more information, call Renda Aiken at (502) 968-6358. To get to the Shepherdsville Country Music Show, take I-65 South to Exit 117 (Shepherdsville) and go 2 1/2 miles west on Hwy. 44.
"Mr. Country-Rock," Billy "Crash" Craddock is going to bring his unique blend of country-rock to the Palace Theatre for two shows (6:00 and 9:30 p.m.) on Sat., Oct. 26.
He'll be sure to perform favorites such as "Knock Three Times," "Ain't Nothin' Shakin' (But The Leaves on the Tree)," "Hubba Bubba," and "If I Could Write a Song as Beautiful as You." Tickets are $15.00 and $12.50 and can be ordered from the Palace box office.
Well, that's it for now. Always remember: Keep your hat on straight and your boots shined up, 'cause country music is comin' your way.