Eclectic Electric Event #1
Enter the Eclectic Electric Event #1.
Six bands participated in this obscure gathering, displaying various free-form, progressive, jazz-fusion, space rock and classical styles of music. And that was just the identifiable ones.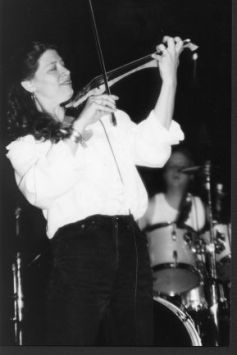 Cathh Morris, electric violin, the Mathematicians
The venue, Belknap Playhouse on the U of L campus, served as a great, acoustically clean backdrop to host this rather unusual show. Mike Sary, bassist for French TV and Steve Roberts, ZNR Records, organizers of this twelve-hour marathon of progressive rock, introduced the crowd to some very exotic musical landscapes.
Taking them one at a time (the only way to take them):
The Louisville-based trio Ut Gret got things rolling with an entertaining set that would have fit perfectly into the mid- to late Sixties. Using an apparently endless variety of instruments, (sitar, santor, moceño, tabla, driftar, balalaika and something called happy apple), Ut Gret set the tone for things that followed.
The Mathematicians, an Indianapolis-based, seemed to have just the right equation. (It's all in the numbers.) Their upbeat approach, combined with solid songwriting, guaranteed a package that was hard to resist. On "Bride of Frankenstein," from their new CD, Factor of Four, Cathy Morris, playing a stripped down five-string electric violin, peeled the paint off the walls with her blistering solo. Eddie Humphrey showed off his ten-string Chapman Stick on "Dance of the Nile."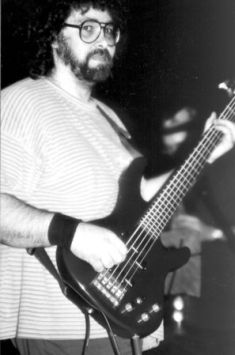 Mike Sary, bassist with French TV
Quarkspace, a longtime band form Columbus, Ohio, laid down a spacey, drifting groove, reminiscent of Seventies space-rock innovations. With a slow trance-like rhythm and pleasing synth-guitar interplay, their musical voyages made the trip to other worlds seem perfectly reasonable. Their tunes would make great a movie soundtrack.
Volaré, an Athens, Georgia, quintet, mixed classical and progressive elements, featuring guitars, Moog, percussion and a cello. The band's jazzy improvisations seemed to captivate everyone. Volaré described their sound as "garage fusion for the 21st century."
Louisville's French TV put on an impressive display of ideas and musicianship. The flow of their compositions pretty much kept everyone guessing as to what would come next. Following a Zappa-esque tradition, the music would change in the blink of an eye, although Mike Sary on the five-string bass, made it look easy. Guitarist Dean Zigoris added some interesting details to the band's excursions. They really let loose on "Clanghonktweet," which is really an extended jam session. Check them out on their next local outing – it will leave a lasting impression.
Boud Deun wrapped up this extravaganza with an entirely instrumental set, their energetic exploits speaking volumes. The Virginia-based group's jazz-rock work was delivered with considerable polish. The guitar, bass, violin and drums combination worked wonderfully.