George Strait/Terri Clark
Kentucky State Fair, Freedom Hall, Saturday, August 17, 1996
Story and photos by Michael W. Stout
It's refreshing to know that there is at least a handful of traditionalists in this contemporary country age we live in today. Topping the list is would be country music's most consistent performer, the "ultimate cowboy," George Strait, who turned in a five-star performance on Sat. evening, Aug. 17 in Freedom Hall during the 1996 Kentucky State Fair. The mere presence of Strait can magically turn any audience absolutely ballistic, and this sold-out state fair crowd was no different.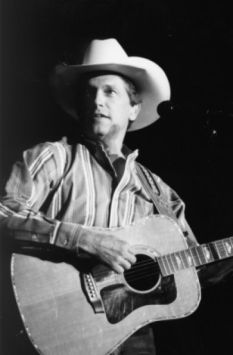 George Strait
George Strait is one of the elite few country performers who does not have to rely on anything but his voice and a little guitar-pickin' to satisfy a crowd. He is a man of very few words; his corral full of hit records speaks for itself. Strait promised to sing some "old ones, new ones, in-between ones, and some Pure Country" and he did just that as he offered a powerful, flawless 90-minute set packed with a herd of 26 tunes.
Strait broke out of the gate before a crowd of 20,000+ enthusiastic fans screaming and jumping to their feet for "Lovebug," followed by "Easy Come, Easy Go" and "When Did You Stop Loving Me." Each tune that rolled off Strait's tongue and guitar was extremely well-received, yet there were definite highlights such as "Heartland;" "Amarillo By Morning;" Strait's recent three-week number one hit, "Carried Away;" the Cajun cooking "Adalida;" "The Man In Love With You;" his 1995 smash hit "Check Yes Or No" (which has been nominated for the 1996 CMA Single, Music Video, and Song of the Year); "Blue Clear Sky;" "Unwound" and "I Cross My Heart."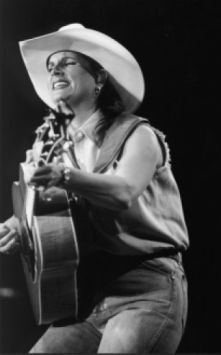 Terri Clark
Strait's delivery of "If I Hurry I Can Still Make Cheyenne" and Bob Wills' "Big Ball's In Cowtown" offered the perfect union between a song and a cowboy's soul, which consists of rodeos and Western Swing. Strait was backed by what might be the tightest and most talented group of musical masterminds, his eight-piece Ace In The Hole Band.
Hot Canadian newcomer Terri Clark, who is nominated for seven Canadian Country Music Awards, including Entertainer of the Year, and the 1996 CMA Horizon Award, jump-started the evening with a strong 45 minute set during her first performance in Louisville. Clark's self-titled debut Mercury Nashville album has been certified platinum (selling 1 million copies) in Canada and gold (selling 500,000 copies) right here in the USA. It is reassuring to see emerge from Canada a talented country female artist who sells country music instead of a size two waist and a bellybutton.
Clark proved that she is a tough country girl with equal portions of attitude, wit, and charm on hits such as her current single, "Suddenly Single," "When Boy Meets Girl," "Better Things To Do," her first number one single, and the brightest highlight of the evening, "If I Were You."
She slowed things down, pulling up a stool to reminisce about her days at Tootsie's Orchid Lounge. She then took her voice, accompanied solely by her acoustic guitar, to places not often heard before on the bluesy, gutsy "Take It Like A Man." Clark ended her well-balanced and energetic set with a cover of "Poor, Poor Pitiful Me," which will appear on her sophomore album due out in November.