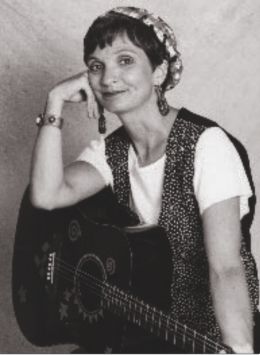 Karen Dean: Out To Lunch – And Enjoying the Meal
Walk into Karen Dean's home in the Highlands, and several things jump out at you. Most obvious is Security Guy, a very life-like mail-order mannequin that women are supposed to place in their front car seat to ward off weirdoes. It would probably work well for that purpose, but this particular stiff just sits at rapt attention on Dean's sofa. He's visible from the front windows, and he's prompted more than his share of quizzical responses. Dean likes to tell visitors it's her husband Bill.
Then there's the anatomically-correct skeleton hanging inside the foyer. Bill bought it for her for Christmas, and she's very proud of it. And the hornet's nest, still affixed to a tree branch, that sits on a table in the entranceway. Thankfully, nothing inside it has started buzzing yet.
There's more to Dean's household menagerie – much more – but that handful of items, all of which can be seen before you get to the kitchen, gives all of the insight you need.
This is one unusual woman.
Little wonder, then, that Dean has been making children laugh for 20-plus years now. With a broad repertoire that ranges from simple jingles to vaudevillian silliness, Dean has carved a niche as Louisville's children's performer par excellence.
Dean was born and reared in Toledo, Ohio. She was exposed to musical performance by her grandmother, who played piano and sang.
She died when I was five years old," Dean says. "Looking back, it was very traumatic. She was the light of my life and I was the light of hers. I remember she was this big woman who used to play for prisons. She'd belt it out like Ethel Merman, just bang on that piano.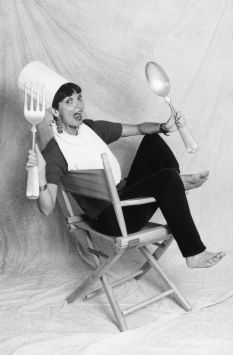 I think the music stuff rubbed off, because I always had a very good ear. It just came really easy to me."
Dean started out with three years of formal training, but the discipline of classical piano was too constraining for the precocious youngster.
I was a really crappy student," she says. "The reason, my teacher told my mom, was that I would take a classical piece . . . I 'jazzed it up.' I would not only jazz it up, I would change the rhythm. I would just turn Mozart into this sort of boogie-woogie thing. And, instead of looking at it like, "Isn't she clever,' he just . . . I was not a student he had much use for."
As early as third or fourth grade, Dean remembers writing silly songs about people, "Just makin' stuff up," she says. "I continued it into high school and college. Crazy, dumb songs
Twenty-five years later at my reunion, my classmates said, 'Of course you're doing what you're doing. You were doing that twenty-five years ago.' I was always sort of embarrassed that I was so nuts. Now it looks like it sort of paid off."
At a show in Toledo before 700 people, a woman from Dean's neighborhood, who was like a second mother told everyone: "I used to get this show in my living room, every day."
Sometimes she'd tell me, 'It's time for you to go home now.'"
After high school, Dean's interest in music evolved toward folk and rock bands. She and Bill had been friends growing up, but they parted ways when Bill went off to Yale University while Karen went to Ohio State. They stayed in touch, and she visited him in New Haven. They became more than friends, and were married in 1972. (Karen – with two large dogs – then proceeded to move into the all-male dorm under the nose of A. Bartlett Giamatti, then Yale's president and later the commissioner of baseball. "He knew." Karen says. "He was really pretty cool about it.")
Bill and Karen played folk music in coffee shops in New Haven, and their musical collaborations continued when Bill, now a biochemist who teaches at the University of Louisville Medical School, went to the University of Michigan for graduate work.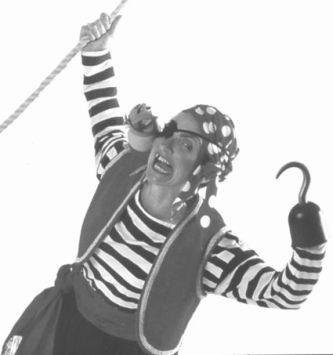 That period was probably the genesis of Karen's career. After their daughter Abby was born in 1974, Karen opted out of the rock lifestyle. "I sort of went from the rock band to singing for my child," she says. "Singing to her as a baby, I realized how awfully dull kids' music was. It was like, 'Here we go 'round the mulberry bush. This is the way we churn the butter.' I remember hearing that on an old record and thinking, 'That would be a cool song if ya jazzed it up a little bit.'
And that's really how it started."
That led to more than a decade of working with students. Although she has no music degree, she was on contract at Highland Presbyterian Weekday School for 13 years. She's done teacher conferences, school assemblies, day cares, library shows, summer camps, you name it. Anywhere kids can be found.
To really get a handle on Dean's repertoire, you need a flow chart. There's the basic Karen Dean with guitar and voice, the latter which ranges from classic diva style to squeaky goofiness. There's puppets – as many as 20 – with names like Bongo Joe, Augie Bean and Phooey O'Bummer. (She doesn't keep up the pretense of hiding the puppets; they sit on her hand while she speaks.)
Then there's TV, which is another animal altogether. Earlier this year, when Nickelodeon did a massive production at Louisville's St. Athanasius elementary school, she hosted a documentary for TKR Cable about the day-long event. Her videos appear weekday mornings between programs on The Learning Channel. In 1994, she made two thirty-minute pilots for WDRB-TV in Louisville. And that year she also made an hour-long video, Karen Dean at the Out to Lunch Cafe.
It was a heady year, with the excitement of possibly landing a TV show, but it didn't pan out. WDRB didn't think it could recoup its costs on a locally-produced TV show, so the pilots have gone nowhere. The Out to Lunch video still sells well, but it didn't lead to anything concrete. And the Learning Channel arrangement, while providing good exposure, doesn't earn a dime.
I have so many people who come up to me and say, 'Girl, you're on national TV, you must be rich!' I have never seen a penny from that. The deal is that you get the exposure and they get the videos free. In fact, I lost a thousand-some dollars because my attorney had to look over the agreement."
So, despite the fact that TV seems to be the surest way to convey her message to a broad audience, and notwithstanding that pending federal legislation to mandate more local children's programming may make Dean a very hot commodity, Dean will not count on TV to take her to the promised land.
"I've decided I won't put all my eggs in that basket," she says. "That experience was pretty painful, and it made me a little cynical."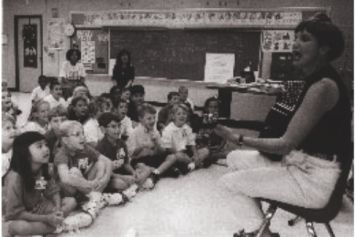 The solo Karen Dean entertains a group of third-and-fourth-graders at Audubon Traditional School
Listening to Dean's recorded music in no way prepares you for her live performance. That was evident even at a modest, impromptu gig for about 40 second- and third-graders at Audubon Traditional School on Hess Lane, on the third day of school last month. The kids know Dean from her tapes and a performance at the school last year, and they were pumped for her arrival. "Karen Dean!" they squealed as they tried to keep their minds on math for a few more minutes.
Even though she was dressed like a normal mom – black sleeveless cotton shirt, khakis and black rubber sandals — Dean owned the room. With the children seated on the floor, she warmed them up with "She'll Be Comin' Around the Mountain."
In a typical Dean twist, however, instead of white horses the protagonist rides a skateboard and shouts "Cowabunga!" As with most of her tunes, the kids know the words and the hand gestures Dean has devised. The students are in stitches.
And therein lies Dean's appeal: Whether it's a room of 40 children or a gym full of 400, she knows what kids find humorous. She has them in the palm of her hands.
"We expect a children's musician to sing songs which appeal to children," says Ann Byers, an early childhood specialist and a member of Vice President Al Gore's advisory panel on children's issues.
"Karen goes beyond that. Her songs are musically interesting to children and to adults. Combine that with her gift of remembering, and reminding us, what kids find funny – and the result is great."
Dean will be the first to admit she's offbeat. She's not above slipping a practical lesson into one of her songs, but her primary focus is for the kids to have fun. That may mean a story about a little girl who stockpiles oatmeal instead of eating it, or a boy who collects trash on the top mattress of a set of bunk beds. It may mean the Army song – which clocks in at 26 verses and which was the most constant request at Audubon.
It may also mean toilet paper and underwear.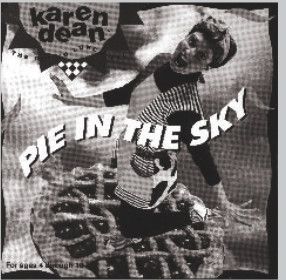 A KAREN DEAN DISCOGRAPHY
Cassettes
Out to Lunch
Double Dip
Giddy-Up
Shiver Me Timbers
Ants In My Pants
Compact disc
Pie in the Sky
Video
Out to Lunch Cafe
Available at several Louisville bookstores. For more information, call 459-7876.
Underwear seems to make it into at least one song on every album," she says. "There've been a few parents who were uptight about that, but most people realize it's a funny part of life."
There are three basic versions of the act. There's Karen Dean, solo, Karen Dean and the Hus-Band (she and Bill), and the Out To Lunch Band, which adds Louisville virtuoso Steve Cooley, who plays guitar, banjo and mandolin.
With his silvery hair, dark mustache and features, Bill Dean looks like William Holden in "The Wild Bunch." Comparing his outward demeanor to Karen's seems to confirm the axiom that opposites attract. For all her wacky and outgoing ways, he's stoic and soft-spoken. A musician most of his life, he still plays in bar bands on the weekends.
He's also his wife's No. 1 supporter.
The thing that's very different about her," he says, "is that a part of her is very childlike. She can communicate with children at their level.
I also admire her dedication and ability to bounce back. We've had all these highs, with the video and the TV show, but nothing really came of it. After that disappointment, I admire her for coming back."
The involvement of Cooley, who has played on several of her recordings and produced her most recent, Pie in the Sky, would also seem to validate Dean as a legitimate talent. Cooley has played session work with Emmylou Harris, Linda Ronstadt and Dolly Parton. He also spent 14 years with the Dillards, a renowned Bluegrass band (they were nominated for a Grammy in 1991). These days, in addition to a full-time job at Louisville's Guitar Emporium, Cooley still plays with about five bands. His time is precious, but he's committed to working with Dean and has assumed managerial duties.
"I think Karen has something a whole lot of other kids' entertainers don't have," Cooley says. "She's really, genuinely committed. She believes in it. I think she's got something going on that more people need to see."
Children's music is competitive, Cooley points out, with big-name popsters always jumping on the children's music bandwagon. Recently, the likes of Linda Ronstadt and James Taylor have made kids' albums. So have Bill Monroe and Cheech and Chong.
The market is saturated," Dean says. "I believe it'll taper off, but it's hurting us right now."
Before the CD, Dean did five tapes, which sold several thousand copies. But Billboard magazine, citing concerns about production quality, politely declined to review them, so earlier this year Dean made the jump to compact disks with Pie in the Sky. Her first CD is a well polished, upbeat romp that gives a reasonable picture of what she's all about.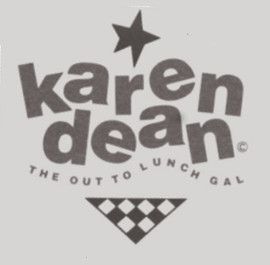 But she can't get over the nagging realization that her first tape, partially recorded in her garage, continues to be the top seller. And she knows it hurt some feelings when she left the Louisville studio that had been producing her tapes.
I felt so bad," she says. "But Steve says I can blame it on him."
Cooley pushed her to do the CD, and he's pushing her to think in terms of a national career. That may mean hitting the road; they're exploring several opportunities right now.
Dean thinks it may pay off.
I think something big could happen in the next year. We're gonna do a big national push; then, if nothing happens, I'm just gonna .... I tease and say I'll go to Winn-Dixie and say, 'Paper or plastic?'
I've done this for twenty-something years. The competition is so fierce, but I'm still hanging in there. Children's music is like a big smorgasbord. We are each bringing our own dish and putting it on the table. That's what keeps me going. I just keep holding onto the fact that my dish is a little bit more exotic or eccentric.
There are a lot of ways to do children's music. I just think I do it a little differently."
Security Guy would probably agree.