Marty Stuart and Travis Tritt
Kentucky State Fair, Cardinal Stadium, Friday, August 23, 1996
Story and photos by Michael W. Stout
As thunderstorms threatened overhead, rowdy honky-tonkers filed into Cardinal Stadium on Friday evening, Aug. 23, anticipating a storm called "Double Trouble." Haunting sounds of thunder rolled from the incredibly loud sound system. Suddenly hillbilly rocker Marty Stuart and country-rocker Travis Tritt darted to the center of the stage from either side. Emerging from clouds of smoke, each was testifying that "Honky Tonkin's What I Do Best," their recent smash duet from Mr. Marty's latest album of the same title.
As Tritt exited the stage, the Marty Party officially began with "Western Girls," "Kiss Me I'm Gone," and "Burn Me Down." Decked out in a black custom-tailored jacket with multi-colored sequins and skin-tight black leather pants, Marty Stuart can best be described as "Elvis meets Porter Wagoner," in both music and wardrobe.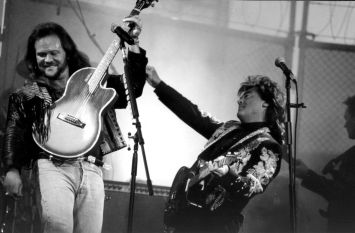 Marty Stuart salutes Tritt's performance.
It was truly a party as Stuart tore into "Tempted" and the crowd bounced giant Marty Party balloons around the stadium. He kept the crowd pumped with favorites such as "Now That's Country," a bluesy rendition of "This One's Gonna Hurt You (For A Long, Long Time) (minus Travis Tritt), his brand new single "Thanks To You," and his personal anthem "Hillbilly Rock" as the crowd rocked the stands.
Stuart recalled the first time he played Cardinal Stadium, as a twenty-year-old member of Johnny Cash's band. He offered his finest performance of the evening on a haunting rendition of Johnny Cash's "Long Black Veil," with an unforgettably well-crafted acoustic guitar solo.
Unfortunately, Marty Stuart's 50 minute solo set lacked great depth and was about fifteen minutes shy of being complete. He left the crowd begging for tunes "Till I Found You" and "Little Things," as well as for many bluegrass numbers from his days as guitarist and mandolin player for Bluegrass great Lester Flatt. If you didn't know Marty Stuart could pick the mandolin, you would have left Cardinal Stadium with that misconception intact.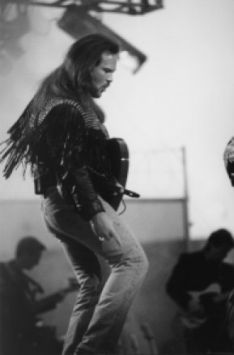 Travis Tritt
Travis Tritt threw the crowd into a frenzy as he hit the stage with "Put Some Drive In Your Country," followed by the title track of his brand new album, The Restless Kind. He wiggled his way through the rough and rowdy "Here's A Quarter (Call Someone Who Cares)," "Country Club," "Ten Feet Tall And Bulletproof," and "T-R-O-U-B-L-E."
Tritt's excessive wiggling was enough to make me wonder if a wasp had managed to fly up the leg of his tan, leather-chapped, fringe jeans or if he had resorted to the tactic he slammed Billy Ray Cyrus for: "What we're going to have to do to be popular is get into an #@!-wiggling contest." Hum?!
Although the country-rockin' tunes were definite crowd pleasers, Travis managed to slow things down for tender ballads like "Can I Trust You With My Heart," "Tell Me I Was Dreaming," "Foolish Pride," and his current chart-climbing single, "I Love You More Than You'll Ever Know," a musical masterpiece with haunting fiddle, bluesy harmonica, gritty steel guitar, and Tritton a mean 12-string guitar.
His 65-minute solo set ended as Marty Stuart rejoined his rowdy pal onstage for a trio of party tunes: "Hard Times And Misery," "The Whiskey Ain't Workin'," and their concert tour's theme song, which they wrote together while lounging on the beach in Florida, "The Double Trouble Song." Fortunately, the thunderstorms were merciful enough to wait until twin tornadoes Stuart and Tritt had finished reeking havoc of their own.