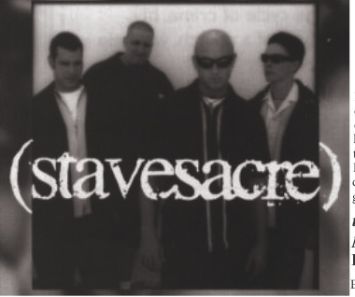 passion, precision -- a possible classic
Friction (Tooth & Nail)
Stavesacre
By Robert Gruber
Tooth & Nail Records celebrates its 50th release in three short years of existence with the debut album by Stavesacre. A Christian underground "super-group," Stavesacre is made up of refugees from hardcore acts like Chatterbox, the Blamed, Focused and legendary punkers the Crucified (upon whose legacy Tooth & Nail built a foundation). The incendiary passion of the Crucified is matched with the mechanical precision of Chatterbox -- the guitars are low-slung and menacing, the beats snap tight as a Marine salute, and the sum of Stavesacre's impressive parts sets off like a Ferrari on the Autobahn.
In much the same way that Jane's Addiction melded the mountainous and the oceanic on their classic Nothing's Shocking album, Stavesacre creates melodic, chorusy guitar-scape eyes within their hurricane battery. Singer/lyricist Mark Salomon punches his stark, poetic visions through with the urgency of an end-time prophet. "Burn us clean, refine this world away," he cries in "Burning Clean," "Make Yourself real in me/Make us to live as You would." In "Loader," Salomon sings, "Get these shackles off . . . you had your foot on my neck/He lifted up my head/Separate, we are separate/You have nothing to offer . . . me."
Guitarist Jeff Bellew creates plenty of well-toned tension and release throughout Friction, ably backed by bassist Dirk Lemmons and drummer Jeremy Moffet. It's obvious they strive to build something of lasting value here, and while only time determines the classics, Friction could be one. The anthemic closing song, "Stars and Clouds" reads like a seaside eulogy until the second verse, which characterizes a knowable, loving God: "A breeze of fresh air laced with a touch of somewhere familiar/He's tomorrow, He's starting over/He's treasure and survival/I want to walk the beach with him, talk the day away . . ."