!!lulu
Tiny Tim and Brave Combo
All right, let's be honest: When you think of '60's icons still touring and performing, the name Tiny Tim is probably not the first to leap to your mind. Still, echoes of his 1968 hit "Tiptoe Thru' the Tulips With Me," which reached number 17 on Billboard's charts in 1968, stands as the classic falsetto hit of the era. Think of Tiny Tim and, if you admit to being a flower child, you probably remember his marriage to Miss Vicki on the Tonight Show on December 16, 1968.
Now, happily wed to wife number three, Miss Stephanie, the hair is a flaming crescendo of curly red locks and the famous falsetto still has the power to return us to the Summer of Love, when his eccentric blend of Fey humor and song seemed anything but out of place. So it was with a mixture of nostalgia and curiosity that we attended the July 27 Bank One Lonesome Pine Special at the Macauley Theatre, featuring Tiny and Brace Combo.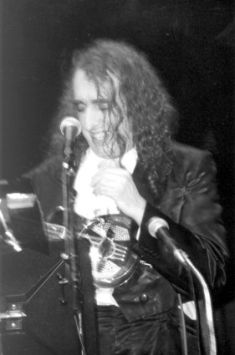 Tim and his electric ukelele. Photo by Letha Marshall
Introduced as a band who never heard a dance tune they didn't like, the Denton, Texas-based Brave Combo was making a return appearance to Louisville. Their opening set spanned the world of dance music with humor and toe-tapping rhythm. The orchestra pit was soon transformed into a dance floor for the braver members of the audience. From the "Hava Nagile" Twist to "Beer Barrel Polka," Brave Combo had the audience literally dancing in the aisles, and, shortly, a conga line was snaking its way up and down the aisles in response to the their spell.
As if the audience needed further encouragement, dancers Tim Keltry and Sabina Sauer joined the group on stage to dance the tango and whatever else was played. Salsa, tango, cha-cha, samba and polka music set the eccentric tone for the second set, featuring Tiny Tim.
Accompanied by pianist Bob French, Tiny Tim lived up to his promised billing by presenting a history of popular American music. From the requisite version of "Stephen Foster's "My Old Kentucky Home" to a rousing rendition of Presley's "Heartbreak Hotel," Tim alternated between his falsetto and a vibrato baritone to captivate with melodies both familiar and eccentric. His electric mandolin was put to good use in standards ranging from "School Days" to a duet with himself on the Sonny and Cher hit, "I got You Babe."
If there was a wrong note in his choice of material, it was his falsetto rendition of the Judy Garland classic "Over the Rainbow." Even Liza with a Z knows better than to attempt that one.
Brave Combo rejoined Tim for the final set, jumping from "My Old Kentucky Home" to New York, New York" to mostly songs from their recent Rounder CD, Girl.
The Macauley was the perfect setting for the classic Brown-Fain tune "That Old Feeling." It took little imagination for one to be transported to the days of Big Bands, as Tim's voice provided the perfect accompaniment to this romantic favorite. His theme song, "Tip-Toe Thru' the Tulips" drew an appreciative response, as did his must-be-heard-to-be-believed cover of Led Zeppelin's "Stairway to Heaven."
Ending with yet another rendition of "Beer Barrel Polka," the evening was one of fun and eclectic education. If there was a disappointment, it was the absence of the Beatles' "Hey, Jude," done on the Girl CD as a too-weird-to-be true cha-cha.