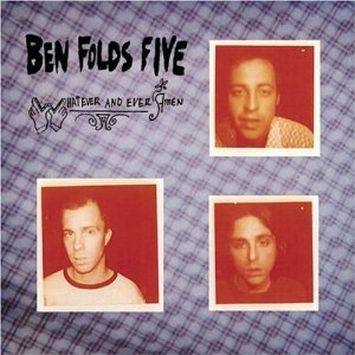 Whatever and Ever Amen (550 Music/Sony)
Ben Folds Five
By Bob Bahr
Much is made of the fact that Ben Folds' piano replaces the electric guitar in his power pop trio. He has been quoted as saying the band's music is "punk rock for sissies," and people love to talk about how the pianist has loads of technique at this disposal, yet he often bangs the keys with wanton ferocity.
Well, the above is all true, especially on three or four songs of Whatever and Ever Amen, the group's second major release. Folds rocks out -- he can sound like Chico Marx sitting in with the MC5. But Folds' piano also does more than bang out riffs. Comparisons to '70s piano-oriented songwriters are valid, from Elton John to Todd Rundgren, plus a splash of Wings -- grand pop. His Steinway also sounds pretty and dramatic, capable of creating some poignant, quieter moments.
"Alternative" rock with grand aspirations? Sounds like the philosophy of someone like the Smashing Pumpkins. But Ben Folds Five does it with taste, in the process showing that they are able representatives of the new rock coming out of that collegiate stretch of land in North Carolina around Chapel Hill. Consider the album's last track, "Evaporated." Ambitious, literate, sincere, and finished with plush musical trim, this song still manages to avoid pomposity while reaching its lofty goals. Classic Chapel Hill rock.
One reason it might work is because of the context in which the musical ambition operates. "Evaporated" may boast a certain "bigness," but it's on an album that begins with "One Angry Dwarf and 200 Solemn Faces," a driving song with a bass line rooted firmly in disco and a lyric that depicts the revenge of the nerds. Later, "Kate Army" miraculously creates the sound of someone falling into a delirious crush on a girl. Direct and accessible as a Sesame Street skit soundtrack, "Kate Army" bounces with traces of Elton John, the Beatles and early rock -- think Fats Domino, Little Richard.
"Fair's" backing vocals are the very definition of bubbly, with falsettos giving the drama of a Queen song and drummer Darren Jessee adding a disco beat to it. And in the front and center of "Fair" is Folds' voice, a good voice delivered full-throated and strong and utterly honest. It isn't perfect, but as in his piano playing, Folds' performance doesn't necessarily reflect the furthest reaches of his ability -- this band clearly values feel over perfection.
That attitude makes a wild ride out of a song like "Steven's Last Night in Town," in which a few members of the Klezmatics help out on a somewhat pointed look at a friend who has five or six good-bye parties thrown for him before he finally leaves town. Busy, exuberant and punchy with teeny little solo breaks, the tune's careful structure is visible under its daring clothes.
"Selfless, Cold and Composed" is as controlled as the frustratingly rational lover depicted in the 3/4-time song, with touches of '70s-era Chicago in the chorus and a Randy Newmanesque tone of semi-serious reproach pervading all. Folds' way with words is shown even better in "Brick," a melancholy tune with haunting lyrics that suggest that the song's main character and his girlfriend suddenly and regrettably found themselves in a family way. Serious and confessional, it only reveals what it must and only suggests the rawest of emotions. Perhaps the niftiest piece of lyric writing on Whatever is "Battle of Who Could Care Less," a jaunty, retro-sounding single that manages to drop pop culture references (like a mention of the TV show "Rockford Files"), confess an infatuation with a disenchanted woman, and poke fun at the overblown ennui of alt-rockers -- all in the same few lines.
Ben Folds Five's first album was heavier on uptempo material. Given the trio's wonderful way with a ballad, fans shouldn't miss the dropped beats. Whatever and Ever Amen shows that Ben Folds Five is not just punk rock for sissies. Not anymore.