I've Got A Mind To Ramble
Oh, Mary Ann
It was a night to celebrate for Mary Ann Fisher, who had just turned 74 and was getting ready to leave Louisville for the fame and fortune of New York City. Rick's Square Piano on Theater Square was an ideal setting for her birthday tribute on February 26. Her name should have been in bright lights on the marquee, for she was radiant with warmth and joy to all her admiring friends, who showered her with love and gifts. There was a special moment when she was presented with a proclamation from the Mayor's Office, declaring that day Mary Ann Fisher Day, and a key to the city.
There were several $20 bills pinned to her red-and-black satin blouse and she was given a rosewood Hillerich and Bradsby baseball bat with her name inscribed in gold. It was a more practical gift than it appeared: she may need it on the streets of New York. A photo of Walnut Street as it used to be when Mary Ann sang in the Midnight Rambles was another souvenir.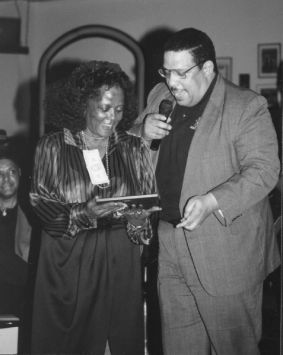 Mary Ann Fisher receives her proclamation for "Mary Ann Fisher Day" at Rick\'s Square Piano. Photo by Keith Clements
The 10th Street Blues Band a was present to back her up, featuring Smoketown Red on guitar; Sonny Sitgraves, drums; James Watson, bass; and a new member of the band, Jim "Fuzzy" Roth, blowing harp and singing a few songs. When Mary Ann's turn came to sing, she was assisted by several of her female friends, who also serenaded her and shimmied on the dance floor.
Julius Thomas got up and did a nice version of "Every Day I Have the Blues."
Between sets, Fisher talked like she was ready to make her big move. She has encouraged by old friends in New York to try her luck on a new career, complete her autobiography and do a recording.
"I'm ready to try on a new pair of shoes," she said, "and if they don't fit, I'll try on another."
We are all going to miss Louisville's "First Lady of Song." I will especially miss the way she sang "I'll Sing the Blues for You."
Nine Years and Out
The word is out that there will not be a Garvin Gate Blues Festival this year. It would have been the 10th Anniversary, but all good things must come to an end.
The KYANA Blues Society had several meetings with the Garvin Gate Association to find the leadership necessary to carry on the festival, as the previous ramrod, Howard Rosenberg, had departed. Without the hundreds of volunteers and thousands of dollars necessary to put on such a festival, however, it was not feasible.
The KBS is now working on making something good come out of this situation. The 12th Annual King Biscuit Blues Festival, scheduled for October 9-12 in Helena, Arkansas, has always been held on the same weekend as the Garvin Gate festival, and the KBS is having discussions with travel professionals about a package deal for travel and accommodations.
We plan to spend the first night on Beale Street in Memphis, then stay in Clarksville, Mississippi, since hotels in Helena are already booked up. Clarksdale is about a twenty-five minute drive from the festival and is the site of the Delta Blues Museum.
I spoke with Elizabeth Matera, a Horse Cave, Ky. native, who provided preliminary information about the festival. It is held in conjunction with the Sonny Boy Blues Society and this year will feature the Staple Singers, Charles Brown, Bobby Rush, Johnny Copeland and Sam Myers with Anson Funderburgh. There will be five stages for gospel, acoustic heritage, children and the main stage. In addition to the music, there will arts and craft exhibits and barbecue contests. Perhaps the KBS can get some good ideas at this festival for one of our own in the future.
Actually, Louisville is not without a blues festival, because the American Diabetes Association is planning their second blues festival on Sunday, June 1. This year it will be on Main Street in front of Stevie Ray's. Scott Mullins is booking the acts and Sue O'Neil will be the stage manager. With a little luck and much support, this could develop into a major event.
3rd Annual KBS Blues Cruise
The 3rd Annual KBS Blues Cruise will be held Saturday, April 12. The school bus will hold only 44 blues cruisers, so order your tickets early by calling Keith Clements at 4551-6872 or send a check for $15 per person, payable to the Kyana Blues Society, to P. O. Box 755, Louisville, KY 40201-0755.
You must be a KBS member to cruise with us, so if you have not yet joined, this is a good opportunity to become a KBS member for only $10.
Schedule
5:15-5:30 Meet in the parking lot of Bardstown Rd. Presbyterian Church, 1722 Bardstown Rd.
6:00-7:00 buffet at Red Hot & Blue Memphis Pit Bar-B-Que, 2051 Hurstbourne Pkwy.
7:30-9:00 Mo Betta Blues Band and Built for Comfort (1st show in Lou.) at Stevie Ray's,. 230 E. Main St.
9:00-10:30 MR2 Blue at Zena's, 122 W. Main St.
11:00-? B. B. Taylor's Blues Review w/Special Guests, Smoketown Blues Club, SW corner of Jackson and Caldwell Streets.
There will be an early bus and a not-so-early bus returning the blues cruisers to the point of departure.