Down On The Corner
Doc Dockery is off to England again. This time, he's going as a recording artist with a new CD, Doc Dockery - "The Louisville Guitar Slugger." The CD is on the London-based Proper Records and was released March 15. Doc will bring back some copies, he said, and will find out what the American distribution will be when he's there.
Speaking of country musicians, Eric Kerr of Denim & Lace is leaving the band and moving to Nashville to take his crack at the brass ring. The Denim & Lace band will play their remaining gigs and then disband, according to Lynn Kerr.
The 24th Annual Kentucky Opera Book Sale will be held Friday and Saturday, April 4 & 5 from 10 a.m. to 9 p.m. and Sunday, April 6, noon to 4 p.m. at the Trinity High School Alumni Hall, 4011 Shelbyville Rd. Admission is FREE.
If you want an early look at the books, a party called "A Night of First Choice" is being offered for a mere $35, which money gets you not only a first look but also refreshments and entertainment. Call 584-4500 for information.
If you would rather buy your books new, you can still benefit the Kentucky Opera during the week of March 31-April 6. Hawley-Cooke Booksellers will donate %20 of the cost of all books you buy there if you mention Kentucky Opera.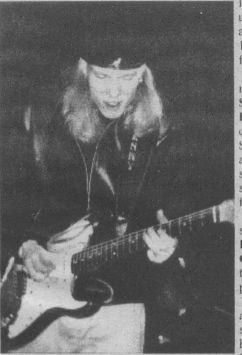 Kenny Wayne Shepherd demonstrated his licks at the Brewery in March. Photo by Pete Strojny
• Does It Sound Better After a Few Drinks? More from those wild and crazy folks down at the Kentucky Opera, who are holding their first wine auction / fund raiser, In Vino Veritas, at One Commonwealth Place, 4th Avenue and Broadway, at 6 p.m. on Saturday, April 12. This is a black tie event and it will be catered by Vincenzo's Restaurant, with a wine tasting and silent auction preceding the dinner.
In the live auction will be a case of 1976 Chateau d ' Issan, and one six liter bottle of Cabernet Sauvignon Stag's Leap District from Robert Mondavi Winery, plus other special lots.
Call the Opera at 561-7939 for more information.
Triangle Talent operates mostly out of sight of the ordinary music fan, and that is as it should be. They have been getting some big time publicity, however, with the Flood Fest '97 show at Freedom Hall on April 6. It has quite a line-up, all volunteer. Kudos to all involved for donating their time and talents, and a special pat on the back to Triangle's owner, Dave Snowden, for putting it together.
Triangle Talent has also been tending to their knitting. Here are a few items of note from their Spring newsletter:
They signed Bowling Green's Radio-Active Flowers, who played the Butchertown early in March to a flood-diminished crowd. A very cool band. Watch for a review of their CD.
David Ratterman and Lost Highway have also been signed to the Triangle roster, as has Fiveast.
From the same issue of the Triangle newsletter, we learn that Kevin Garr of Almost Noah is recovering from a heart attach. Best wishes for a speedy recovery to Kevin and, believe me, fella, there are better ways to get ideas for songs.
The Juggernaut Jug Band played at South by Southwest on March 11. haven't heard about any results.
Our country columnist, Michael W. Stout, has taken his love of country music another step. He has began a daily radio subscription country music news service. That means he faxes country music news daily to subscribing radio stations. Contact Michael at 812-633-2405; 812-633-2605 fax.
Chaz has picked up an endorsement deal with Godin Guitars. Other artists playing Godin guitars include: Alex Lifeson (Rush); Brian May (Queen); Collective Soul; Michele Shocked and Freedy Johnson.
The Shepherdsville Country Music Place got a little wet during the Flood of '97, but things are back to normal now, according to Renda Aiken. They were closed for two weeks and the nice theater seats got a bit soggy, but they took the opportunity to remodel the bathrooms and replace some of the soggy fixtures. The seats are mostly dry, and the first customers just put plastic bags down on the cushions.
• Cole Porter fans, attention. Hot 'n' Cole, a play about the Peru, Indiana native is scheduled into Actor's Theater, beginning on April 15. Call 502-584-1205 for tickets and info.
Songwriters, take note. The Ursuline School of Music and Drama is offering a one day Songwriter's Session on June 20. Get a little music theory, scales and a jam session. Call 897-1816 for more info.
Our old songwritin' buddies, Ray Yates and Brian Curella, have moved their production company, Media Beat, to 1500 Bardstown Road and opened a new music school to boot, to be called Flying Hands School of Music. For info, call 451-8001.
While we mentioning songwriting, Stephen Moon (a.k.a. Moon) is taking charge of the Songwriters' Night at the Twice Told Cafe. He's trying to get Rick Towles to set a regular date for the event, so if you're interested, go there and talk to the owner about the importance of regularity. And don't make any Milk of Magnesia jokes.
Other former members of the LASC write occasionally. This month, that's Larry Story, who has a new DJ service and is "still struggling for that pearl." Good luck, Larry.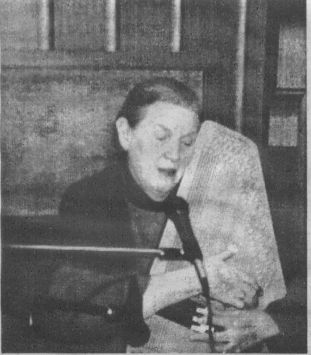 Jean Richie played her autoharp during a mini-concert at Hawley-Cooke Booksellers on Shelbyville Road on March 16. Photo by Jean Metcalfe
Being that it's Spring and all, there are always 'green' activities to take note of. Out at Louisville Zoo, a Community Enivronmental Festival is set for April 20, 10:00 a.m. to 5:00 p.m. The event is free and will feature John Gage doing songs from is new CD, in addition to all of the other "Celebrate the Earth" doin's. For info, call Brenda Woods at 267-5466.
If you are serious about the cosmic nature of your music, then you need to know that Latif Bolat, Turkish Sufi musician will visit Indiana University in Bloomington April 3-7,. making several appearances. Call 812-855-0084 for more info.
Gary Brewer called last month to talk about a Benefit at the School for the Blind (See Upcoming, Page 16). He also mentioned that the Strictly Bluegrass Festival is set for September 2.
He also wanted to remind everyone that the International Bluegrass Music Association's Fan Week has been moved to the Galt House, October 13-19. He urges all bluegrass fans to do whatever they can to encourage the IBMA to move to Louisville permanently.
Brewer and the Kentucky Ramblers, plus Phil Sexton have released Fifth Generation: Live at the Appalshop - Whitesburg, KY, a new CD on June Appal Recordings.
Gene Autry Rides Again! No joke - Rhino Records has released a 3-CD boxed set of Autry material from his heyday as a cowboy singer, called Sing Cowboy Sing. And you thought he was just another rich baseball owner. How'd'ja think he got those bucks?
Read Keith Clements' I Got a Mind to Ramble column on page 10 for the details about the demise of the Garvin Gate Blues Festival. Sniff.
Bill Edwards has closed his music store in Plantation. An excessive accumulated debt dictated the closure. Bill extends thanks all his friends and customers for their support.
Club News
Dave Gimble, owner of Joker's Bar and Grill, has bought Annie's on Terry Road and renamed it the Silver Dollar Bar and Lounge.
Pat Durbin is back the Sahara Club. No details are available at press time.
Codas
Eva Lauren Roberts was born on March 4 at 9:17 p.m. Eva Lauren's father is LMN writer and new jazz columnist Tim Roberts.
Wilfred C, Bain, 89, died in Bloomington, IN on March 7. Bain was the dean of the Indiana University School of Music from 1947 to 1973.