Front & Center: Jim Snyder: Journeyman
By Cindy Lamb
If other open stage nights in town claim to produce the cream of the crop, then it's Jim Snyder's Tuesdays at the Dundee Tavern that is the jam. Now, if we want to take this food metaphor even further, we could say that Snyder, unlike most of his musical companions, makes his bread and butter as a singer/songwriter. (Are you hungry yet?) Embarking on something of a renaissance mission, Snyder has enjoyed a responsive year and a half on TKR with his local access talk/performance show "Writer's Night;" nurtured a most unusual open stage every Tuesday night and kept tabs on the Nashville beat. Somewhere between introducing a rising star on camera and lending his instrument to a singer eager to grin but nothing to pick, Snyder is most comfortable when he is guiding someone else into the limelight.
Nestled in the bucolic block that is Douglas Loop, the Dundee Tavern caters to the best of both worlds on Tuesdays from 8 p.m. - 11 p.m. The pub is split down the middle by a wood partition that keeps the beer-clutching sports fans and networking business folk somewhat separated from the music side of the room, where the beer-clutching guitarists and networking writers are. It's a healthy mix any pub worth its salt should be proud of.
Jim Snyder has tossed me a "chicken shaker" or two in the past, enabling me to sound like a maraca-shaking, doo-wah tour de force from behind the beer at the table. Regulars bring their guitars and tune together for the inevitable jam that goes from Pink Floyd to "Brown Eyed Girl," Leadbelly soakers to original wailers.
The musical stools style of swapping turns at the mike is communal, as unorganized as a party in your own den and just as comfy. Jim welcomes a long-haired young un' with a slide guitar, then opens the stage to a middle aged man as big as a truck to lay down a country tune.
Things can get a little surreal some nights but all you have to do is look up on one of the television sets to see an ongoing basketball game or ESPN news and it's, "Oh, yeah, we're still in Kentucky, Dorothy."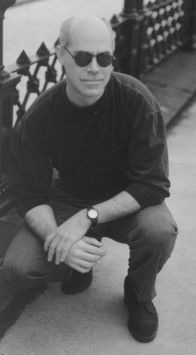 Jim Sndyer. Photo by Cindy Lamb
Born and raised a West Virginia boy, Snyder has since formed a triangle of sorts between his home state, the Carolinas, Florida and Kentucky. With his music as his main vehicle, he has always found a place to perform and meet new people. His mobility quite possibly stems from being the first generation of his family to really go beyond the home turf - and take an instrument with him.
"I come from a long line of musicians and teachers in the woods of West Virginia," he stated, "I was always awestruck by my Appalachian heritage. I had enough to sing in the choir. Sometimes they were the choir. I learned to play autoharp as a kid and always enjoyed going to arts and crafts fairs."
Snyder knew he had musical roots but as he grew old enough to get into pop music, he had a twinge that would probably not pan out. But it was cool, nonetheless.
"When I was born it was a big to-do in the paper, because I was the fifth generation of living McCartneys. There were the Stumpfs, the Snyders and the McCartneys. My grandfather, Sylvanus McCartney, thrived well into his 90s. Of course, as a kid, I had this ego thing [that] I was related to Paul McCartney," he laughed, "but if I was, it had to be eked out in the family history. It would be a tiny percentage."
Being raised on the radio, Snyder became a knob-turner, finding his favorites: Johnny Cash to Jimi Hendrix, George Jones to the Beatles. As soon as he got to high school and bought a car, his whole agenda changed - he hit the road. "I used to skip school to go to a small city college in Charlestown to see shows. I met a woman there who was a playwright and a poet. She had a collection of poems about being raised in the coal hollers.
"One of the essays she put together was called Flowers Grow in Coal Dust. The cover art showed this child picking a fresh flower out of this stark, dirty yard. I commented that I'd like to write some music to some of her poetry. She called me in 1979 to tell me she'd written a play of the same title and needed some music."
This would propel Jim into a passion for the theater. "Ever since then, I've never been able to put all my energy in one particular avenue because I enjoy doing all these things." Finding exposure in, of all things, the church circuit, Snyder realized that performing in the Bible Belt was a positive experience.
"In the late 70's, when those folk masses were real popular, I composed one for St John's in Charleston. I wrote everything on acoustic guitar. Since I went to school with Kathy Mattea, we'd do Easter and Christmas concerts together. We'd go drive out into the sticks to a little two-room schoolhouse or country churches and play for these people. Kathy was one of the girls that followed us around with a couple of her girlfriends and my partner and I thought it was great to have kind of, like, groupies." For a moment, he ponders Mattea's rise to fame. "Oh, man," he winced.
Jim proceeded to sign up to theater classes, then at a later point he chose a music major. This combination brought out the essential entrepreneur in Snyder, so going into Music Education came into focus - but not without some hesitation. "I thought, 'Hey, wait a minute, I was a total s**t to my high school band director, I don't want to get into that.' So I went into recreational therapy, nursing homes and orphanages." In time, return gigs with the Special Olympics would be the most rewarding. But there was one problem: he just couldn't perform for money. This would change.
Leaving the hills for the nightclubs of Charleston, Snyder buddied up with his fellow campus scenesters and formed a band called Apple Pie. Snyder confessed they had a striking similarity to the Monkees in that they videotaped themselves at the drop of a hat doing anything from jumping in pools fully clothed to rolling footage backwards on public access shows that would bravely accept their slots.
After a stint on the college circuit, Snyder went to Pittsburgh to see a production of Godspell. "I videotaped it in my mind, brought it back home and did our own production." By 1980, a gig as musical director for a Nashville theater group took him to the southern end of the Blue Ridge Mountains. With enough credits under his belt to produce a revolving resume, Jim finally settled back into what he liked doing best, performing music. A bar band with the dubious name Strange Men With Big Heads was obviously prompted by his falling asleep in front of bad cable TV on a Saturday night.
"We did everything from Bluegrass to Talking Heads," he recalled. (Ed. note: Bill Monroe must be rolling in his grave.) "Then it became really intriguing to assemble open mike nights and encourage people to come on up and have as much fun as we were."
Speed the clock up to 1993. Snyder moved to Lexington, KY and sought out the music scene there. More often than not, he'd wind up an hour and a half away in Louisville where he found both camaraderie and cash.
"I've always maintained full time musician thing - sometimes it's feast or famine. Some engagements will be a week in restaurant or a weekend in a club, but you can make forty thousand dollars a year if you work it right.
"Colleges are seasonal, yet I could make jobs for five hundred bucks if they were in a concert setting. A coffeehouse was generally three to five hundred and on a big stage with another act five to eight hundred - depending on how trendy our are. If you're doing Dave Matthews numbers and the promoters see that you're drawing those college demographics, you can do very well."
As far as making Louisville his hometown, he's pleased with the little big town appeal. "I'm more settled here. I like Crescent Hill. I like it, it has that small town feel, you're near a river, the interstate's nearby, wildlife isn't far away."
There's also a great source of "wildlife" downtown as Snyder likes to test drive songs and share licks with Louisville's writer's community. "Anthony's By the bridge is my home base," he stated, "They're very loyal to the artist, especially Tony Searcy - very respectful."
Snyder feels that he can afford a lot of personal and professional freedom in Louisville because he arrived with no baggage. On the other hand, he has noticed the power and the ridiculousness of cliques. "I have no patience with arrogance, musicians cliques, artists dissing one another. People can be cruel, what's the point? The scene ends up taking the brunt of it."
One evening this winter, Jim was reminded of how effective having a cable access show can be. "I was just sitting there at home in front of the computer, having your typical bachelor scene - surfing the internet and eating pizza - when I hear something at my door. I got up to check it out and looking out the window, I saw these people walking away from the building. I opened the door and I'm just standing there in my bathrobe with a slice of pizza in one hand and a mouse in the other and a woman, who'd just dropped a demo tape off yelled, "We just love your show!"
The "Writer's Night" broadcast has provided a forum for newcomers and pros - from novices to novas, if you will - and the conversation/performance format is a hit with the cable distributors.
"I ran some ads for a while and got a couple of calls but now I've discovered that I try to make the Dundee Tavern as fun as possible, and the TV show is a labor of love, but it's a little money for the time spent I enjoy doing it. I have to decide, how much time do I spend promoting myself and how much time promoting others.
If Snyder feels that his career is being perceived as a hobby, the dander comes up. "I'm a professional," he notes, "This isn't something I do on weekends to get out of the house but you've got to do it for the love of performing and entertaining. You have to remember who your master is. If it's the dollar, then it gets to be a pretty cold situation. Money has no soul.
"Writer's Night" is narrowcast onTKR Channel 14 or 18 on Saturday Morning's at 11:30.