"ELIXIR OF LOVE"
Also A Potion to Please Audiences!
Henry C. Mayer
Synopsis: The youthful Nemorino, unhappy at his rich neighbor Adina's apparent indifference to his wooing, becomes even more distraught when she has a lively (and apparently successful) flirtation with the visiting and dashing Sergeant Belcore. He sees a possible ally in buying a love potion from a visiting quack doctor; although the potion is nothing more than wine made from local vineyards.
In very modest circumstances, Nemorino gets the money for enlisting in Belcore's outfit. The potion gives him unexpected self-confidence and this so vexes Adina that she decides to marry the Sergeant on the spot. But Nemorino fails to show up for the ceremony and so she delays it, to Belcore's annoyance.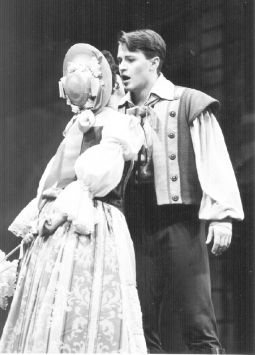 Sheryl Woods as Adina and Gregory J. Turay, Nemorino
She finds Nemorino happily inebriated and surrounded by the other village beauties, who have heard that he has just inherited a fortune. Spurred by jealousy, she buys his army contract and then agrees to become his wife. It is hard to say which is happier from this turn of events.
Louisvillians Daniel Mobbs (Belcore) and Melinda Cumberledge (Giannetta) help make this performance sheer delight. In fact, Mobbs nearly steals the show with his singing and superb acting, as does Don Sherrill in the role of Doctor Dulcamara. I find it impossible to choose between them. Both have highly talented voices and their acting leaves little to be desired. This writer gives the nod to Mobbs for singing and to Sherrill for acting.
Donizetti has a way of writing very challenging arias for his female singers. Whether it is his Daughter Of The Regiment, Lucia Of Lammermoor or Adina, what he writes is as challenging as it is beautiful. And Sheryl Woods is more than up to it.
But even so, the audience and this writer were thrilled by the beauty of the voice belonging to Gregory Turay, who played Nemorino. He sings with confidence and in his greatest number, "One fleeting tear," he makes it abundantly clear why at 23, he won a Metropolitan Opera contract. He was trained at the University of Kentucky and still keeps in close touch with his chief teacher there. He is also a young man who knows himself and he keeps his feet on the ground.
During "Lunch and Listen," he was asked whether he would also try for some of the more difficult roles written by Puccini and Verdi.
"Not now," he replied with a heart-warming smile, "my voice is not yet ready for them. But you know the voice can mature. I'm sure mine will and I will know when to take that step."
A special salute to Nancy Hanaford for 23 competent and dedicated years as our Wardrobe Mistress. She well deserves the floral bouquet presented her after Elixir's first night.