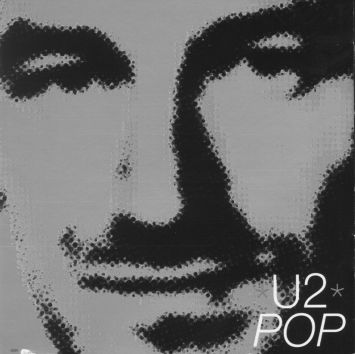 a departure, but not a drastic one
Pop (Island)
U2 By Joshua Smith
A new album from U2 can evoke feelings of hope and fear in most longtime fans. Before the release of Pop, many devoted U2-ites found themselves squirming at the rumors of electronic (gasp!) dance music. After all, Bono promised a "rock" album back in 1995. But by giving this CD a spin, fans will soon be comforted.
Pop should have been named "Hype." Lots and lots of moolah was dropped to get this thing plugged into every household in America several weeks before its release. But with record sales in a record slump, the industry has a lot riding on Pop, particularly trying to forecast what's ahead in '97.
At first listen, Pop doesn't sound like a collective work of songs. U2 does break new ground for themselves, but several cuts on the album sound like they could've been on Achtung Baby. They tap well into the "Rave" genre on "MOFO," which is an onslaught of random noises from The Edge over a looped Larry Mullen Jr. This is made complete with a fast, driving bass line and a drowned-out vocal from Bono.
On the other side of the coin, fans who wish U2 would stick to their roots (Joshua Tree roots, that is) will be pleased with several numbers, including "Do You Feel Loved?" and "Last Night on Earth." Though now "technologically advanced," U2 is still able to capture the important emotional elements of a song like no other band. "If You Wear that Velvet Dress" is hard to listen to without being entranced by both its lyrical and musical content. The slow, provocative "Wake Up Dead Man" is ridden with dark imagery and Bono delivers his vocal like a man who's trying to crawl out of a hole. The power-chord chorus sounds like it came straight from Neil Young's notebook.
Lyrically, there's nothing new in Pop. U2 can change clothes, change its music, and try to change its image, but Bono is still the lost and wayward soul he was ten years ago. Laced with spiritual undertones, on Pop Bono is asking more questions about society, love, and God. He's also still doubting his own faith in passages like "God's got his phone off the hook, babe/Would he even pick it up if he could?" Though his writing isn't as politically oriented as it used to be, he is still concerned about the condition of the world as in lines like "Military still in town, armor plated suits and ties/Referee won't blow the whistle." And as to the prison of his own fame: "Good-bye, you can keep this suit of lights, I'll be up with the sun."
All technicalities aside, U2 is still out to be the heaviest band in the world. And they're doing a good job at it, although they disappoint many of their "fans" with every passing album. The truth is, they would have faded away a long time ago if they had kept on covering the same old ground. But they've managed a 17-year continuous career so far. They must know what they're doing.