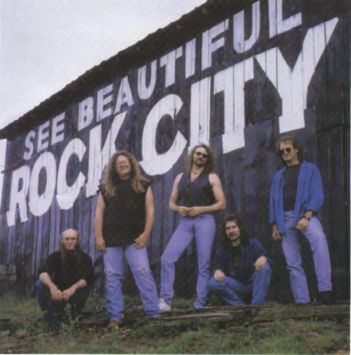 The Kentucky Headhunters

By Paul Moffett

m
Marching Orders for April 1997
Destination: Derby Week
Route: Individual
Commence: April 1
If you thought the Great Flood of '97 was over, think again. Pack the emergency earplugs, take out a loan and tell the boss you'll be late every day in April, because the music is just pouring in from everywhere, in every style and for every budget.
The run-up to Derby, which starts earlier every year, has taken over the entire month of April, so we can only hope that you got your winter nap and are ready to (ahem) party.
Things will get off (so to speak) to a rip-roaring start on April 1, a Tuesday, yet, when perhaps the most curious crowd mix of the year will be achieved at O'Malley's corner. The country rock fans will be there to see Eddie Money in Coyote's, Catfish opening, while a mere glass door away, in the Backstage Cafe, the gay pop-punk band Pansy Division and the Tigerlillies will hold the line on pop-punk, with Louisville's Cherub Scourge opening.
Conversely, you could slide to the Silo Brewery for some big band music by the Ovation Orchestra.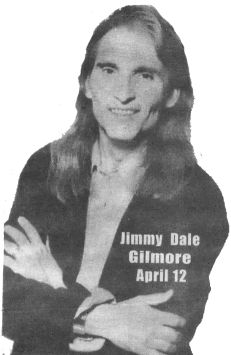 Jimmy Dale Gilmore
We're talking the first Tuesday of the month. Tuesday used to be the deadest night of the week, right? Weren't nothing to do, nowhere to go.
Scratch that notion, then listen for the last gurgle of flood and the first 'Call to the Post.'
It's Spring in Kentucky.
Bluegrass
C. R. Wilson's last batch bluegrass shows at Shepherdsville Country Music Play include Jim and Jesse and the Virginia Boys on April 10; Randall Hylton and The McNeeley Family on April 11; Kentucky Blue on April 18 and Doyle Lawson and Quicksilver with Fresh Cut Grass on April 25. Then it's festival time.
Gary Brewer called to mention an upcoming benefit for the Kentucky School For The Blind in the Auditorium on April 24. Called "A Night of Bluegrass," the lineup will be: Gary Brewer and the Kentucky Ramblers, Michael Cleveland, Shawn Brooks and The Galoots.
Tix and info: 897-1583
Blues
We've haven't seen Johnny Winter in town for a long time. He's playing the Brewery on April 6, with Michael Hill's Blues Mob, a headliner act by itself, opening.
Tix and contact: 583-3420
It Haven't Been Easy for Miss Lavelle White or so the title of her new album on Antone's would have it. Hear why she's just been nominated for a W. C. Handy award for "Soul/Blues : Female Artist of the Year" when she hits the Backstage Cafe on Monday, April 7.
Tix and info: 589-3866
If you think "California hip" is a positive label, then by all means catch Little Charlie and the Nightcats at Stevie Ray's on April 2. Eddie Shaw and the Wolf Gang will be there on April 17.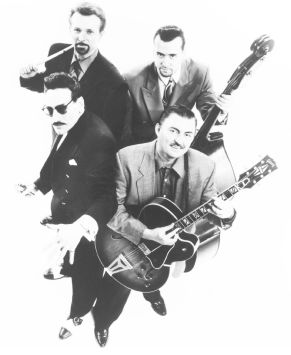 Little Charlie & TheNightcats
Tix and info: 582-9945
We hear that James Peterson is living in Louisville these days, so we'll likely get to see him perform regularly. This month, he's at Stevie Ray's on Wednesday, April 30.
Tix and info: 582-9945
Chorale
"Voices of Spring," The Louisville Chorus' final concert of the 1996/97 season, will be held on April 6 at 4 p.m. at the Beargrass Christian Church. Daniel Spurlock will direct and, in addition to material by Bizet, Brahms, Mendelssohn, Schubert, and Schumann, the concert will feature Four Love Songs by Louisville composer, the late Nelson Keyes.
Tix and info: 502-231-2861
Country
The FloodFest '97 line-up on April 6 at Freedom Hall certainly will be at the top of concert-goers list. You get The Oak Ridge Boys, Billy Ray Cyrus, The Kentucky HeadHunters, the Everly Brothers, Lee Greenwood and John Michael Montgomery for the ridiculously low price of $15. They shoulda charged $20 at least. It's a benefit, after all. Oh, well, you can donate more for the victims of the Flood of '97.
Tix and info: 361-3100
If the Floodfest lineup doesn't jerk your chain, you can see Eddie Money at Coyote's on April 1 for $10 advance, $14 day of show.
No money for Money? Shell out for the Hag him own self at Coyote's on Tuesday, April 8. A bona fide legend, Merle Haggard just keeps on turning out his brand of country, regardless of what the record execs want and thank the good Lord for that.
Ray Condo and his Ricochets are not country legends but they don't hesitate to borrow from the best in Western Swing. At the Backstage Cafe, April 17.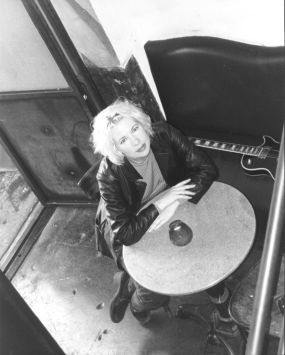 Susan James
Tix and info: 589-3866
The Hag is not the only country music legend booked into the area. Johnny Paycheck is booked back at Johnny Lee's Yellow Rose of Texas in Shepherdsville, on April 10.
Tix and info: 502-543-9954
Louisville Music News 1997 Lifetime Achievement in Country Music Award winner Patty Loveless will give two concerts at Renfro Valley on April 19. Ray Price will also be at Renfro Valley earlier in the month, on April 4, for two shows.
Tix and info: 800-765-7464
Orchestral
If you like a little - no, a lot - of levity with your Beethoven, then Victor Borge is for you and for your kids. The Dane with upside down rendition of the theme most closely associated with The Lone Ranger will be at Louisville Gardens on Saturday, April 5, for a Louisville Orchestra "SuperPops" concert.
Tix and info: 587-3800
Pop
I think that Barry Manilow qualifies to be classified as a 'pop' musician. He certainly has the sales and awards to prove it. He's back on tour and will arrive in Louisville Gardens on April 8. Tickets are $40 and less.
Tix and info: 502-587-3800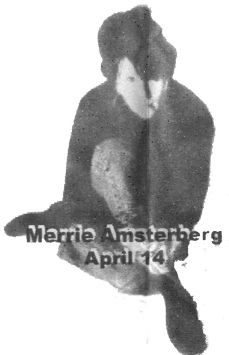 Merrie Amsterberg
Ani DiFranco might be amazed to be slotted with Manilow and so would Manilow. Weirder things have happened. DiFranco is running a thumb-yer-nose-at-the-record-companies kind of publicity campaign and tour and doing quite well at it, thank you. She'll be at Memorial Auditorium on April 4, with Dan Bern opening. (Yes, the same Dan Bern who played at the Twice Told last year.)
Wednesday, April 30, the Brown & Williamson Derby Fest will feature Earth, Wind & Fire, Michael McDonald, Chaka Khan and Sinbad at Freedom Hall. Best of all, it's FREE.
Tix and info: 584-7777
Rock and its Variations
On the list of must-see for those obsessed with staying up with the Louisville alternative/hardcore scene is the Will Oldham show on April 9 at the Clifton Center. Oldham is best known for his "Palace" projects - The Palace Brothers, Palace, Palace Songs - but he is an enigma wrapped in a mystery surrounded by a cult, to mis-quote Churchill. He hasn't played a show in Louisville for so long that it might as well be never.
Matador Records' Run On opens. Get your tickets early at ear X-tacy, Ground Zero, Underground and Blue Moon Records.
Tix and info: 502-896-8480
Up on the Phoenix Hill, where they do do the boogie, Royal Crown Revue will be at the Phoenix Hill Tavern there on April 2 for a $10 show.
Jimmie Dale Gilmore's voice is an acquired taste. If you're a Texan, of course, it's just home, but other folks have trouble with it. He's a great songwriter and favorite of the cutting edge/NPR set. (You might have heard him on "World Cafe.") He brings his band to the Phoenix Hill Tavern on April 12, in the Roof Garden. Word has it that Tim Krekel will open, at Gilmore's request. It's also an early show, starting at 8 p.m. The boomers will be happy.
Those food-fightin' phools, the New Duncan Imperials, will be at the Phoenix Hill on April 18 for some regal rowdiness.
The same day, Muffy Panics will have a CD release party at the PHT. Word has been dribbling out that the new CD is, as they say, way killer kool or something to that effect. Having only heard the cut from the Harvest Showcase CD, I'm ready to go and listen.
Finally, Paula Cole and Holly Palmer arrive at PHT on April 20.
Tix and info: 587-4957
Down the Hill a-ways, Rat Dog chews its way into the Brewery on April 9. Susan James opens.
If you're old enough to remember Steppenwolf, you're nearly too old to go to the show, 'cause it'll start too late. And on Sunday night, too. They'll be at the Brewery on April 20.
On April 27, another old time Southern rock 'n' Roll band, the Marshall Tucker Band hits the Brewery.
Tix and contact: 583-3420
Please go see Please at the Butchertown on April 16. Do they aim to please? Will you ask them "Please, please me?" Can we end this now, please? They're promoting their CD, Sentimental Watermelon, on Mother West Records.
Carolyn Wonderland and the Imperial Monkeys have been getting airplay on Triple-A stations, including WFPK, so they've got a record to sell. Don't know much more. They'll be at the BTP on April 20.
Tix and info:583-2242
Louisville Gardens has been getting the occasional cool show and for April, it's Stone Temple Pilots with Cheap Trick on the 11 and if that isn't a stoned temple trick, I don't know what is.
For the heavy metal theatrical set, nothing will do but to get to Louisville Gardens on April 23 for a twin bill of Marilyn Manson and Helmet, who'll be finishing the show they started in March. Kind of Dead thing, y'see.
Tix and contact: 587-3800
Solo Performers
Over at the Twice Told Coffeehouse, Rick just keeps bringing in the favorites of the WFPK staff. Erica Wheeler on 4/2; Louisville native Greg Foresman rolls in on 4/3 (His CD was reviewed in the March issue of LMN.). Peter Mulvey plays on Wednesday, 4/9, Merrie Amstersburg does an 8 p.m. show on Monday, 4/14; Chris Smither does ditto on the 15th. Read about Faith Pillow on page 15 and see her on 4/19. Marshall Chapman offers an 8 pm'er on April 30. Enough. Tiny room, big music.
Alan Rhody has been in the music business for twenty-five years now. Go see why at the Rudyard Kipling on April 26
Tix and info: 361-1