I've Got A Mind To Ramble
This past July has been a cruel month for several bluesmen.
The month started with the sudden death of Johnny 'Clyde' Copeland, The Texas Twister, when his replacement heart failed.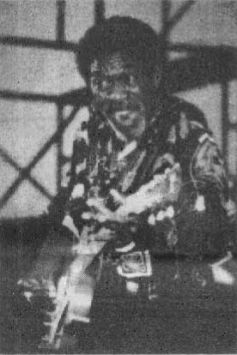 Luther Allison at the 1996 Hot August Blues Festival
Copeland's professional career started in Houston's Third Ward, where he played with another guitar legend, Joe Hughes, in a group called the Dukes of Rhythm. Absorbing the influences of T-Bone Walker and Albert Collins, he toured with several soul musicians including Otis Redding, Johnnie Taylor, and O. V. Wright.
When Houston's music scene began to change with the next generation, Copeland left for New York, where he had to work at a hamburger joint to survive. He even tried his hand at boxing. He signed on with Rounder Records, and his first releaseCopeland Special drew much attention. Following a ten-week tour of West Africa, Copeland mixed the sounds of African rhythms into his jazzy Texas-style 'jump' blues.
On the Grammy-Award winning Alligator Records releaseShowdown, Copeland jammed with Albert Collins and Robert Cray. Then in 1995, he was found to have a severely weakened heart, requiring surgery. He received an implant heart-assist device and was put on the list for a heart donor. On New Year's Day, 1997, he received a new heart, which failed on July 3, 1997
Copeland played on one of the finest blues concerts in Louisville in the 80s, paired with Stevie Ray Vaughan at Louisville Gardens. I was just as impressed with Copeland's gritty vocals and his high-energy guitar work as with Stevie Ray that memorable night.
During the middle of July, news flashed across the Internet that Luther Allison was suddenly, seriously ill. After not feeling well for several days, he broke off his hectic playing at concerts and festivals and consulted doctors. Tests showed that he had lung cancer and that it had spread to his brain.
Allison has been hospitalized and is undergoing radiation treatments.
Luther Allison was sitting on top of the blues world, winning 8 W. C. Handy Awards in the past two years and headlining festivals in Europe and the USA. A benefit is in the works for Allison at Stevie Ray's, either September 22 or 23. Several acts will be lined up including James Peterson.
Finally, I learned that Henry Woodruff has been at University and Norton Hospitals receiving radiation treatments for throat cancer. Following these treatments, I visited him convalescing at Parkway Medical Center.
Henry Woodruff is one of the few living links in Louisville blues from the 50s to the early 90s, when he stopped performing due to a stroke. He was the first recipient of the Kentucky Blues Society's Sylvester Weaver Award in 1989.
I have spent many a late, smoky Friday and Saturday night listening and dancing to Henry And The Noisemakers at the original Pleasure Inn.
Get well, Henry.
On the Road
Now for some good news. Michael Wells, guitar virtuoso and Foree Well's son, has gone out on the road in James Peterson's band. They are on a month-long tour playing clubs and festivals up east in the Utica and Buffalo, N. Y. area and in Toronto, Canada. They will return to Louisville on August 8 and then head south to Florida for another month of performances. Lorene, Michael's mother, said that "he wanted to do this as a tribute to Foree, for is dad had always wanted to go on tour playing his music but never got the chance."
Liz and Dr. Blues
Have you ever attend your own private blues concert? That's what happened at the Rudyard Kipling on July 8, when my wife and I went to see Liz Pennock and Dr. Blues. There was just one other person there to enjoy the two sets of classic, swing and contemporary original blues and boogie woogie. With only five of us in the back room, there was no separation between audience and performer and we all became one, joking and singing together.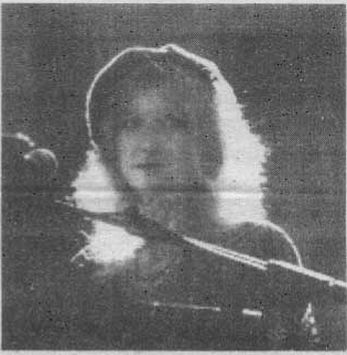 Liz Pennock. Photo by Keith Clements
I had first heard this talented duo at the 1996 Chicago Blues Festival, playing with the 94-year-old blues belter, Diamond Teeth Mary. Liz and Paul (Dr. Blues) have been married and performing together for fourteen years. Paul's electric guitar playing a, particularly on slide dobro, complimented Liz's smoky, sultry voice and lively piano. She opened with Alberta Hunter's "I've Got a Mind to Ramble" (sound familiar?) and followed with "One Way Ticket Blues," a true story that happened to Liz on New Year's Eve.
As a tribute to Diamond Teeth Mary, they did "Let the Good Times Roll," which is Mary's usual opening song. Paul played his 63-year-old dobro to perfection on "It Hurts Me Too." Liz set up her rack harmonica to play both harp and piano on "Bistro Blues." They sang a duet on "We're Playin,' Baby, In the Same Key," a song they wrote.
There were many piano solos on "Sorry Blue" and "Six Fingers Boogie." After their show when Liz extended her hand for a shake, I was at first shocked and then amazed to see that there only a thumb and two fingers on each hand.
The next day they were off in their motor home to Cincinnati for the Queen City Blues Festival, where Liz was to perform on the Piano Stage.