Cowboy Corner
Country Heats Up The State Fair
Well, the heat is on, meaning only one thing – it's Kentucky State Fair time! The 1997 State Fair will run from Thursday, August 14 through Sunday, August 24 and will include some of country's hottest acts. Alan Jackson and LeAnn Rimes will open the Fair on Thurs., Aug. 14; Vince Gill and Bryan White will perform on Sat., Aug. 16; The Oak Ridge Boys will make their annual appearance on Sun., Aug. 17; The Kentucky Headhunters and The Buffalo Club will perform on Tues., Aug. 19, Mark Chesnutt and Lorrie Morgan will perform on Wed., Aug. 20, Clay Walker and Terri Clark will team up on Fri., Aug. 22, and John Michael Montgomery and Ricochet will close out the Fair on Sun. evening, Aug. 24.
Grand Ole Opry Wedding
Although no details were released, Marty Stuart's manager has announced that 38-year-old Marty and 55-year-old Connie Smith were married in Pine Ridge, South Dakota July 8. This is Marty's second trip down the aisle and Connie's fourth.
Stars Swing Their Hammers
Country-pop artist Crystal Gayle headed home to Kentucky recently to join The Oak Ridge Boys in building homes for former President Jimmy Carter's Habitat for Humanity building project. Crystal, who was born in Paintsville, Kentucky, Joe Bonsall, Richard Sterban, Duane Allen, and William Lee Golden all grabbed their hammers and joined local volunteers as they helped build three houses in Eastern Kentucky's Pike County.
Billy Ray Cyrus Glad To Be Back On Radio and Charts
Flatwoods, Kentucky's Billy Ray Cyrus is glad to be back on the radio and on the Top 40 country charts with his brand new hit, "It's All The Same To Me," after quite an absence from the airwaves. Billy says, "I'm just tickled to death to be back on country radio – it's just great, and we're just loving it. And the fans are loving it." He says he didn't make a video for his latest hit from his brand new album,The Best of Billy Ray Cyrus: Cover To Cover, because he wanted it to be strictly a radio song. He says, "Thank God radio embraced the song and it's moving up the charts. It's great to be back on the radio!"
In his spare time recently, Billy Ray stopped by Nashville's Car Collectors Hall of Fame to drop off his beloved car "Judy," a 1951 Chrysler 4-door sedan that appeared in the video "Talk Some" from Billy Ray's sophomore album,It Won't Be The Last. "Judy" is on loan to the museum through the end of this year, and will then be auctioned and the proceeds will be donated to the St. Jude Children's Research Hospital.
John Michael Celebrates Firsts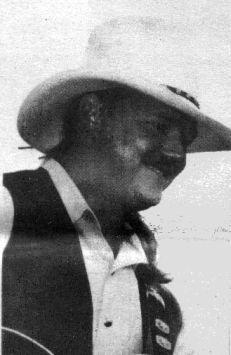 Trace Adkins
Nicholasville, Ky.'s John Michael Montgomery is no stranger to the top of the country charts as a singer, but he has never hit #1 as a songwriter, until now. John Michael celebrated his first #1 hit as the songwriter of his tender ballad "I Miss You A Little" at a recent Nashville party along with co-writers Mike Anthony and Rich Fagen. The song was written in memory of John Michael's late father, Harold Montgomery.
John Michael can now be heard on his first comedy song, along with funny-man Bill Engvall. Bill and John Michael recently filmed a video for "Warning Signs," which will appear on Bill's upcoming sophomore album. Bill got the idea to use John Michael after realizing how much fun he had in his video for "Sold (The Grundy County Auction Incident)."
John Berry Serenades 48 Couples
Country crooner John Berry has performed at several wedding ceremonies throughout his career, but the wedding he attended July 25 took the cake. John serenaded not just one happy couple, but forty-eight during WYGY 96.5-FM's Young & Wild Wedding Ceremony held at Coyote's Music & Dance Hall in Ft. Mitchell, Kentucky.
Immediately following the mass wedding ceremony, John serenaded the newlyweds with his ballads "I Will If You Will" and "Your Love Amazes Me." He then posed for a special wedding photo with each of the forty-eight happy couples.
Merle Haggard Recovers From Heart Surgery
Country legend Merle Haggard had to cancel his performance at pal Willie Nelson's Annual 4th of July Picnic Concert last month due to emergency heart surgery. Merle underwent angioplasty surgery on Independence Day to clear a blocked artery to his heart. The surgery was successful and Merle has been resting comfortably at home.
NSAI Songwriter Award Winners
The Nashville Songwriters Association International's (NSAI) 30th Annual Songwriter Achievement Awards were handed out July 23 at the historic Ryman Auditorium during a ceremony hosted by the award-wining K.T. Oslin and country music journalist and critic Robert K. Oermann. Vince Gill was named the Songwriter/Artist of the Year, Mark D. Sanders was named the Songwriter of the Year, and Matraca Berg and Gary Harrison's "Strawberry Wine" was crowned Song of the Year.
The writers of the following songs earned achievement awards: "Believe Me Baby (I Lied)," "Blue," "Blue Clear Sky," "Daddy's Money," "Does That Blue Moon Ever Shine On You," "Every Light In The House," "Friends," "Guys Do It All The Time," "Heads Carolina, Tails California," "High Lonesome Sound," "I Can Still Make Cheyenne," "I Think About You," "I'm Not Supposed To Love You Anymore," "Jacob's Ladder," "My Maria," "No News," "Strawberry Wine," "Time Marches On," "Wild Angels," and "You Can Feel Bad," the Patty Loveless hit written by Matraca Berg and Louisville's own Tim Krekel.
LeAnn Rimes' New Projects
Although LeAnn Rimes' parents made her turn down a role in Robert Redford's new movie adaptation of the best-selling book,The Horse Whisperer, LeAnn will make her acting debut later this fall. Fourteen-year-old LeAnn will star in a CBS made-for-television Christmas movie based on her recently finished debut book-writing project,Holiday In Your Heart.
LeAnn fans will also soon be able to add a new album to their collection right next to LeAnn's smash albums,Blue andUnchained Melody: The Early Years. Rimes has a new gospel and inspirational album due out this fall. The album will include old gospel standards such as "Amazing Grace," as well as new inspirational songs. Some of the recordings are brand new, while others were recorded when country music's baby sweetheart was eleven and twelve years-old.
LeAnn is also working on her next country album, which is due out late next year. She has been writing songs for the album and has already been in the recording studio working on the project. LeAnn assures fans there will be some hard-core country songs, as well as country-rockers on the new album – "something for everybody."
Patsy Cline Live In Concert
Patsy Cline fans now have the opportunity to hear a never-before-released live concert calledPatsy Cline: Live at the Cimarron Ballroom. This album was made from tapes recorded at a 1961 concert in Tulsa, Oklahoma, her first show following a car accident in which she sustained a dislocated hip, a broken wrist, and facial cuts. These tapes were recently found in a former house of Patsy's.
The album, which was recorded two years before her death in 1963 in a plane crash, includes hits such as "Lovesick Blues" and "Walking After Midnight," and three songs Patsy never recorded: "When My Dreamboat Comes Home," "Shake, Rattle And Roll," and "Stupid Cupid," for a total of 14 cuts. The album also includes dialog of Patsy joking about her recovery. She says, "In three months, I go back for more plastic surgery and they say they're going to give me a face-liftin' that's going to make me look like new."
Kevin Sharp To Divorce
Hot newcomer Kevin Sharp has released a public statement, sparked by much concern about his marriage, saying that he and wife Monique are divorcing. Kevin says, "We realized after a year and a half of marriage that it wasn't working for either one of us. I love, respect and care about Monique deeply, and my main concern is parting – and remaining – friends." Exact details of the divorce were not disclosed as the two wish for privacy regarding this personal matter.
Winners At Last Month's The Vinny
Vince Gill's 5th Annual "The Vinny" golf tournament, held in Kingston Springs, Tennessee last month, raised approximately $300,000 for Junior Golf in Tennessee. Professional tour golfers Russ Cochran, Larry Nelson, Harry Taylor, and Willie Wood all tied for first place in the pro-flight of the tournament, each earning $6,625. Tennessee Oilers place-kicker Al Del Greco's team won the celebrity-am tournament with a score of 17-under-par 54. Sawyer Brown led singer Mark Miller's team, which took second place with a 16-under-par 55.
Benefits from this year's tournament pushed the event's five-year total up to $1.1 million. These funds benefit Junior Golf and more than 30 innovative programs for kids from all walks of life across Tennessee.
Tim & Faith Remain At The Top
Tim McGraw and Faith Hill are enjoying more than their new daughter, Gracie Katherine, these days. The husband and wife team recently enjoyed a six-week reign at the top of the country charts with their magical duet, "It's Your Love." The last song to remain at #1 for six weeks was Waylon Jennings' "Luckenbach, Texas (Back To The Basics Of Love)," in 1977.
"It's Your Love" can be found on Tim's brand new album,Everywhere, which has topped the country albums chart since its release.
TNN/Hardee's Songwriting Contest
Do you feel you have the knack for writing a hit song like Garth Brooks' "The Dance," Alan Jackson's "Chattahoochee," or Dolly Parton's "I Will Always Love You?" If so, then the TNN Country Songwriting Contest Sponsored by Hardee's Restaurants is just for you. This amateur songwriting contest, which runs through September 13, enables contestants to compete for a free trip to Nashville, where their song will be recorded by a professional music producer in a recording studio. The Grand Prize winner will also receive $5,000 cash, an appearance on TNN'sPrime Time Country, a Ural America sidecar motorcycle, and a Tacoma PK-30E acoustic guitar.
Entrants can submit any original country song for a fee of $24.95, or two songs for $34.95. Songs will be evaluated by a professional in the country music field using pre-determined criteria and a point system. Fifty finalists will have their songs judged by an expert panel.
Official entry forms are available at participating Hardee's Restaurants, Tacoma Guitar dealers, on the Internet Web site http://www.country.com, or by mailing a postcard to: TNN Country Songwriting Contest, P.O. Box 198995, Nashville, TN 37219-8995.
Well, that's it for now. Hope to see you all out at the State Fair. Always remember, Keep your boots shined up and your hat on straight, 'cause country music is comin' your way.