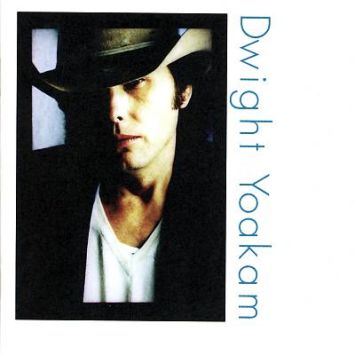 Under the Covers (Reprise)
Dwight Yoakam
By Bob Bahr
Something happens in the minds of some musicians. Maybe a mental string breaks or a synaptic guitar neck warps -- I dunno. Something. And suddenly, they find themselves recording their favorite songs by other artists -- in the musician's own particular "style."
When this kind of accident occurs, the results often fall into one of two categories. Either the recording ends up being incredibly boring, unimaginative interpretation of the songs, or the interpretations ends up being so far from the originals that the charm of the songs is pulverized under the boot of the musician's vision. "Cover" albums can be an iffy business indeed.
Dwight Yoakam's entry into these dangerous waters isUnder the Covers, and the L.A.-honed country singer manages to sail through without sinking, although he runs into both kinds of trouble along the way.
From the top: "Claudette," a 1958 gem from Roy Orbison, stresses the "billy" part of rockabilly in its propulsive, but not too surprising, dressing here. Things start to get interesting with "Train in Vain," a Clash song that never sounded too much like the Clash. Itreally doesn't sound like the Clash here, with Ralph Stanley on banjo and backing vocals and a prominent, rolling snare drum pushing it insistently through to conclusion. Next, the Kinks' hit "Tired of Waiting for You" gets full-on, swing jazz treatment, with Yoakam stretching (with modest success) to plant his feet in another musical genre.
More fun than fantastic is "Baby Don't Go," a remake of the Sonny & Cher song featuring competent vocal help from Sheryl Crow. Yoakam's versions of "Wichita Lineman" and "Good Time Charlie's Got the Blues" are as lonesome-sounding and on-the-money as you might expect. Those are two songs that the most tone deaf A&R man could have picked from a mile away for this album.
A reworking of "Here Comes the Night" (a hit for Them/Van Morrison in 1965) neither missteps nor breaks any new ground -- nothing ventured, nothing gained. The Rolling Stones' "The Last Time" bops along most spiritedly on some nimble electric guitar picking and exciting drumming from Jim Christie, who almost steals this album with his energetic playing on nine cuts.
Purists will pull their hair upon hearing Yoakam's play on the Fab Four's "Things We Said Today," which has some dated electric guitar rock sounds and rather low-key vocals from Dwight. "North to Alaska" is both interesting and quite fun, with excellent brush-and-snare work from (once again) Jim Christie.
A bonus track, Jimmie Rodgers' "T for Texas" might very well be the best thing onUnder the Covers. Yoakam's singing is more emotive and honest-sounding here than anywhere else on the album, and the spare blues strummed on electric and acoustic guitars behind him keep the focus right on Yoakam's vocals. What I wouldn't do for a whole album of Yoakam doing stripped-down country blues.