Front & Center: Chuck Jeter
By Vicky Moon
Chuck Jeter is still a little overwhelmed when he talks being the first act notsigned to a major label to perform on the main stage at Louisville's Joy Jam on June 28, 1997, the nation's largest one-day Christian festival.
He was also the only local act.
"It's everybody's dream, playing Freedom Hall," he says, reminiscing about playing to 4,000-5,000 people his - largest audience - at the festival. And the festival is not the only big thing happening lately to Jeter. He has recently opened for nationally known Christian acts Sierra, Caedmon's Call, Bob Carlisle, Newsong and Bruce Carroll. As well, he has created a new CD,Ain't Superman, that is garnering interest in Nashville - the Mecca, if you will, of contemporary Christian music.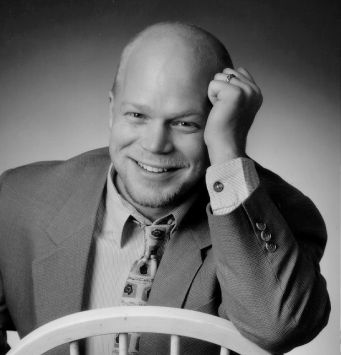 Chuck Jeter
Now flash back to 1994 and the first time I saw Chuck perform in the fondly remembered (but slightly notorious) now-closed Jubilee Coffeehouse, the only Christian coffeehouse in Louisville On a dimly lit stage, singing to only a handful of people sitting on metal folding chairs and sagging couches, Chuck was the typical local Christian artist, a little rough around the edges and playing to anyone who would listen. What happened in the past three years to make Jeter arguably the most successful new Christian artist in Louisville?
According to Jeter, it had a little to do with his wife, Barbara, and a lot to do with God. In a recent interview with him at The Gathering Place, Chuck looked back on a career that started almost nine years ago. He was in college at the University of Tennessee at Martin and a girlfriend lent him a copy of Amy Grant's first gold album,Age to Age.
Unfamiliar with the world of Christianity and even more unfamiliar with Christian music, Chuck was strangely touched by the cassette and listened to it constantly. Eventually, he was so taken by the message of Grant's music that he became a Christian as well. At the same time of this momentous change, he was learning to pick out popular secular radio songs on the guitar by ear.
His musical abilities were pretty raw - "not really even talent" is how he puts it. But he persisted, feeling called to create the sort of "music with a message" that had so touched him. He joined a Christian band that was playing the occasional gig around UT-Martin. Then the lead singer of that band decided to move his family to Louisville and encouraged Chuck to keep the band's music going by moving to Louisville, too.
While Chuck admits that many Christian artists might normally feel a call to go to Nashville, he felt God calling him to go to Louisville.
"I had $150 in my pocket," he remembers, "and no job."
But feeling the call so strongly, he moved to Louisville anyway and eventually began working with local Christian youth organizations including Youth for Christ, playing at the group's weekly meetings and the occasional church.
Chuck admits his performance skills were still a bit weak. "I would forget lyrics, miss chords," he laughs, recalling his early performances. "It was pretty rough, but I was having fun."
He recalled his first gig at Jubilee several years ago: "The first time I played was at a Jubilee Jam [referring to the occasional concert fund-raisers Jubilee would host that featured a concert by several local bands and artists]. "It was like, heavy metal band…heavy metal band…hard alternative band…Chuck Jeter with his little guitar!…heavy metal band…. I figured the only way to fly [was] to crack some jokes!"
His jokes and his songs went over well that night, and Chuck started to establish a niche for himself as a singer/songwriter known for his easy, laid-back, humorous performances.
Though performing frequently, he still wasn't taking the idea of a full-time professional music career seriously. Then he met and married his wife, Barbara, who encouraged him to start treating his music as a professional venture. With her support, Chuck began polishing his performances and songs, performing everywhere from local churches to youth groups and coffeehouses.
In 1995, Chuck decided he was ready to cut a songwriter demo to shop to some of the Nashville record labels and went to Vince Emmett of Melody Hill Farm (a regionally acclaimed recording studio) for help. As Emmett started laying down rhythm and instrumental tracks for Chuck's songs, both realized that what started as a demo was quickly evolving into a project that could easily become Chuck's first CD. Deciding to risk the financial commitment, because "I didn't want to be ashamed anymore," he gave Emmett the go-ahead. Work onAin't Superman began in earnest.
Chuck was tired of relying on handmade demos that he had to give out with warnings like "um …I was sick that day, so don't listen too closely to that …" While working on the CD, Chuck polished up his vocals with local coach/producer/singer/songwriter Turley Richards and began working with his current band mates: drummer Dave Miller and bassist Matt Richardson.
"I've surrounded myself with people better than me," he says, still a bit stunned by the ease with which the CD and the band came together, and crediting the successful collaborations to "God's timing." "Things happen in God's time," he asserts. "I tried to put bands together before and they just fell apart."
And now thatAin't Superman is making the rounds among the Nashville circuit and he is planning to take the huge step of becoming a full-time traveling musician in the fall, is he planning on leaving Louisville for Nashville?
"I'd rather stay in Louisville," he says, citing examples of burned-out musicians he's met who are returning to Louisville as a refuge from the too-competitive world of Nashville's music scene. "It's dog eat dog out there, and the competition's incredible."
He also found Louisville to be an advantage because "It's out of the loop," referring to the Christian industry's tendency to crank out "cookie cutter" hit songs. "One of the reasons why my CD is so fresh," he says " is because it's out of the loop. I have the best of both worlds."
And as far as that big crossover hit, seemingly the current dream of every CCM artist, don't look for it too soon from Jeter. "I owe a tremendous debt to CCM music," he confessed, referring again to Amy Grant'sAge to Age and it's impact on his life. He considers himself first and foremost a minister (he is currently enrolled in the Southern Baptist Theological Seminary from which he'll be taking a sabbatical this fall to pursue music full time). "The medium [for my ministry] that God has chosen at this time is music. That medium might change, and that's okay, but right now it's this."