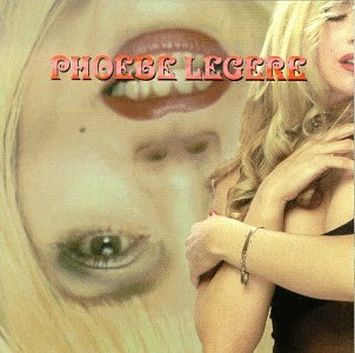 she goes everywhere, and everywhere it works
Last Tango in Bubbleland (Random Recs.)
Phoebe Legere
By Paul Moffett
Imagine Mae West in a John Waters film, playing accordion, guitar and piano while singing Gershwin tunes, lyrics by Iggy Pop. Thatmight draw a large enough circle to encompass Phoebe Legere's work onLast Tango in Bubbleland. Or not.
From the anthem-like "Amazing Love" comes this opening set of lines: "I never dreamed that love would find me/while I was working on my tan." Near Valley Girl perfection, that.
Mixing pretty muchany musical idea fromany genre, Legere has crafted what turns out to be an infectious pop CD, with enough quirky lyric lines to compliment the musical quotes. The sex in the songs doesn't discourage listening, either. In "Madly," Legere starts to detail "the sexual behavior of human male" and winds up itemizing her own peculiar tastes in debauched men. "I'm Coming (To You)" has a big church organ sound, stately sung lyrics and chorale backup vocals, but fairly drips pheromones.
Armageddon A Go Go" borrows from rap, Bowie, and overwrought Seventies' stadium rock licks while asserting "the end is near, in fact, it's here." Then the request is made to get Babylon's autograph.
Lady Friday" is a pure rock and roll celebration of the end of the week and has the best chorus for group sing-a-longs I've heard in a while. Of course, to get on radio will require a slight re-recording of the first verse with it's common-to-masses obscenity. "NY Nightmare" has a piano opening that could have come from any Billy Joel album and lies somewhere on a line that runs from "New York, New York" to "Annie Hall" to Andy Warhol.
Not many are familiar with the filmThe Marquis De Slime, but "Boa Constrictor Tango," sung in French, is credited with being from that film, in which Legere also acted. The closer "Stephanie" is a not-straight love song.
To see Legere's picture on a the cover of a magazine calledFad would be to label her as a "dress any way, do anything for publicity" sort of "celebrity" that so enamors media on the East Coast. Actually, she's a pretty good musician and writer and this disc demonstrates that.