Second Thoughts
General Winkler
1997 marks the beginning of Kentucky Opera's strategic plan for Fiscal Years 1997-2001.Louisville Music News has been discussing this innovative and far-reaching blueprint with the man largely responsible for it, the Kentucky Opera's Executive Director, Major General William Winkler, M.D. (retired).
It is not entirely accurate to confine the Winkler input to what theGeneral has been doing recently. His wife Diana was recently re-elected to a third term as President of the Kentucky Opera Guild.
Their interests differ but overlap when it comes to the opera.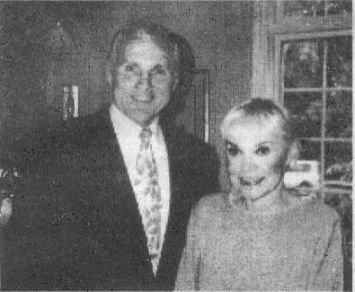 General William Winkler and his wife Diana, President of the Kentucky Opera Guild
Gen. Winkler, a native of Chicago; is a physician with a specialty in obstetrics and gynecology. His medical practice and administrative skills were honed in the Army, he had a distinguished career, rising to the rank of Major General. His last assignment was Deputy Assistant Secretary of Defense for Health Affairs, reporting to the US Surgeon General.
His twenty-six years of active duty included two tours of duty in the Pentagon and seven years in Europe, spent mostly in Germany. It was while he was in Berlin that his interest in opera began and broadened. His family's circle of friends in Germany included a leading American performer who was a member of the Berlin Opera. considered one of the world's finest.
"I began going to performances and soon developed an admiration for opera and the talented, dedicated people who make it happen," Winkler noted.
Calm, self-confident and an attentive listener with a pleasing personality, Winkler appears to be a man who cares about people.Louisville Music News learned that he is liked, respected and admired by staff, board members and performers alike.
Winkler says, "I am simply concerned with the day-to-day running of the company. I don't interfere with or offer advice about its artistic activities."
Winkler saw the need for a five-year plan and what its principal elements should be. But he took his basic ideas to the staff and board members and so the specifics of the plan are the result of a team effort. He proposed it, knowing that he plans to step down once the new Artistic Director takes over.
Winkler's awareness and interest in opera has been a growth process. After he retired from active duty, he took a position with Humana and moved his family to Louisville. At a Kentucky OperaListen & Learn luncheon, they met Thomson Smillie and. as Winkler commented, "he made it possible for both of us to fall in love with opera."
They also took one of Smillie's tours to Italy, the birthplace of opera. "The Italian love of opera has to be experienced but Thomson made it come even more alive for us."
A friendship with the singer Adria Firestone "let us see that opera is also a way of life and the best singers live the roles they depict." So Bill found out what he could contribute to the local company and the rest followed.
Kentucky Opera at the State Fair By Henry C. Mayer
Looking for something new to do or see at the Kentucky State Fair, something that will entertain your children? The Kentucky Opera's short production ofThe Three Little Pigs can help keep those little tykes in a good mood.
It's a charming and humorous adaptation of a perennial favorite, with some unexpected twists at the end. It's set to some of the most beautiful music ever written by Wolfgang Mozart. The story line is by John Davies, who has been a popular singer in any number of Kentucky opera productions.
Find out what happens to the Big Bad Wolf (in this version he is known as Wolfgang Bigbad) when two of the pigs follow their sister to the library as part of their home-building adventure. There they meet a statue - Wolfgang in disguise. The sight of three plump, juicy pigs stirs him to do a little pig chasing with some unexpected results.
The Fair runs August 14 through August 26. Each day either at l p.m. or 2:15 p.m., you can take the youngsters and even the young in heart to see The Three Little Pigs.