Summer Lights!
By Wally Stewart
I'm Still Dancing in Nashville. After seven years of covering (read "having fun at") "Summer Lights In Music City," my feet still like moving on three blocks of Deadrick Street, from Tennessee's War Memorial to the Metro Courthouse. In its 16th year, the May 29-June 1 "creative explosion" included some of adjacent Charlotte Avenue and the Municipal Auditorium and Plaza. An enormous musical buffet was served on eleven stages, and dance acts were both outdoors and inside the Tennessee Performing Arts Center.
Newly added and wildly popular were three "theme tents," where consistent sounds enabled fans to stay with a favorite genre. Thursday a mild night and a light breeze greeted the large attendance. Inside the War Memorial's "swing tent," I thought I was at a jazz club, hearing the Nashville Jazz Orchestra and local swing favorites Bada Bing Bada Boom. BBBB "had the joint jumping," especially on their hilarious, often-requested parody, "That's What I Like About The North."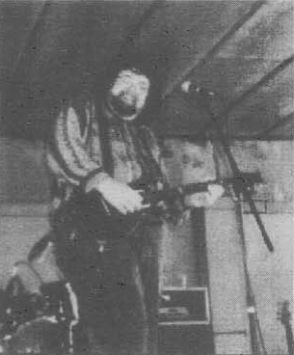 Big Mike Griffin. Photo by Wally Stewart
The "Muni" Plaza tent was several feet from its stage and Gary Nicholson and Ashley Cleveland rocked it. Bluesman Delbert McClinton guested briefly with Gary, and Ashley's amazing folk, rock and gospel thundered. Elsewhere songwriters shared a priceless set, headlined by Guy Clark.
Friday brought the event's best weather and last year's mega-surprise, the incredible, surreal Big Nazo Puppets. Wearing off-beat, over-sized cartoon character costumes, they presented great performance art and up-tempo R&B. At the Courthouse Plaza tent Lil Brian and The Zydeco Travelers took turns with Joel Sonnier and Eddie Raven in filling the air and a constantly full house with Creole and Cajun heat.
Two former Fleetwood Mac-ers made their Summer Lights debut as the country duo Bekka (Bramlett) And Billy (Burnette). Flavored with R&B, rockabilly and Bekka's energetic, bluesy vocals, they drew a great response. Country artists Lee Ann Womack and Mark Chesnett followed with similar responses, but the night's greatest response might have been when Louisville native Jonelle Mosser danced on the rock stage in her tenth festival year. She wrenched all the emotion out of "Dark End Of The Street" and everyone in earshot said her set was too short. Steady rain came Saturday morning, canceling acts and moving locations for others. It left in late afternoon and shows continued. Disco retro-group The Village People were originally alone inside the "Muni," but the rain brought some company. Big Nazo's multimedia act worked the large stage with good music and great comedic shtick.
The audience's roar continued through the VP and country's Tracy Lawrence. Tracy's set and others were signed for the hearing impaired. Sunday had a rain repeat but nothing was canceled. The Black Country Showcase represented African-American talent, featuring Cleve Francis and got lots of applause.
The applause reached fever-pitch as some of the city's best gave tribute to the late Bill Monroe. Kentuckians Sam Bush and John Cowan were in the band honoring the late "Father Of Bluegrass." The topper came when Emmylou Harris joined, singing and dancing to "Blue Moon Of Kentucky." Country star Lorrie Morgan's festival finale wasn't as energized as those of recent years but her fans loved it, demanded and got two encores.
Among other highlights were VH-1's "virtual reality" 60's trip and interactive booths; the Grand Old Opry Showcase; the Latino Festival; a three-hour African Segment and songwriters Radney Foster and Louisville native Vickie Carrico at the Bluebird Cafe Show. There were several artist's merchandise booths and food vendors and as usual, more than I have space for. If you want to join in next year, call 615-259-0900 for information. I plan to be dancing and covering it. (Having fun.)